Games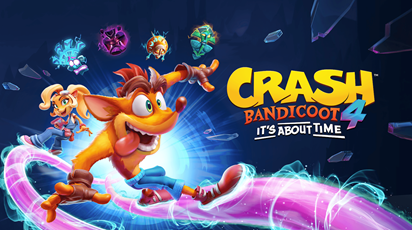 Published on October 2nd, 2020 | by Alex Novus
Crash Bandicoot 4: It's About Time Is Available Now!
THE WAIT IS OVER! CRASH BANDICOOT™ 4: IT'S ABOUT TIME IS AVAILABLE NOW
The Biggest Crash Game Ever Brings Massive Levels, Badder Bosses, More Gameplay to Fans*!
The time is now. The un-fur-gettable marsupials, Crash and Coco Bandicoot, are back to take players on a wumpy ride of cosmic proportions in the brand-new game, Crash Bandicoot 4: It's About Time. The long-awaited sequel to the original Crash Bandicoot™ trilogy is available worldwide today for PlayStation® 4, PlayStation® 4 Pro and the family of Xbox One devices from Microsoft, including the Xbox One X.
As the first original Crash Bandicoot title in more than a decade, and the biggest Crash game ever*, Crash Bandicoot 4: It's About Time is built from the ground up and brings with it an onslaught of absurd challenges for players to conquer. In the game, players uncover four powerful Quantum Masks, the guardians of space and time, that must be reunited to restore order to the multiverse.
Fans can play as newly designed Crash or Coco on their journey to save the multiverse and can even play as the fiendish Dr. Neo Cortex, Dingodile or Tawna, each equipped with their own unique playstyle. Many of the levels in the game feature the perspective-shifting, core precision platforming that fans know and love, while others will introduce players to massive bosses, highspeed mount rides and thrilling chases. This means massive levels, badder bosses and more
gameplay for players to enjoy.
Along the way, Crash Bandicoot 4: It's About Time offers an N. sane amount of fun to be had as players unlock additional optional Timelines and Flashback Tapes, gain access to Bonus areas, as well as earn Gems, new cosmetic skins, Colour Gems and more Wumpa than you can shake a stick at. An all-new style of play called N. Verted mode gives players alternate perspectives, sound effects, music and in some dimensions, additional transformations to experience. Fans can also try their hands at Modern and Retro modes or compete head-to-head with up to four players in either Bandicoot Battle competitive mode or Pass N. Play co-op mode – because sharing is caring.
Developed by Toys For Bob and published by Activision, Crash Bandicoot 4: It's About Time is available for the suggested retail price of $99.95 AUD and rated PG in Australia.