Comics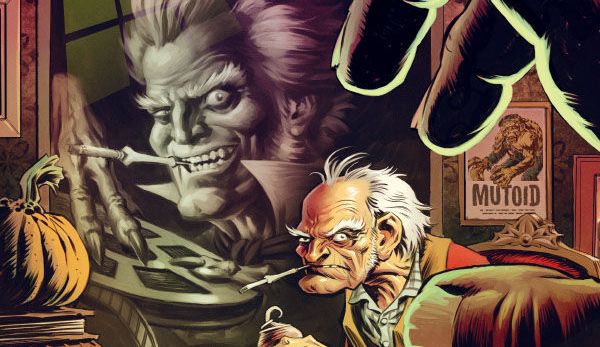 Published on December 11th, 2019 | by Tim Chuma
COUNT CROWLEY: RELUCTANT MIDNIGHT MONSTER HUNTER #3 (2019) Review
Summary: Jerri Bartman goth investgator of the undead is up against it. Hangovers, the undead, somebody else's cat and an angry brother. Will she crack the case?
Jerri Bartman fights off a big green dude with the help of a cat and tries to get some supplies from the liquor store, but gets caught and in trouble with her brother who is already mad at her after what she did on the TV show she wants meant to be appearing on. Not knowing where else to turn she goes to see Vincent Frights who also used to be on the TV show she took over.
He is being "difficult" according to the staff and throws off milk in her face to see if she is one of the undead. Vincent did not like what she did on his old TV show either and reveals he is one of the "chosen" that has been fighting a war against the darkness for millennia and that she is "just a girl" and should go home. Not taking no for an answer, Jerri sets off on her own again, reading the ancient text she has lifted from the old man (she has quite a skill at this.)
I had heard about this on some horror twitter accounts but had not seen it.  There is a Victor Crowley (Kane Hodder was at a convention I went to in the USA), but I am not sure if there is any relation between the two.
Jerri Bartman seems like an interesting character and it would be interesting to see how she got into this situation. She does remind me of the "Lonely goth in a country town"  type situation, but it is also revealed she has had some issues in her past so not many people seem to be on her side.
Vincent Frights seems like an old man and prejudiced, but also reveals that traditional means of killing monsters do not work as it "was all for show" to make people think they can be actually killed.
Not sure where the cat comes into it, it belonged to the old man Jerri was investigating previously and ended up tagging along.
Nice art style and characters that seem to suit the story and nothing seems out of place.
I thought the writing was good for this story and established that the main character was on thin ice in the town and did not have many people willing to back her up at this point. When things start kicking off as the story continues this will be important.
I would recommend this one if you are into the horror genre and like women lead characters. I know the "final girls" trope is well known by this stage, but this story seems to combine a mystery and crime investigation elements into the story. Well worth checking out and I would be interested in following this one.
Comic details:
Writer: David Dastmalchian
Artist: Lukas Ketner
Colorist: Lauren Affe
Cover Artist: Lukas Ketner