Hardware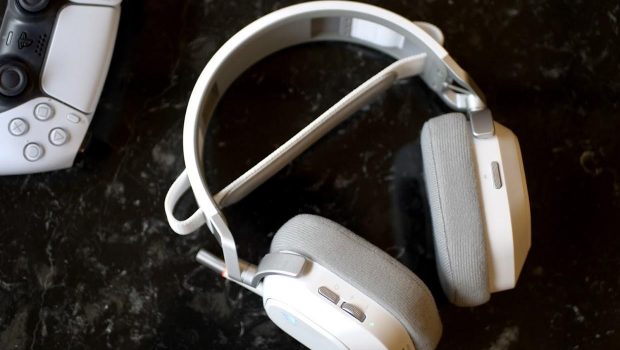 Published on August 11th, 2023 | by Branden Zavaleta
CORSAIR HS80 MAX RGB Premium Wireless Gaming Headset Review
Summary: The MAX is a new frontrunner for gaming headsets, and a massive leap from the old HS80.
The original Corsair HS80s are Corsair's most popular headset, and with good reason. They're built around strong aluminium frames. They sport soft pads, a floating headband, and a microphone that swings down like a samurai sword. They look slick and they've got some slick features, like Dolby Atmos, a stellar microphone, customisable RGB lighting, and quality sound control, but they're not perfect. They don't have bluetooth, and the range is untrustworthy. So how are the almost-identical-looking Hs80 Maxs? They're perfect.
Just opening the box is a pleasure. There are cords to unsheath, stickers to peel and reveal the lettering, and that first touch of the cold steel frame is electrifying. The receiver USB has tactile cross hatching to make plugging into hard-to-reach places easy. Once that's plugged in, you can start playing. There are no compulsory downloads, so you can plug the USB into the front of your PS5, PC, and start playing. And now that Corsair has added bluetooth, you can go mobile too. They work great as a pair of standard headphones, with pause and skip working just like airpods.
Features
In terms of improving over the original, their range is far better and actually meets Corsair's specification of 50ft (~15m). The battery has also doubled (or tripled?) to a generous 65 hours. The fine print on the box even tells of "Up to 130 hours using Bluetooth® with RGB off". And if you're the type to fiddle and fuss over the fine details like bass, sidetone and the like, you'll want to download Corsair's  iCUE software. Aside from your sound sliders and colour selections, you can have SoundID do the heavy lifting and work with you to perfect your sound profile, and install a host of mods including voice changers and AI-noise cancelling. That said, one these are still missing active-noise cancelling if that's a concern, but the passive noise cancelling shouldn't be underestimated either.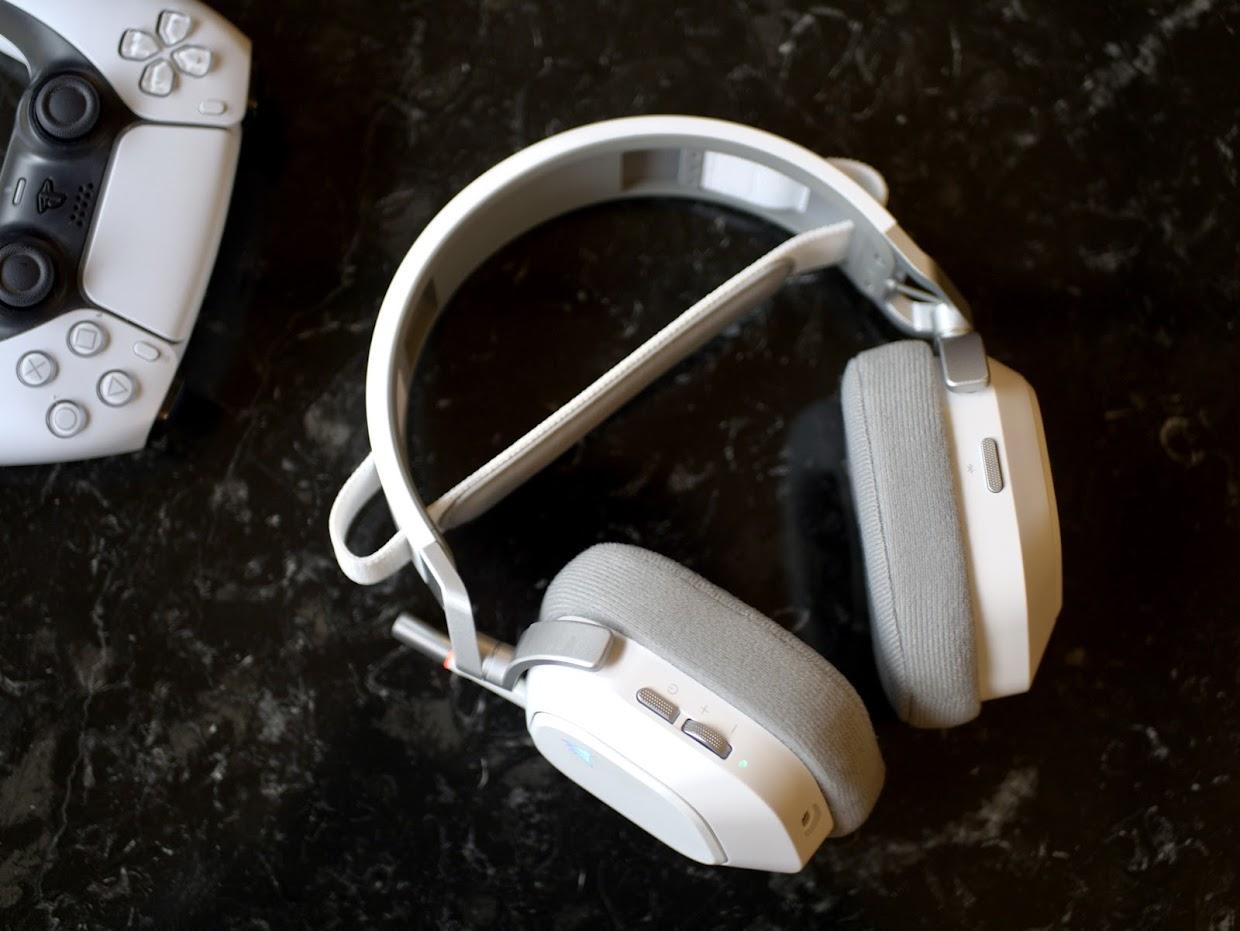 Sound Quality
Both the sound quality and the microphone's recording quality are superb (see the fine details below). But there are some hangups: The microphone will greedily suck up nearby voices, and the out-of-the-box noise profile needs tweaking (with iCUE). You'll also have to download the Dolby Access app if you want Dolby Atmos for your PC. After that, it's deliciously crisp and deeply defined. The spatial system manages a pumping bass, and with an impressive volume range (the low is ultra low, maybe inaudible). If you're looking to test out the Dolby Atmos for yourself, Netflix's 6 Underground is a great choice. Whether or not Bayhem is to your taste, the audio track is exquisite, and it stars the THX Deep Note blowing out the windows of a skyscraper.
Comfort
If you're new to the HS80 series, you might be surprised to find that the frame doesn't adjust (aside from the sides swivelling), instead you adjust the length of the floating headband by moving the velcro straps. It makes for a comfy gaming headset, and doesn't press on your ears, or cause a sore head after extended use, (and they're not loose either). That said, the soft fabric ear pads might have trouble competing for comfort over the more plush leatherette offerings like the pricey Arctis Nova, or non-gaming headsets like Sony's XM4s.
Coda
Corsair's HS80 Maxs compete with even luxury models twice their price, and their versatility may outshine many of them. Switching from PC to console to mobile phone is instant, the microphone is broadcast-grade, and the Dolby Atmos is wonderfully immersive. If there's one downside, it's the lack of active noise cancelling, which is a specific issue, but means it's not great for travel. Aside from that, it should be your premier pick for a headset with microphone, and that's not just for gaming!
HS80 Max Specifications:
Features
– Low-latency connection via 2.4GHz wireless or Bluetooth
– Compatible with PC, Mac, PS5, PS4, and mobile
– Up to 65 hours of battery life* and 50ft (15) of wireless range
– Immersive Dolby Atmos® spatial audio on PC
– Sonarworks SoundID technology
Headphones
Frequency Response – 20hz-40hx
Impedance – 32 Ohms @ 1kHz
Sensitivity – 116dB (± 3 dB)
Drivers – Custom 50mm Neodymium
Audio Resolution – Up to 24bit/96kHz Wireless
Microphone
Type – Omnidirectional, broadcast-grade
Impedance – 2.2k Ohms
Frequency Response – 100Hz – 10kHz
Sensitivity – -40 dB (± 3 dB)
Wireless
Connector – USB Type A
2.4GHz Wireless Range – Up to 50 feet (15m)
Battery Life – Up to 65 hours (With RGB off. Up to 24 hours with RGb on. Up to 130 using Bluetooth with RGB off.)
Bluetooth Radio Version  – Bluetooth 5.2
Bluetooth  Wireless Range – Up to 30 feet (9m)
Bluetooth Profiles – A2DP HFP, HSP
USB Charging Cable – 1.8m
Weight – 354g
Gallery