Hardware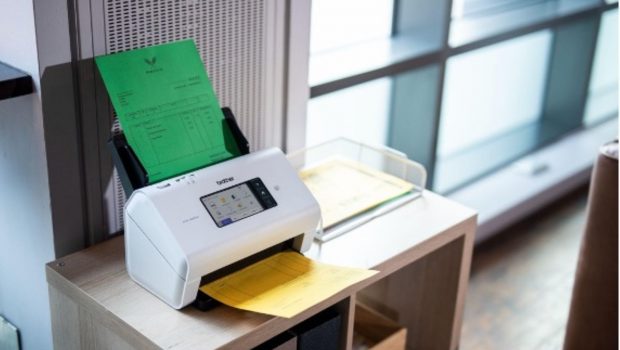 Published on April 6th, 2022 | by Adrian Gunning
Copy and pace – Brother launches high-performance desktop scanner range
Brother International Australia has today announced the latest additions to its scanner line-up with four new professional desktop document scanners that combine high-functionality, intuitive design, and a compact, low-cost footprint.
With hybrid working practices being the new normal, these innovations make it easier to collaborate than ever with accurate, high-volume scanning, advanced image processing and a host of document optimisation and intelligent workflow options.
Preventing the need to re-type, edit and copy files manually, all four scanners in the new range offer Optical Character Recognition (OCR) as standard, transforming paper documents into actionable data. With image quality optimisation and document separation functionalities[i], users are able to spend less time prepping documents and more time on business-critical tasks.
The new range also includes Brother's newly released ScanEssentials and ScanEssentials Lite software, a high-performance scanning tool that allows you to not only scan documents but create workflows and save them securely to your network.
David Molloy, Pre-Sales Technical Specialist at Brother International Australia said that each machine in the new range has been designed with customers in mind.
"Our latest scanners have been designed to nurture productivity by providing seamless processes for digitising and editing documents quickly and efficiently with a range of connectivity options.
"With a simple yet durable design, the new range provides a scanner to suit all business models, from large-scale operations to home and small office use. Whether you are looking to scan multi-page documents, receipts, or complete large batch scanning, you can be confident that this range will meet all of your business scanning needs and more."
Please see additional details below on product specifications and pricing.
Product overviews:
ADS-4900W
RRP: $1,299
Retailers: Authorised Brother Partners
B2B Channel exclusive
Scan up to 80 pages per minute
2-sided scan up to 120 images per minute
Optical Character Recognition (OCR)
ScanEssentials professional scanning software
100-sheet Automatic Document Feeder (ADF)
10.9cm touchscreen with 56 configurable shortcuts
Personalised multi-user experience
Dual Band (2.4Ghz/5Ghz) wireless connectivity)
SuperSpeed USB3.0 and scan directly to USB host
Secure workgroup sharing
Advanced image processing and batch scanning
Auto Start Scan, Ultrasonic Multi-feed Sensor, Separation Switch, Scan Preview, CIS Cleaning Alarm
Free product support for the lifetime of the product
Comprehensive software suite included[ii]
ADS-4700W
RRP: $899
Retailers: Officeworks (Online Only) and Authorised Brother Partners
Scan up to 40 pages per minute
2-sided scan up to 80 images per minute
Optical Character Recognition (OCR)
ScanEssentials professional scanning software
80-sheet Automatic Document Feeder (ADF)
10.9cm touchscreen with 56 configurable shortcuts
Personalised multi-user experience
Wireless and wired network connectivity
SuperSpeed USB3.0 and scan directly to USB host
Scan from your mobile device with Mobile Connect
Secure workgroup sharing
Advanced image processing and batch scanning
Auto Start Scan, Ultrasonic Multifeed Sensor, Separation Switch, Scan Preview, CIS Cleaning Alarm
Free product support for the lifetime of the product
Comprehensive software suite includedii
ADS-3300W
RRP: $699
Retailers: Officeworks and Authorised Brother Partners
Scan up to 40 pages per minute
2-sided scan up to 70 images per minute
Optical Character Recognition (OCR)
ScanEssentials Lite professional scanning software
60-sheet Automatic Document Feeder (ADF)
7.1cm touchscreen with 20 configurable shortcuts
Wireless and wired network connectivity
SuperSpeed USB3.0 and scan directly to USB host
Scan from your mobile device with Mobile Connect
Advanced image processing
Auto Start Scan
Free product support for the lifetime of the product
Comprehensive software suite includedii
ADS-3100
RRP: $499
Retailers: Officeworks and Authorised Brother Partners
Scan up to 40 pages per minute
2-sided scan up to 70 images per minute
Optical Character Recognition (OCR)
ScanEssentials Lite professional scanning software
60-sheet Automatic Document Feeder (ADF)
Advanced image processing
SuperSpeed USB3.0 and scan directly to USB host
Free product support for the lifetime of the product
Comprehensive software suite includedii