Hardware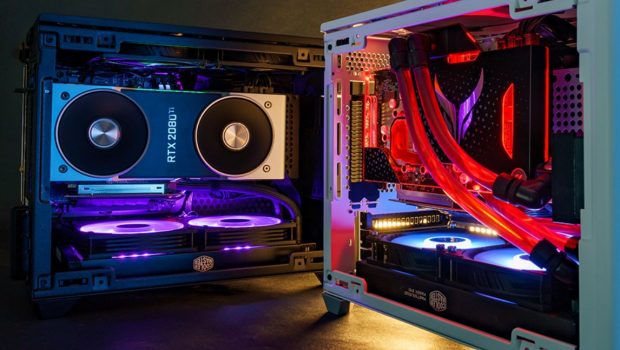 Published on July 25th, 2023 | by James Wright
CoolerMaster MasterBox NR200P Review
Summary: The CoolerMaster MasterBox NR200P is compact but still allows for the latest powerful PC components
Welcome to the CoolerMaster MasterBox NR200P that at its core is a Mini ITX case that has been designed to minimise space, however still giving both PC enthusiasts and gamers access to some of the latest PC parts. Additionally, the inside of the MasterBox NR200P ensures an easy build due to the way it has been set out in this 18 litre case that boasts a wealth of cooling options to promote thermal efficiency.
Limited Size, Unlimited Options
– Cooler Master
Another highlight of the NR200P is its overall aesthetics that thankfully channel something other than just a Spartan computer case with its powder-coated steel chassis that with its shape, definitely stands out from the crowd. We also had the opportunity to check out their white case that again distances itself from the traditional "black box" and its slimline design, it really makes a unique statement. Also if you want to change the plastic feet on this case, CoolerMaster have made available some of their other designs that you can download to a 3D printer if you want to further customise the exterior.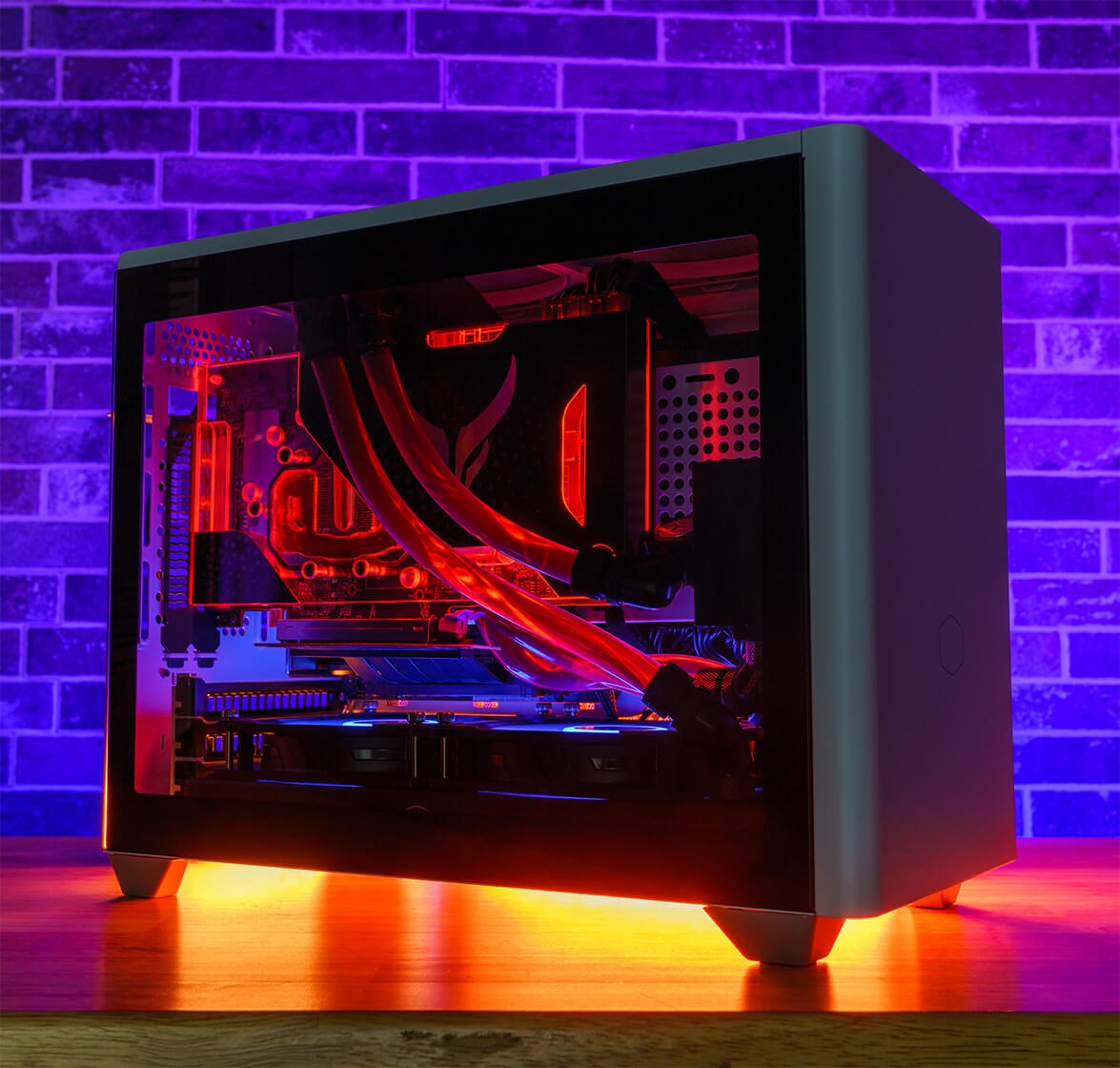 https://coolermaster.egnyte.com/fl/1iQXav2kWV
Further, the tempered glass allows users to showcase their components such as the latest graphics cards, including a PCI riser for better positioning plus a regalia of RGB lighting. Even though this is a smaller case, Cooler Master ensure that you can still add a liquid AIO liquid cooler (up to 280mm) and a whopping seven fans (two 120mm Sickleflow fans are included) to ensure your system is well ventilated, particularly for overclockers.
In terms of motherboards, it is compatible with the Mini-ITX and Mini DTX boards with a maximum size of 244 x 226mm. From a gaming perspective, a strong selling point of this case besides its compact yet workable design is it is compatible with the latest graphics cards, including triple slot GPU's with a length of 330mm and a width of 156mm. With the riser cable, you can mount the card vertically or have the radiator mounting at the bottom which is a very clever feature.
Gallery
When it does come to building a new system or transferring your parts, CoolerMaster make their case an almost tool-free experience as the external panels, tempered glass and fans are secured with easily removable pins that makes navigating components in your case an easy experience. Additionally, the entire case is 360 degrees accessibility that again makes assembly and disassembly a smoother task.
Final Thoughts?
As this case is on the smaller size (376 x 185 x 292mm), you do need to think carefully on whether your existing components will fit or if you are building an entire new rig, ensuring that new components fit the specifications. This means having a Mini-ITX or Mini DTX motherboard, including tailoring your cooling and graphics cards options. Apart from this caveat, the CoolerMaster MasterBox NR200P successfully minimises a high-end PC into a compact case.
Recommended!
CoolerMaster MasterBox NR200P Specifications
Model Number: MCB-NR200P-KGNN-S00, MCB-NR200P-WGNN-S00
Series: MasterBox Series
Size: Mini ITX
Color(s): Black, White
Materials: Steel, Plastic, Mesh, Tempered Glass
Dimensions (L x W x H): 376 x 185 x 292mm incl. Protrusions, 360 x 185 x 274mm excl. Protrusions Volume 18.25L (exlc. Protrusions)
Motherboard Support: Mini DTX, Mini ITX, Max MB size: 244 x 226mm (L x H)
Expansion Slots: 3
5.25″ Drive Bays: 0
3.5″ Drive Bays: 1 (Max. 2)
2.5″ / 3.5″ Drive Bays: (Combo)     1
2.5″ Drive Bays: 2 (Max. 3)
I/O Panel: 2x USB 3.2 Gen 1 Type-A, 1x 3.5mm Headset Jack (Audio+Mic)
Pre-installed Fans – Top: 2x 120mm 650-1800RPM PWM (SickleFlow)
Pre-installed Fans – Front: N/A
Pre-installed Fans – Rear: N/A
Pre-installed Fans – Bottom: N/A
Fan Support – Top: 2x 120mm
Fan Support – Rear: 1x 92mm
Fan Support – Bottom: 2x 120mm (recommended slim fans for GPUs wider than 2.5 PCI slots)
Fan Support – Side: 2x 120/140mm
Radiator Support – Top: N/A
Radiator Support – Rear:  92mm (Not Compatible with Vertical GPU Installation)
Radiator Support – Bottom : 120mm, 240mm, (recommended for custom loops only)
Radiator Support – Side: 120mm, 140mm, 240mm, 280mm, (not compatible with vertical GPU installation)
Clearance – CPU Cooler: 76mm (GPU in vertical position), 153mm (tempered glass side panel), 155mm (vented steel side panel)
Clearance – PSU: 130mm
Clearance – GFX:  L: 330mm (incl. power connector), H: 156mm (incl. power connector), W: 60mm (triple slot)
Dust Filters: Top, Bottom, Left side, Right side
Power Supply Support: SFX, SFX-L
Warranty: 2 years
Weight: 5.93 kg
Accessories: 1x PCIe 3.0 x16 riser cable
Note: Single slot water-cooler GPUs or vertically mounted GPUs are recommended when using bottom radiator position. This product is only compatible for devices that support the PCI-E 3.0 specification. If you use this product with a motherboard that supports PCI-E 4.0, please enter into BIOS option and select PCI-E 3.0 before installation.
For more information please visit, https://www.coolermaster.com/catalog/cases/mini-itx/masterbox-nr200p/