Hardware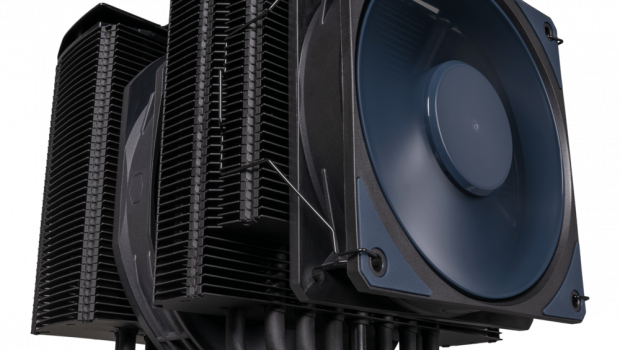 Published on July 16th, 2023 | by Scott De Lacy
CoolerMaster MasterAir MA824 Stealth Review (AMD)
If you want to do some serious air cooling, you want a serious CPU cooler. CoolerMaster need no introduction – after all it is in the name.
The latest big cooler from CoolerMaster is the MasterAir MA824 Stealth, and it is one serious cooler.
Specifications
| | |
| --- | --- |
| Product Number | MAM-D8PN-318PK-R1 |
| Exterior Color | Black |
| CPU Socket | LGA1700, LGA1200, LGA1151, LGA1150, LGA1156, LGA1155, AM5, AM4 |
| Dimensions (L x W x H) | 162.2 x 150.6 x 165.6 mm / 6.3 x 5.9 x 6.5 inch |
| Heat Sink Material | 8 Heat Pipes, Aluminum Fins |
| Fan Dimensions (L x W x H) | 135mm Fan: 135 x 135 x 26 mm, 120mm Fan: 120 x 120 x 25 mm |
| Fan Profiles | Non-LED |
| Fan Quantity | 135mm Fan: 1 PC, 120mm Fan: 1 PC |
| Fan Speed | 135mm Fan: 0-1550 RPM ± 15%, 120mm Fan: 0-1950 RPM ± 15% |
| Fan Airflow | 135mm Fan: 63.6 CFM (Max), 120mm Fan: 63.1 CFM (Max) |
| Fan Pressure | 135mm Fan: 1.92 mmH₂O, 120mm Fan: 2.69 mmH₂O |
| Fan MTTF | >200,000 Hours |
| Fan Noise Level | 135mm Fan: 24.6 dBA (Max), 120mm Fan: 22.6 dBA (Max) |
| Fan Bearing Type | Loop Dynamic Bearing |
| Fan Power Connector | 4-Pin (PWM) |
| Fan Rated Voltage | 12 VDC |
| Fan Rated Current | 135mm Fan: 0.1 A, 120mm Fan: 0.12 A, 0.25A |
| Fan Power Consumption | 135mm Fan: 1.2-2.4W, 120mm Fan: 1.44-3.0W |
| Warranty | 5 years |
| Series | MasterAir |
| Cooler Type | Air Cooler |
| Heatpipes | 8 |
Source: CoolerMaster.com / Product Sheet
Unboxing and First impressions
The sheer weight of this cooler is the first thing that is noticed when holding the box. A striking presentation from the design with a large clear graphic of the contents and the promise of a cooler CPU.
Opening the box we see a perfectly compartmentalised box with the inclusions and the main cooler.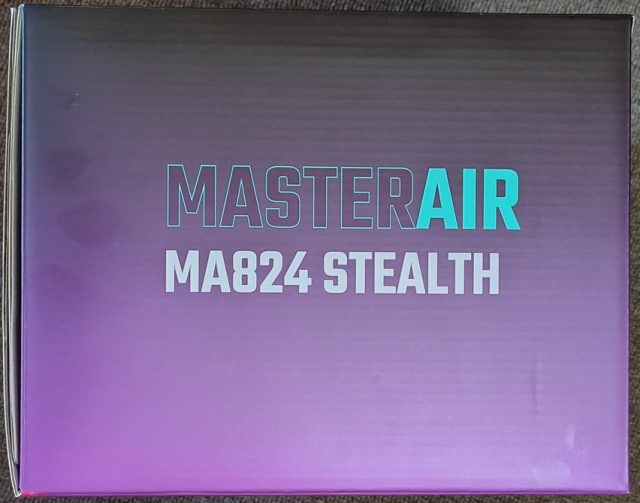 This box was sealed with the original seal, but for some reason the cooler was covered in a lot of dust.
The copper pad contained a factory applied solder paste, shame it was a bit dry and scummy looking, likely due to the cover being compromised. It's a terrible cover, easily crushed, not sealed and for what? Dry paste that you shouldn't trust? Why bother. Needless to say it is disappointing CoolerMaster didn't include at least a tiny syringe of thermal paste, instead of pre-applying.
The cooler is very imposing, and cool to the touch out of the box. But the size and weight of it sends a chill through the bones, because the sheer volume it would take within a case is quite considerable.
The internal fan appears to be of high quality as does the additional 120mm Mobius fan, which includes rubber pads to prevent vibration.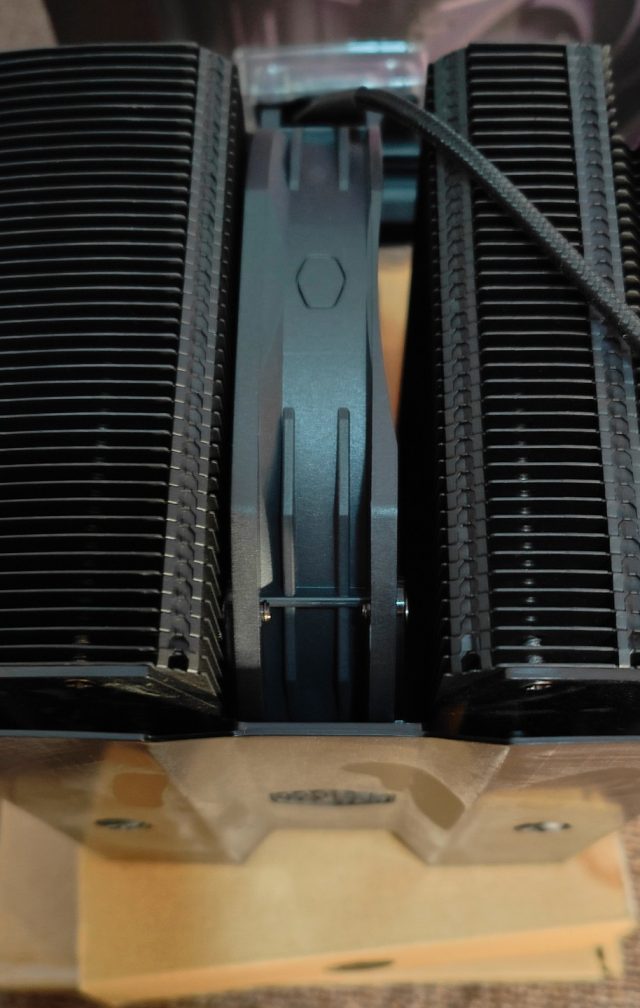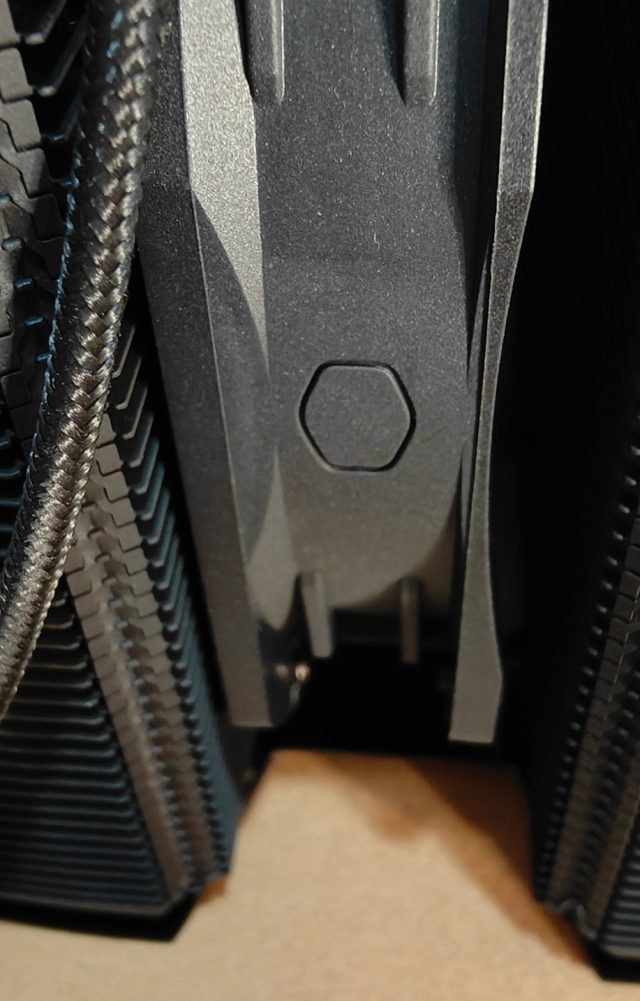 Included is a manual and the mounting components for Intel and AMD CPU's.
Testing
An attempt to install this cooler as directed for an AMD AM4 mount was unsuccessful.
In CoolerMaster's infinite wisdom, they no longer include an AM4 / AM5 mounting backplate as they did with previous models of the MasterAir, such as the MA624 Stealth.
Source: nexthardware.com
The instructions don't actually specify the need for the motherboards OEM backplate but it is assumed – and obvious by the pictures. This was later confirmed by CoolerMaster by E-Mail.
With the OEM backplate installed and the CoolerMaster supplied brackets, the entire apparatus is loose with a vertical and lateral movement of ~5mm. Chuck Norris and perhaps the CoolerMaster product executives may be able to install this, but no average human can.
The intended installation method and design offered by CoolerMaster cannot possibly clamp the mounting brackets and backplane to the board. Conclusion: The MA824 is not compatible with any AMD socket, out of the box. If one had a compatible bracket from the previous MA624, they would likely have success, but then that is hardly meeting the product specifications.
To make sure that nothing was amiss, a conceited effort to get help from CoolerMaster was made through our contacts and we researched online reviews for an installation of the MA824 on AM4 socket. We received very little in response from CoolerMaster, which was not a surprise given the circumstances.
3rd Party installations of MasterAir MA824 Stealth for AM4 socket
(Intentionally left blank – None exist at time of writing)
Final Thoughts
CoolerMaster has shit the bed with the MasterAir MA824 Stealth.
If a purchaser bought this cooler for AMD, they should be entitled to a full refund as the product is not fit for purpose and/or the advertising is misleading.
The presentation of a dusty cooler is not what we would expect from a reputable brand with such a great catalogue of trusted products. But the thermal paste pre-applied with a broken plastic cover that arrives cracked and loose, appears to be a misguided cost cutting exercise. The first thing any installer will do is wipe it clean and use thermal paste that they are certain they can trust.
There is no doubt that this cooler works fine with the supported Intel sockets, and publicly available reviews and installation videos for Intel have shown success and some favourable reports for cooling. Some have suggested that the cooler is loud, whilst most don't make much comment either way.
There would be little doubt that you can get some serious cooling with two active fans and a huge weight of copper. Always check your case clearance first and consider if you have enough room to move sufficient air through the case.
AMD builders, don't touch the MA824 Stealth with a 10-foot pole, unless CoolerMaster fix this problem.