Hardware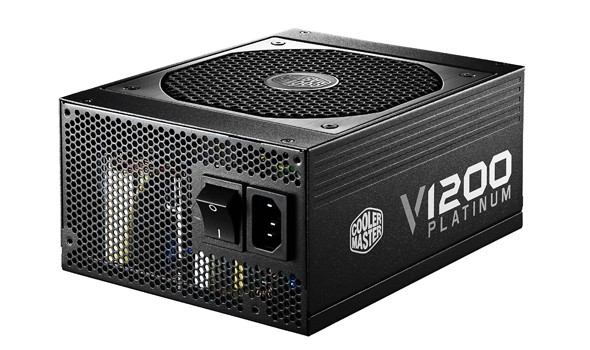 Published on June 4th, 2014 | by admin
Cooler Master V1200 80 Plus Platinum Power Supply Review
Summary: The V1200 is the ultimate power supply for both gamers and PC enthusiasts who want to get the most out of their systems.
V1200 80 Plus Platinum Power Supply
Product: PC Power Supply
Distributor: Cooler Master
Price: $360AUD (June 2014)
Reviewer: Tony Smith

Cooler Master have just released one of their newest V Series Power Supplies with the V1200 80 Plus Platinum that is not only future proofed but ensures uninterrupted power to your PC components and a powerful 1200 watts of output capacity. Its also been designed with the hardcore gamers and overclockers in mind that boasts 12 PCI-Express 6+2 connectors with support for SLI/XFire… yeah, that's like 4 graphics cards!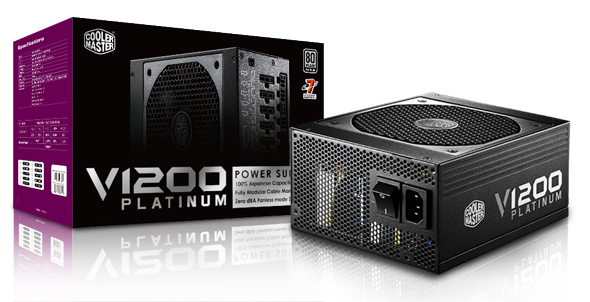 Another highlight of this particular power supply is its cable design which improves cable management considerably and reduces heat within the case. Cooler Master even boasts a 7-year extended warranty so when your components are drawing power down from this power supply, you can rest assured that it will continue working at the extreme end of the spectrum. The V1200 is even Haswell ready which basically future proofs the power supply by supporting 4th generation Intel Core Desktop Processors for both active and deep power down modes.
Features
Fully modular cable design for easy installation and cable management
100% high quality Japanese electrolytic & solid capacitors ensure performance and reliability
135mm FDB silent fan default as hybrid mode, equipped with hybrid fan controller, easily switch mode (auto / hybrid) by the controller
Zero dBA fanless mode silent operation
80 PLUS Platinum certified: up to 93% efficiency @ 50% load
Powerful single +12V rail, capable of delivering up to 100A
Excellent output voltage stability ensures total voltage regulation under 1% (even better than DSP)
Twelve PCI-E 6+2pin connectors for 4 way SLI & high end solution builds
7-year extended warranty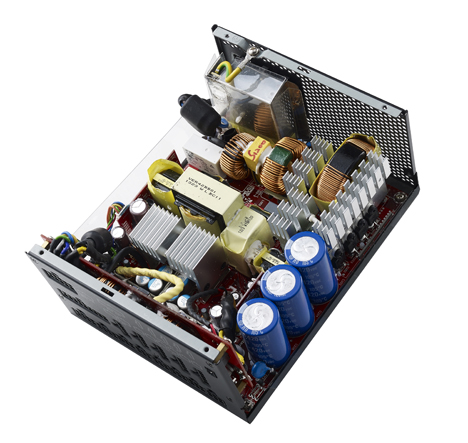 Before installing this unit into our test machine, the first thing that I noticed about the unit was its overall design that not only boasted a professional build but features a great modular cable design for easy installation. Nothing is worse than some power supplies that requires the user to shove the cords into an unused portion of your case. Thankfully this is not the case with this unit as you can easily mix and match to what is required. In terms of connectors, the V1200 boasts a plethora of connections that include the following configurations;
M/B 20+4 Pin Connector x 1
CPU 4+4 Pin x 2
PCI-e 6+2 Pin x 12
SATA x 12
4 Pin Peripheral x 9
4 Pin Floppy x 1
I was actually surprised with the amount of cables that is included in this over the counter product, it has a cable for anything and everything. The quality of the cabling is also quite sturdy and doesn't feel cheaply made but something that will not only last but will deliver on performance. I also loved the amazing packaging of this product which is quite exceptional and it even comes with a cloth bag. It's great that Cooler Master have thought of everything and this is definitely like the Rolls Royce of power supplies.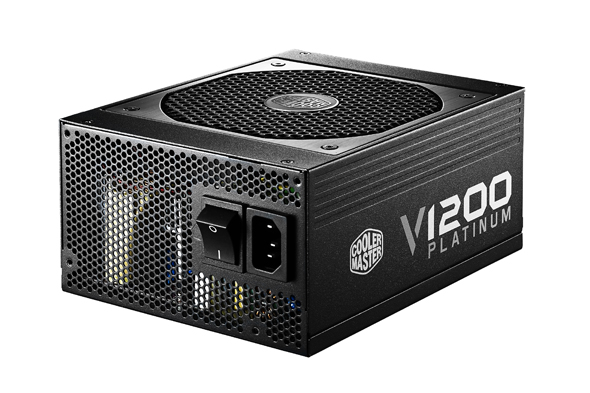 Once connected to the motherboard, the V1200 Platinum is a very quiet power supply thanks to its fan, even when it was supplying one of our high-end graphics cards. With that said, you can even tweak the fan thanks to its hybrid fan controller that connects to the back of your case which is a nifty little feature as it can be changed on the fly. A great little tool for those PC enthusiasts who want to tweak their systems by just a flick of the switch. It should also be noted that the V1200 boasts a platinum certified efficiency of up to 93% @ 50% load. Add in a single +12V rail running at 100A for a total capacity of 1200W and this means you've got everything you need to power those behemoth video cards.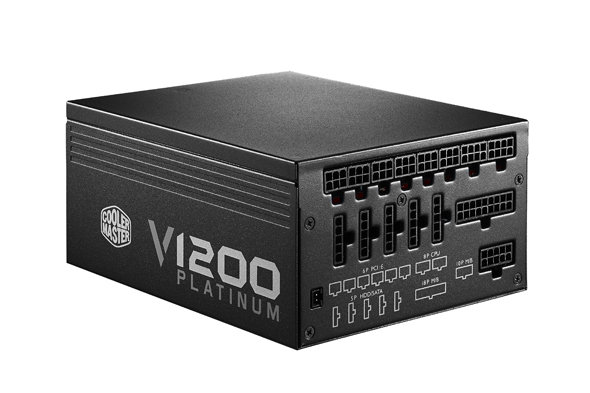 The fan used by the V1200 is a dynamic fluid bearing fan which means it's quite silent and reduces wear and tear on the overall system. I guess this is why Cooler Master are offering a 7-year warranty. On our test machine and while in hybrid mode, the fan didn't kick in until it reached around 600w and even then it was quite silent. Games such as Battlefield 3 or Tomb Raider didn't even make the power supply sweat, even with full detail turned on and with 4K. We tried to push this power supply but it just didn't want to play! That's good mind you!
Final Thoughts?
The V1200 is the ultimate power supply for both gamers and PC enthusiasts who want to get the most out of their systems. The modular design is brilliant as is the inclusion of cables, cables and more cables but more importantly, it gives the PC an uninterrupted flow of power. Installation is easy and even though it is more expensive than some other power supplies, the V1200 definitely delivers good value for money, especially with its 7-year warranty and future proofing.
Recommended!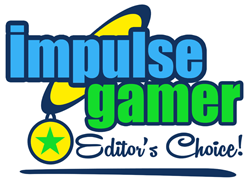 Specifications
Model
RSC00-AFBAG1-XX
Type
Intel Form Factor ATX 12V V2.31
Dimension (W x L x H)
150 x 190 x 86mm / 5.9 x 7.5 x 3.4 inch
Input Voltage
100-240Vac (Full Range)
Input Current
15 – 7.5A
Input Frequency Range
60 – 50Hz
PFC
Active PFC (>0.9)
Power Good Signal
100-500ms
Hold Up Time
>17ms
Efficiency
93% Typically
MTBF
>100,000 Hours
Protection
OVP / UVP / OPP / OTP / OCP / SCP
Output Capacity
1200W
Operation Temperature
0~40°C
Regulatory
CE/TUV/TUV-SUDNRTL/FCC/EAC/CCC/BSMI/RCM/KC
Fan
Silent FDB 135mm
Certifications
80 Plus Platinum
Connector
M/B 20+4 Pin Connector x 1
CPU 4+4 Pin x 2
PCI-e 6+2 Pin x 12
SATA x 12
4 Pin Peripheral x 9
4 Pin Floppy x 1