Hardware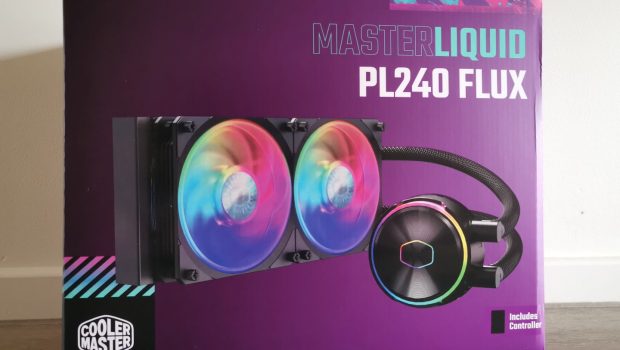 Published on February 6th, 2023 | by Andrew Bistak
Cooler Master MasterLiquid PL240 Flux Review
Summary: Cooler Master MasterLiquid PL240 Flux is pure cooling perfection
If you have a high performance CPU such as the Intel Core i9-13900K, then liquid cooling is a must as it has been designed to keep the temperatures lower on your processor particularly when running at high loads. This complements gaming well and of course overclocking that when matched with the kaleidoscope aesthetics of its RGB lighting, it really makes your gaming rig stand out. Further, liquid cooler supports a variety of CPU configurations from both Intel and AMD that allow you to get the most out of your processor.
So today, we're checking out Cooler Master's new MasterLiquid PL240 Flux that is a low profile radiator… in other words it is smaller courtesy of its dual chamber pump design but still provides excellent thermal management. The new design also helps in targeting particular heat areas, including improved cooling with its Flux series of fans. While it is a compact liquid cooler, it still classified as a 240 radiator.
If you have a clear case, you are in for a treat due to the dual look ARGB pump and addressable Gen 2 RGB features for independent lighting customisation that allows for a plethora of effects courtesy of Cooler Master's PlasterPlus+ Software. Or you can just let it run through its own rotation of over 16.8 million colours that again looks spectacular.
The Setup
The Cooler Master MasterLiquid PL240 Flux is a well packed product and comes with everything you need to install (and relatively easily) into your existing or new PC system. Our test machine included the ASRock Z790 RS Pro motherboard and as a second test, the ASRock Z690 PHANTOM GAMING-ITX/TB4 plus Intel's 13th Generation 13-900K CPU that requires the best cooling possible if you want to overclock or play games intensely. Another bonus is that the PL240 Flux even comes with thermal paste which is quite considerate of Cooler Master.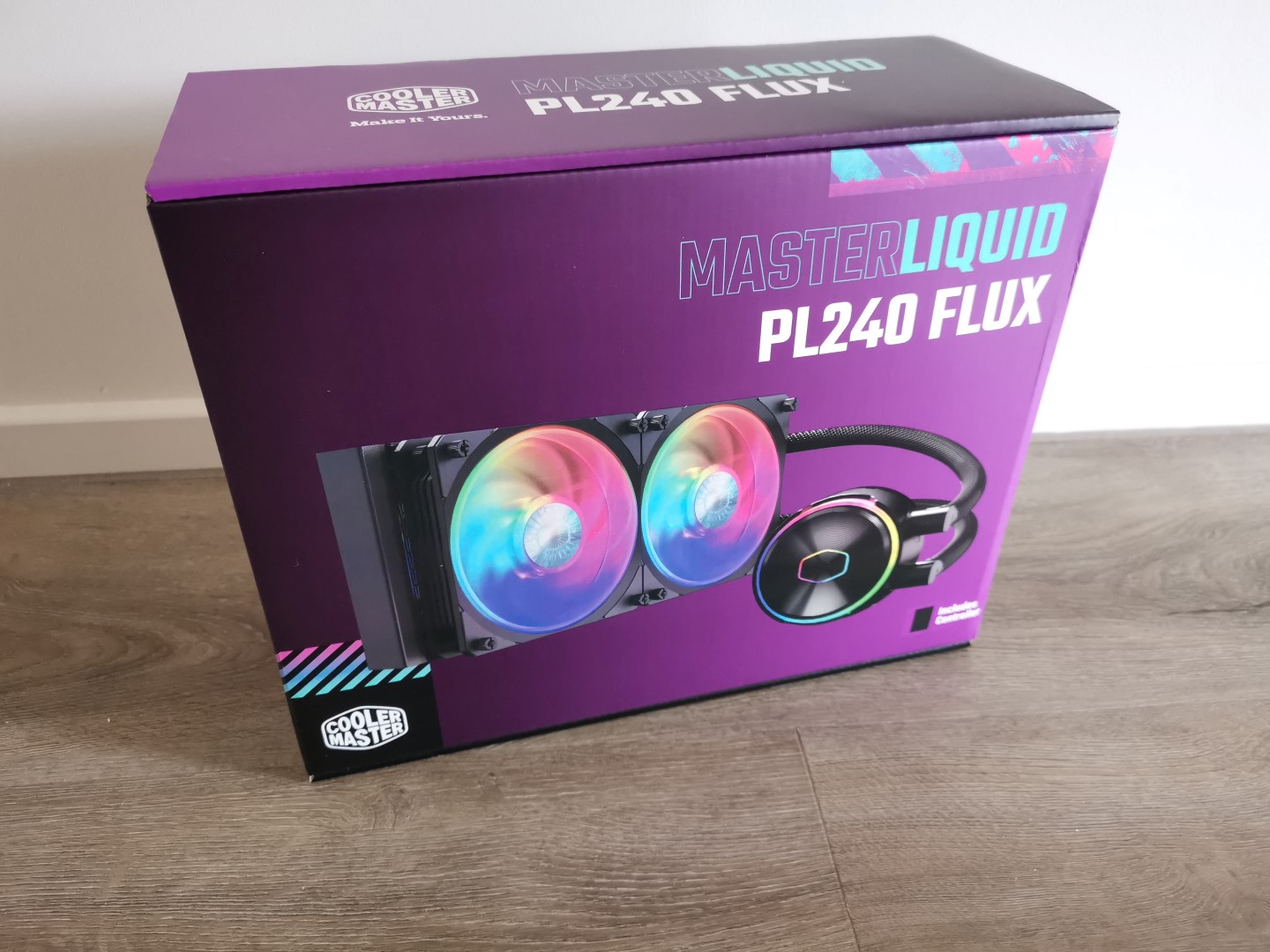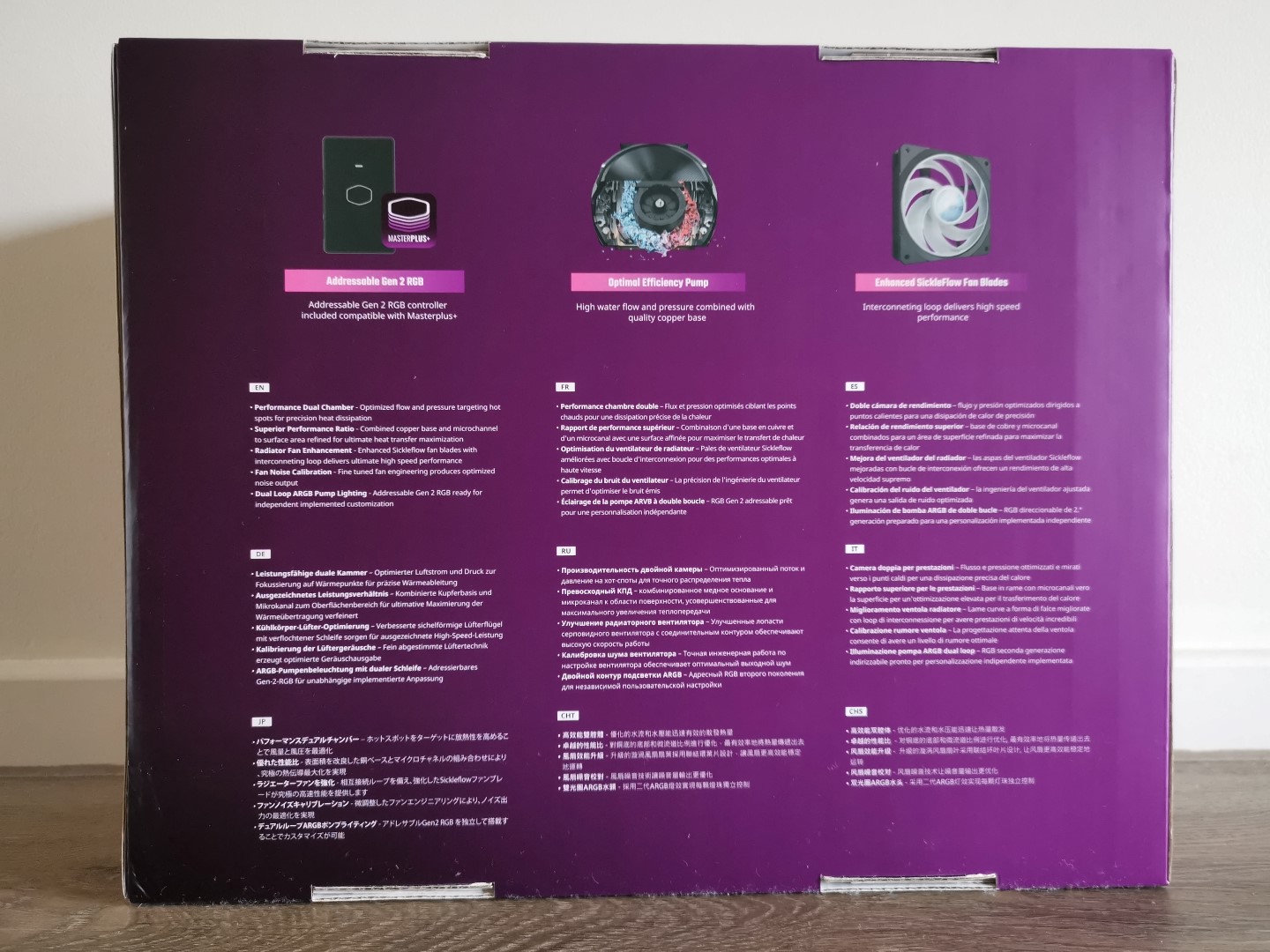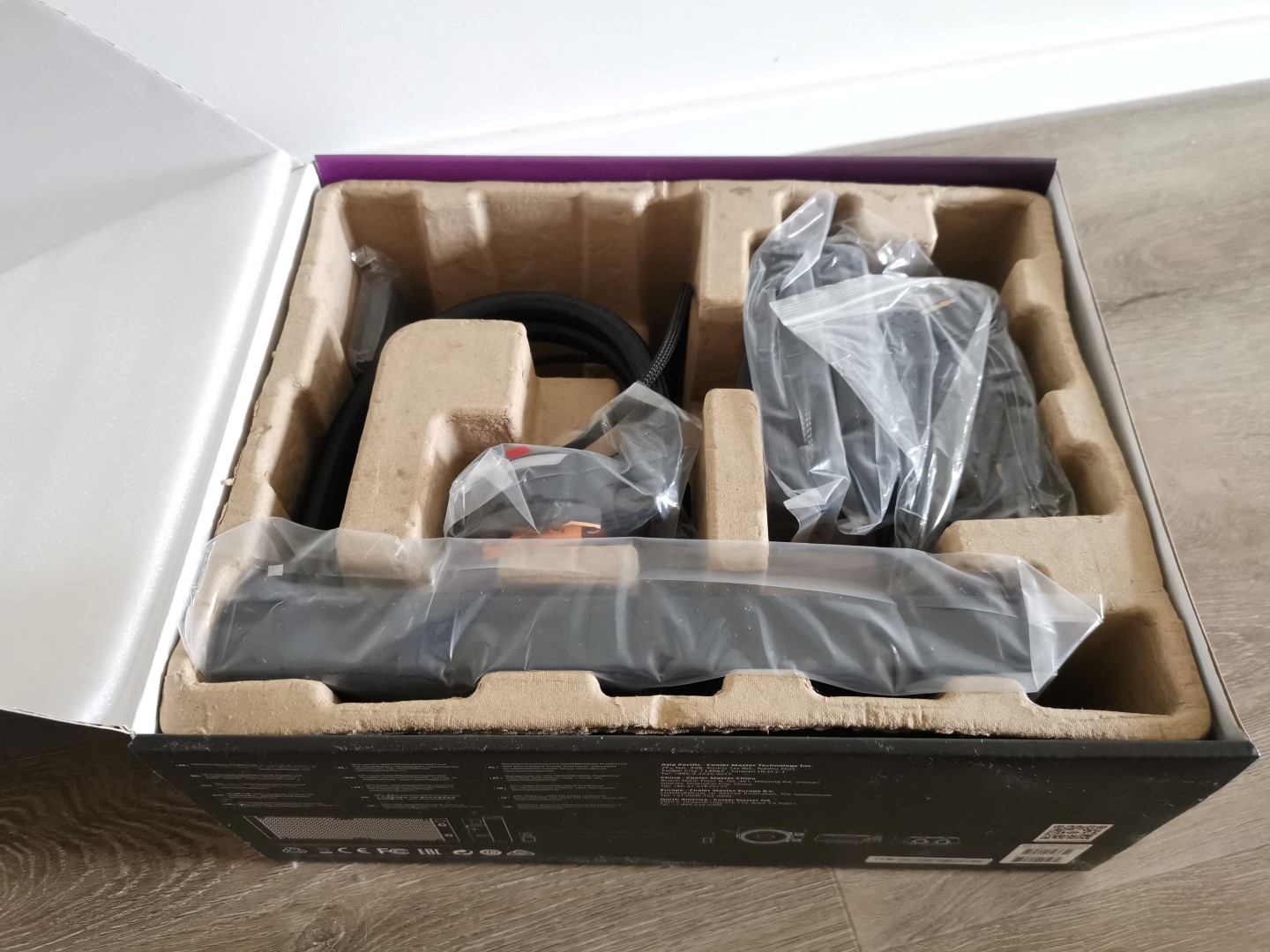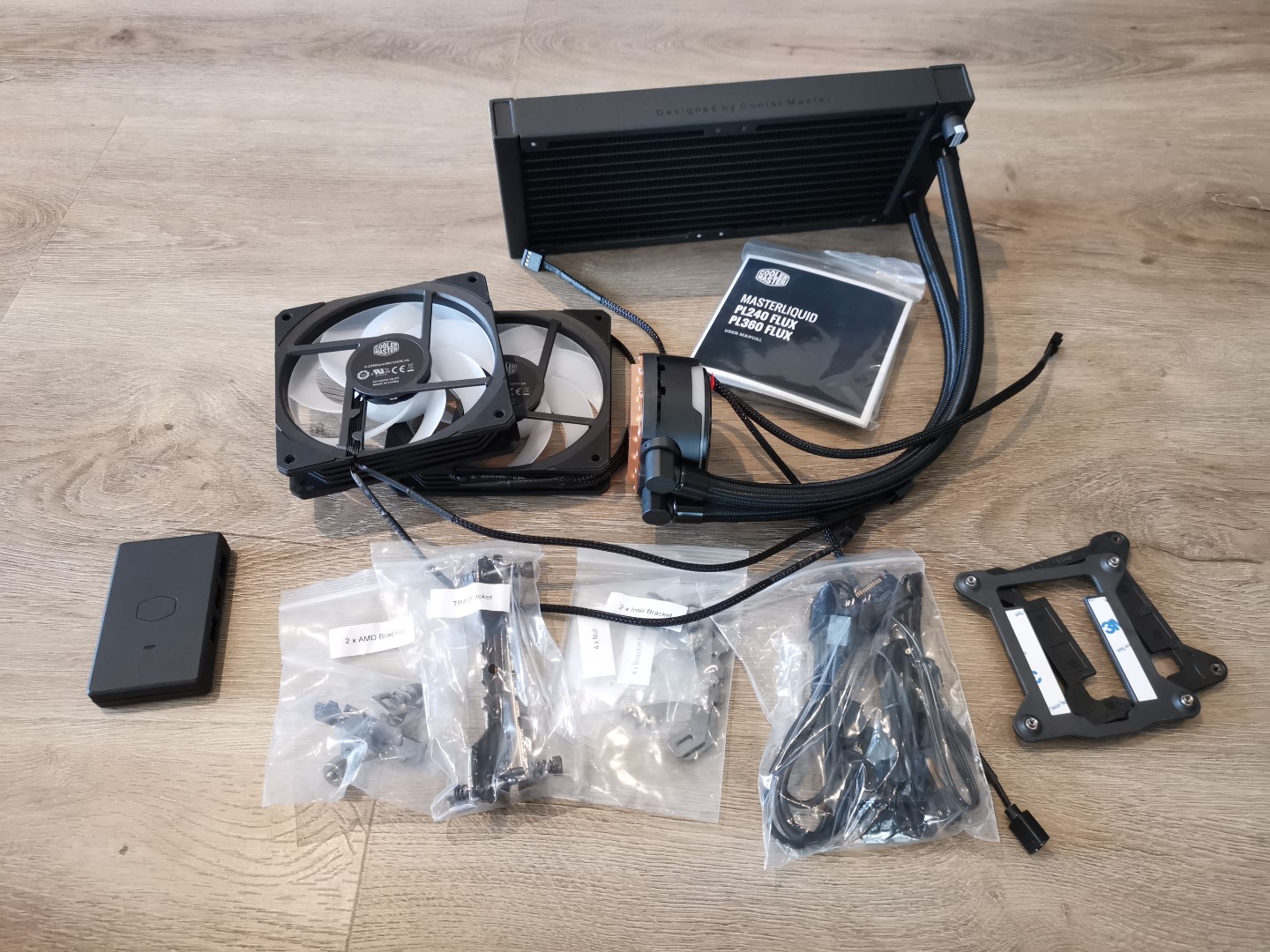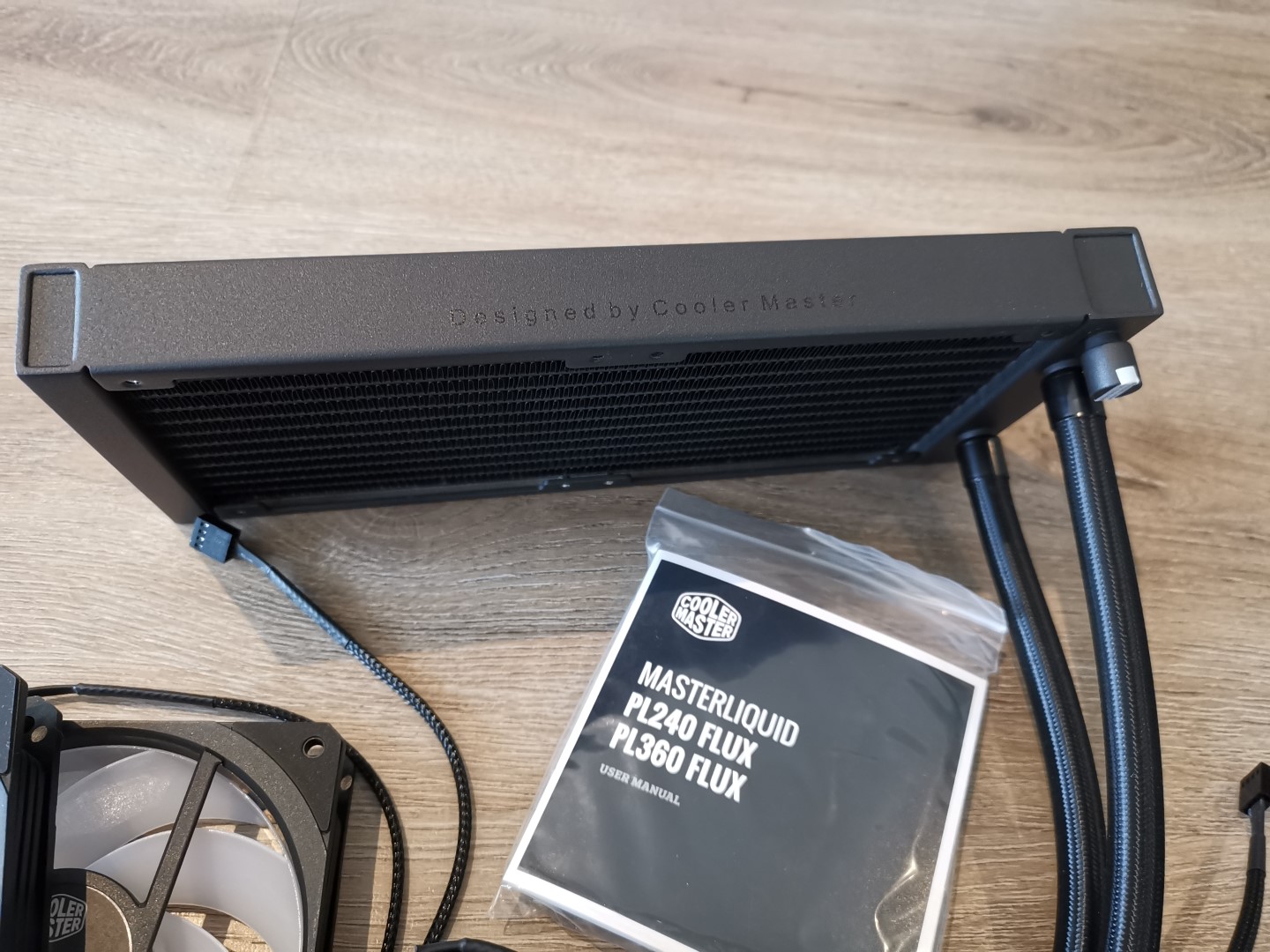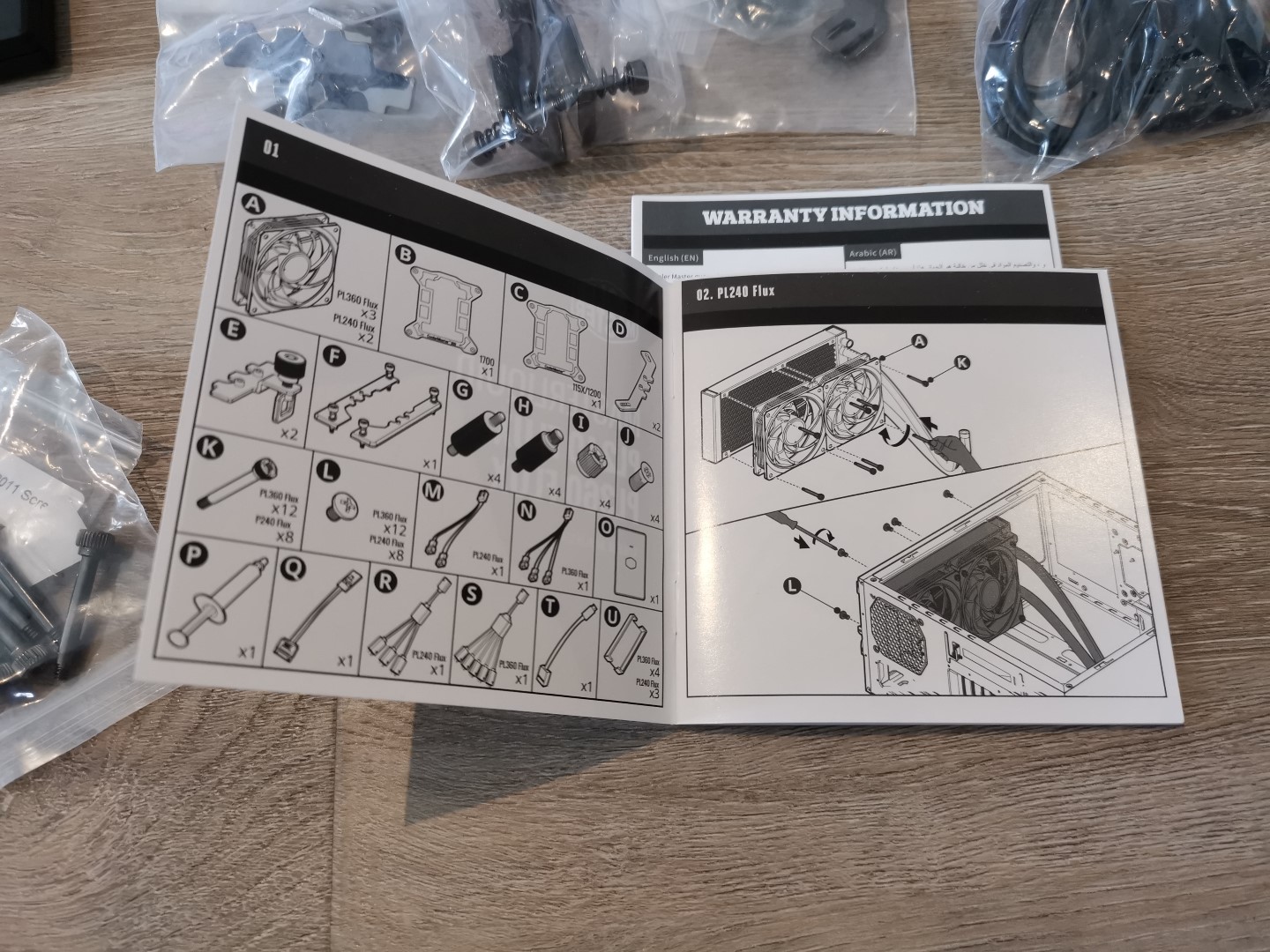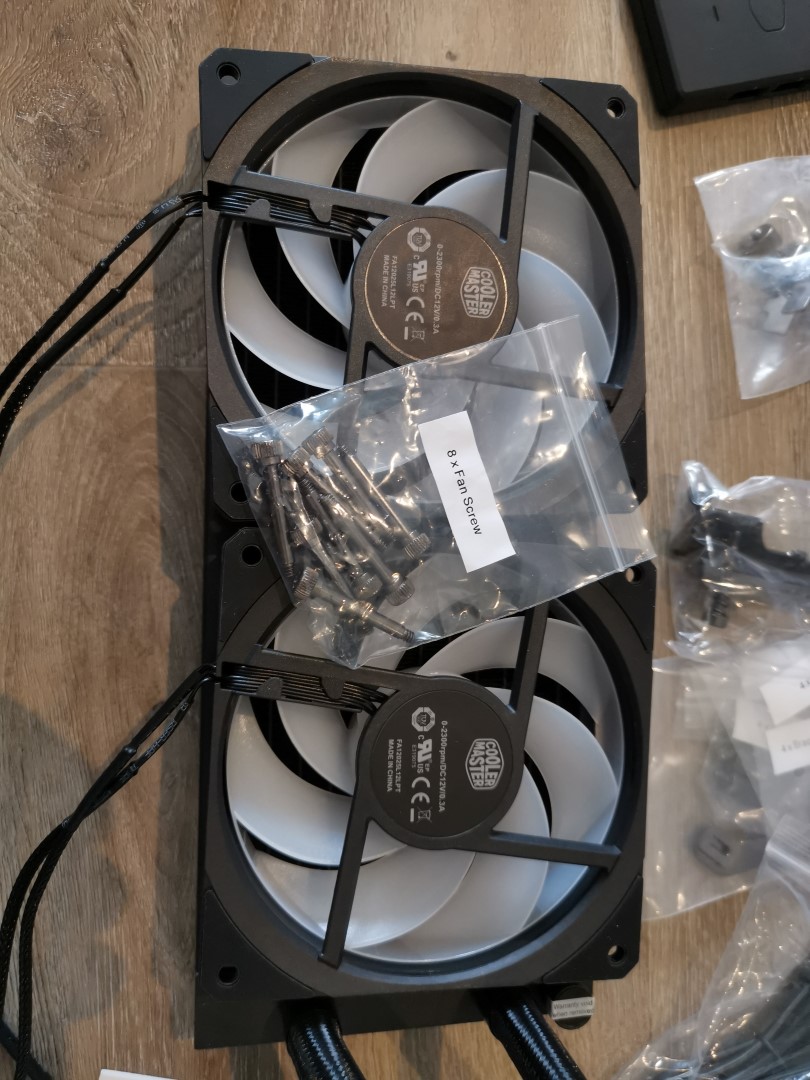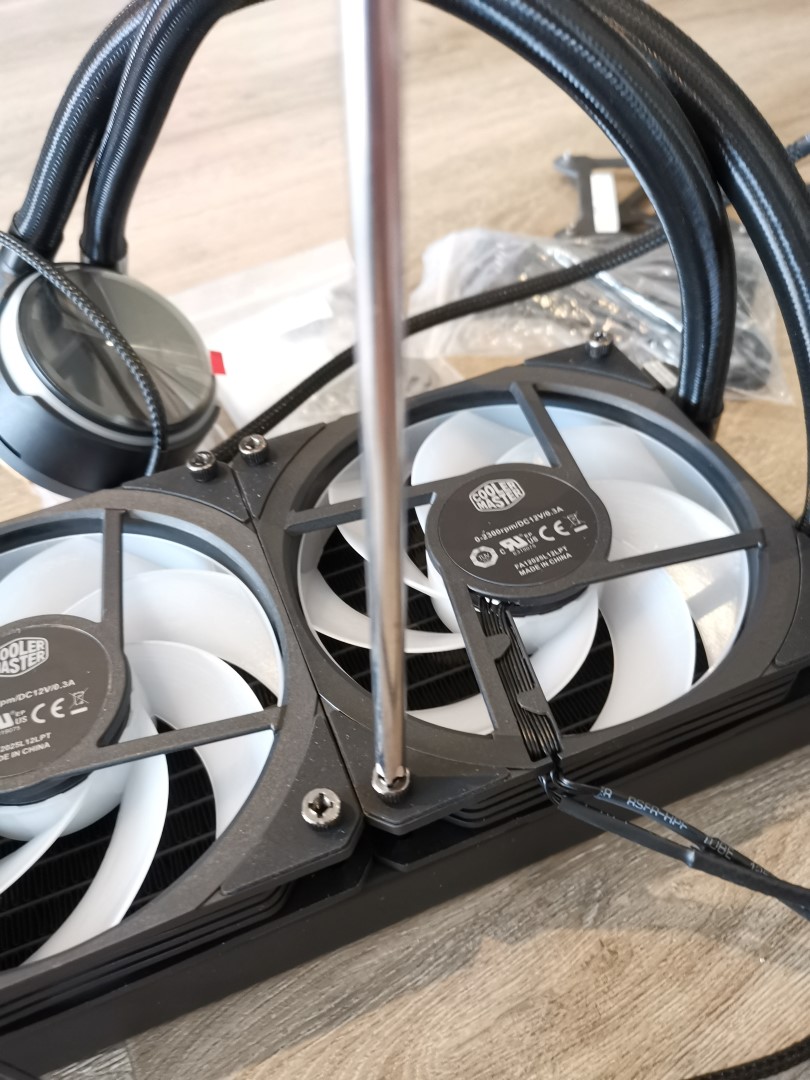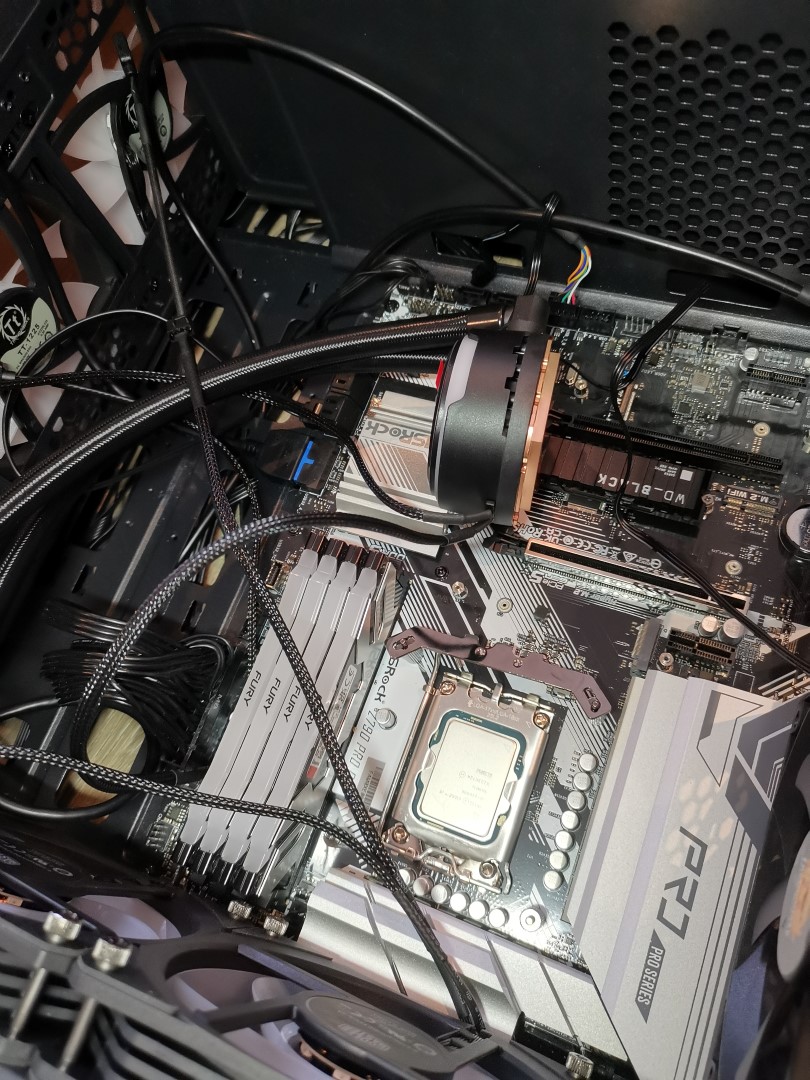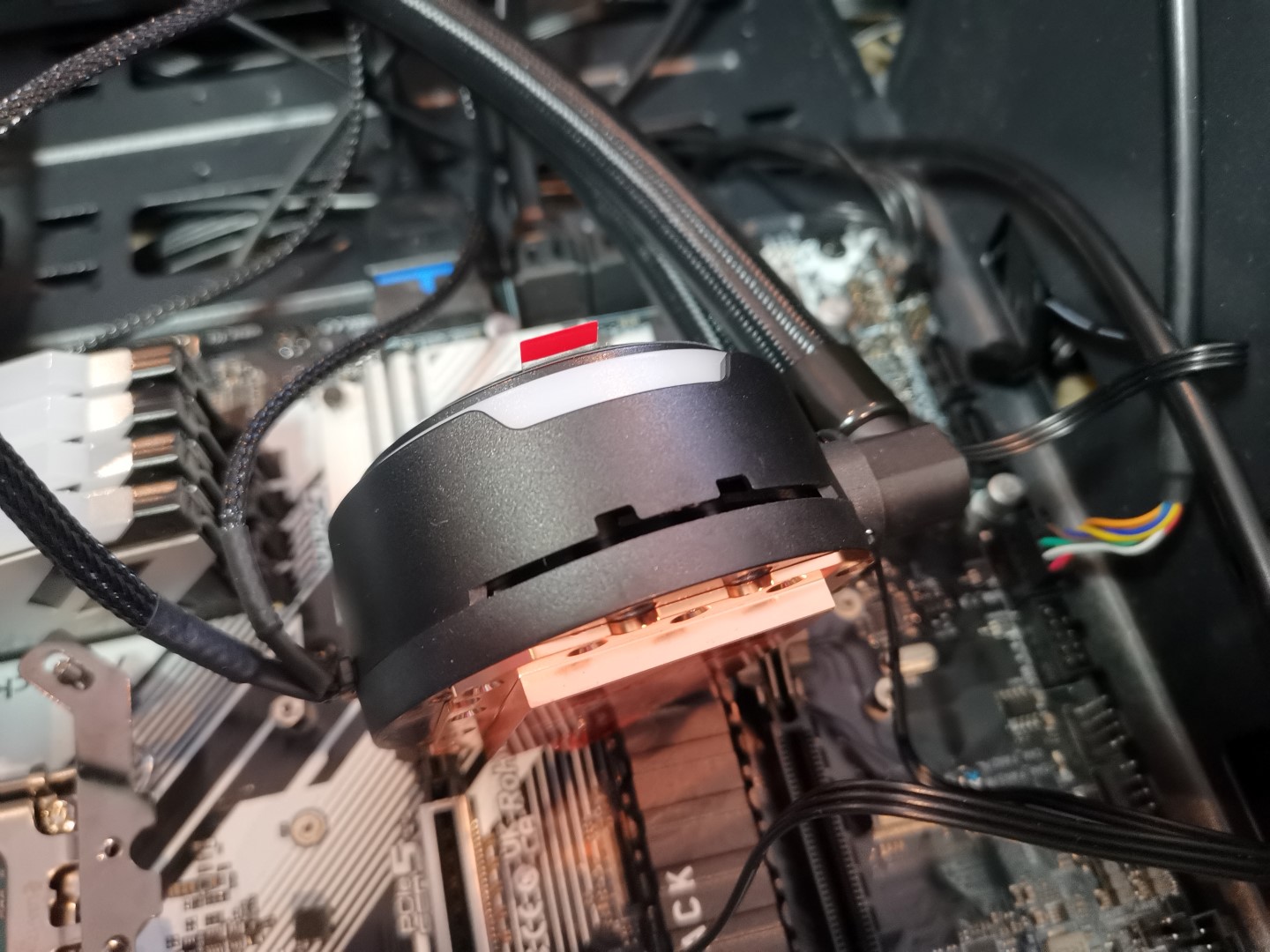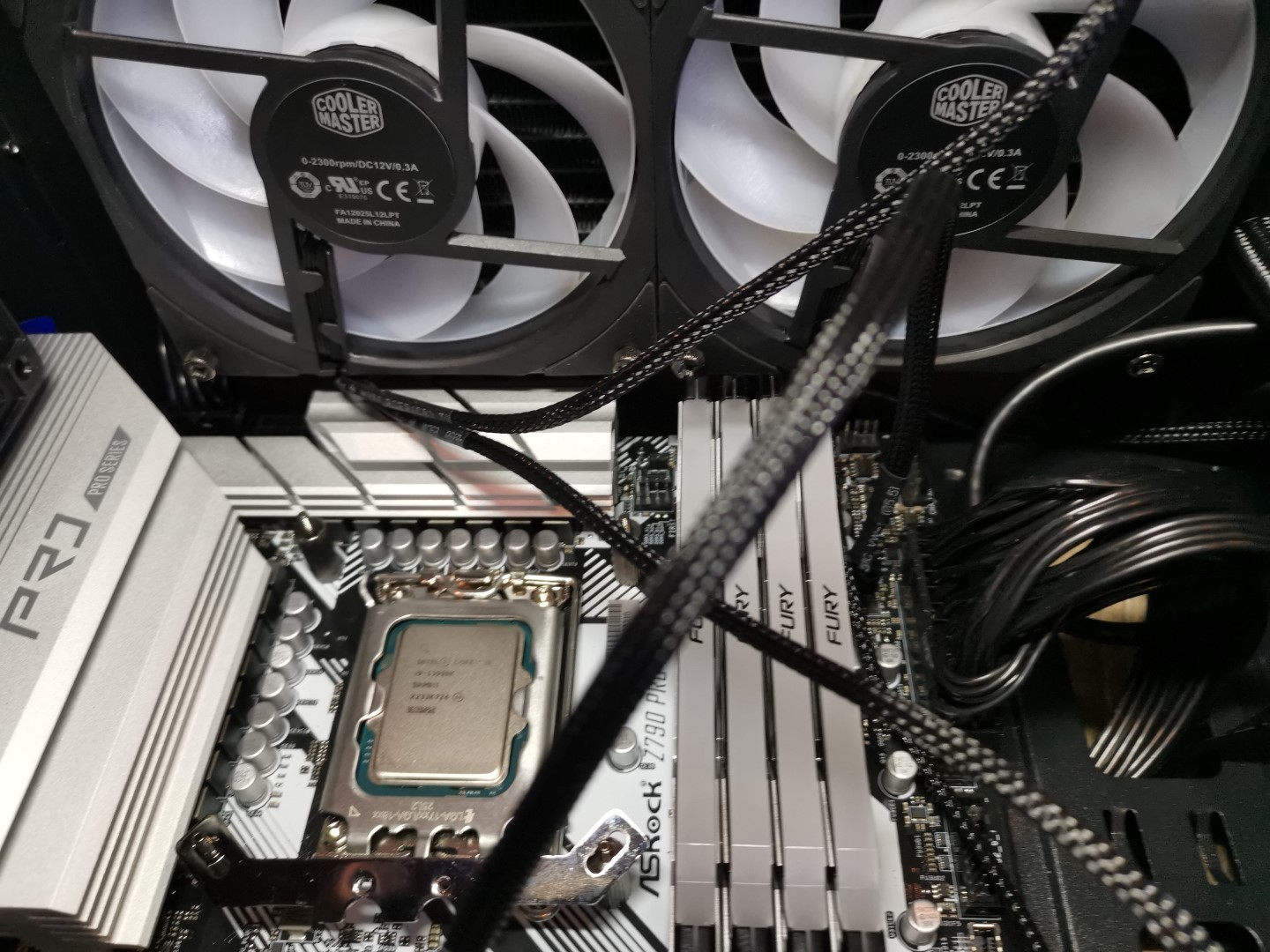 While installing the cooler is easier on a new system, the setup process is quite straight forward courtesy of its pictograph instructions. The first step was to install the backing piece underneath the motherboard which then allows you to add the four cooler screws to the top of the motherboard. The next step is to attach the radiator to your case with the eight included screws in order to mount it to your case. Following this is to add thermal paste to your CPU, then carefully place the main cooling component onto your CPU and then tighten it to the motherboard via four screws.
Following this step is to attach the power and lighting cables to your motherboard and I love how Cooler Master include adapters. For example, there is a splitter for the RGB lighting that allows you to connect all the lighting cables from the liquid cooler into one plug on your motherboard. We also trialed the cooler on another motherboard, however we did have a few spacing issues due to the larger components on the board. As a result, it needed four screws not eight but it was still very stable. Last but not least, you then need to reconnect the power to your motherboard and press power. The only issue we had is that some of the cables could have been longer, however I still managed to connect them.
Welcome to colours…
If you want to check if you're cooler is working, you can access the speed and temperature through the BIOS on your motherboard or alternatively via your operating system or app. So did the Cooler Master MasterLiquid PL240 Flux handle the Intel's 13th Generation 13-900K, the undeniable answer is yes and for everyday use, it kept the temperature at between 39 to 44 degrees Celsius. On my older cooler, the average temperature was between 55 to 60 degrees which was a little warm, even though it can run up to 100 degrees Celsius.
As you can see from the stats below, the Cooler Master MasterLiquid PL240 Flux keeps the CPU very cool.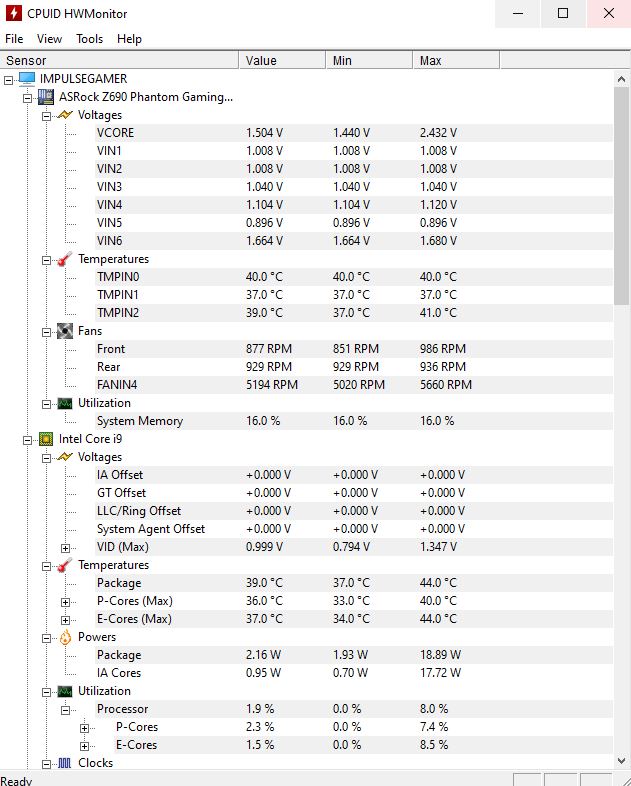 Additionally, 3DMark which is a high performance benchmarking app kept the CPU between 6o to 70 degrees that was also mirrored by gaming with titles like Call of Duty Black Ops, Horizon Zero Dawn and Fornite again averaging this score. No issues whatsoever and lowered tiered benchmarking kept the process in the aforementioned temperature zones.
While you can hear the cooler, it runs at a maximum of 15 dBA (Max) that is a low hum and while a normal conversation is at 60, 15 is considered as a whisper. For additional perspective, 120 is considered the same level as a jet engine.
Final thoughts?
The Cooler Master MasterLiquid PL240 Flux provides impressive cooing capabilities for the latest generation of Intel CPU's. With easy installation plus fantastic lighting, the Cooler Master MasterLiquid PL240 Flux ticks all the right boxes.
Cooler Master MasterLiquid PL240 Flux Features
COOLING UNCOMPROMISED
Cooler Master's Flux Series is the materialization of revolutionary cooling performance. With enhancements from the pump to the radiator and fans, the Flux Series delivers precisely tuned performance for superior heat dissipation and cooling capabilities.
PREMIUM DUAL CHAMBER PUMP
New Dual Chamber Pump more compact than before while delivering the perfect volume of flow to pressure for impressive cooling performance.
FINE TUNED PERFORMANCE RATIO
Precision engineered ultra-thin spaded fins maximize microchannels to accurately target heat spots. Enlarged copper base surface area with optimized base thickness further accelerates heat transfer.
ULTIMATE HEAT EXCHANGE
High speed motor utilizing a ceramic bearing impeller forces balanced water flow to and from the radiator for ultimate efficiency of heat exchange.
SLIM & SLEEK RADIATOR
Low profile radiator with superior fin density coupled with performance fans dissipates heat rapidly.
REDESIGNED FLUX SERIES FAN
Unique air balance fan featuring interconnecting blades specifically designed for the Flux Series. Strengthened structure provides better stability for steady high speed operation. Angled inner fan frame rim boosts air intake, with frame gap generating increased air pressure for improved cooling.
DUAL LOOP ARGB PUMP
Dual loop pump ARGB with independent lighting customization showcases your visual creativity without sacrificing cooling capability.
ADDRESSABLE GEN 2 RGB
Included Addressable Gen 2 RGB controller works with Cooler Master's MasterPlus+ software to customize individual LED colors, effects, brightness and more – all from an intuitive, convenient interface.
Cooler Master MasterLiquid PL240 Flux Specifications
Product Number: MLY-D24M-A23PZ-R1
Exterior Color: Black
CPU Socket: LGA1700, LGA1200, LGA2066, LGA2011-v3, LGA2011, LGA1151, LGA1150, LGA1155, LGA1156, AM5, AM4, AM3+, AM3, AM2+, AM2, FM2+, FM2, FM1, TR4
Radiator Material: Aluminum
Radiator Dimensions: 277 x 119.6 x 27.2 mm / 10.7 x 4.7 x 1.07 inch
Pump Dimensions: 89 x 75 x 40 mm / 3.5 x 2.95 x 1.57 inch
Pump MTTFL >210,000 Hours
Pump Noise Level: 15 dBA (Max)
Pump Connector: 4-Pin (PWM)
Pump Rated Voltage: 12 VDC
Pump Power Consumption: 6W
Fan Dimensions (L x W x H): 120 x 120 x 25 mm / 4.7 x 4.7 x 1 inch
Fan Quantity: 2 PCS
Fan LED Type: Addressable Gen 2 RGB
Fan Speed: 0-2300 RPM ± 10%
Fan Airflow: 72.37 CFM (Max)
Fan Noise Level: 32 dBA (Max)
Fan Pressure: 2.96 mmH₂O (Max)
Fan Bearing Type: Oli Reflow Bearing System (ORBS)
Fan Life Expectancy: >160,000 Hours
Fan Power Connector: 4-Pin (PWM)
Fan Rated Voltage: 12 VDC
Fan Rated Current: 0.15A
Fan Safety Current: 0.3A
RAM Clearance: N/A
Warranty: 5 years
Series: MasterLiquid Pro
Cooler Type: Liquid Cooler
Radiator Size: 240