Hardware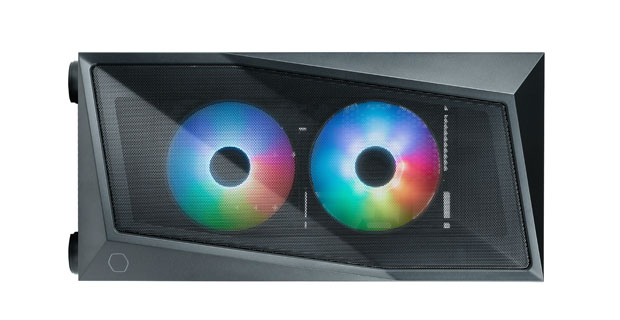 Published on February 6th, 2023 | by Tony Smith
Cooler Master CMP 320 Review
Summary: The Cooler Master CMP 320 provides room to move
The new CMP 320 is a mini-tower from Cooler Master that provides gamers with a smaller form-factor case that not only boasts premium aesthetics but RGB lighting with a tempered glass side to showcase the insides of your rig. It also ensures optimal thermals so you can fine-tune your rig (e.g. overclocking) for maximum performance on smaller motherboards that include the Mini ITX and Micro ATX boards.
In terms of cooling, the Cooler Master CMP 320 comes with two 120mm ARGB Fans plus a mesh filtration system to help in preventing dust build-up inside the case. Further, the case has enough room for an additional six fans plus radiator support (up to 240m) for liquid cooling options. Gamers will also appreciate that the CMP 320 can hold a graphics card up to 365mm, including a CPU cooler of up to 163.5mm. So as you can see, there is quite a bit of room to navigate and more importantly manage your components, all while keeping your case smaller.
The aesthetics of the Cooler Master CMP 320 is quite streamlined and definitely sets itself apart from the more mainstream cases with its angular edges. The left side of the case is tempered glass that allows you to look inside your rig and when matched with RGB lighting, it creates an impressive beast. Another highlight is that the case is a good size with plenty of room inside to move while building your dream machine. The case itself measures at 445.5 (Length) x 204 (Width) x 425mm (Height) with a 38.52L capacity.
Specifications
Model Number: CP320-KGNN-S00
Exterior Color: Black
Materials (Exterior): Steel, Plastic
Materials (Left Side Panel): Tempered Glass
Dimensions (L x W x H): 5 x 204 x 425mm (Incl. Protrusions), 431.8 x 204 x 410mm (Excl. Protrusions)
Volume 52L (Excl. Protrusions)
Motherboard Support: Mini ITX, Micro ATX
Expansion Slots: 4
5″ / 3.5″ Drive Bays (Combo): 2
5″ Drive Bays: 2
I/O Panel: 1x USB 3.2 Gen 1 Type-A, 1x USB 2.0, 1x 3.5mm Headset Jack (Audio+Mic)
ARGB Controller: ARGB Fans Hub
Pre-installed Fans – Front: 2x CF120 ARGB
Fan Support – Top :2x 120mm, 2x 140mm
Fan Support – Front: 2x120mm/3x120mm (*Installed inside the case only)
Fan Support – Rear: 1x 120mm
Radiator Support: Top 120mm, 140mm, 240mm, 280mm
(*Recommend AIO tubes face rear to avoid interference)
Radiator Support – Front: 120mm, 240mm
Radiator Support – Rear:120mm
Clearance – CPU Cooler: 163.5mm
Clearance – PSU: 160mm
Clearance – GFX: 365mm (without front fans & radiator)
Cable Routing: 16.5mm
Dust Filters: Top, Bottom
Power Supply Support: Bottom Mount, ATX
Warranty: 2 years
Series: CMP Series
Size: Mini Tower
Unboxing
We tested the Cooler Master CMP 320 with an Intel Core i9-13900K that included ASRock Z690 PHANTOM GAMING-ITX/TB4 motherboard, Cooler Master MasterLiquid PL240 Flux, Super Flower Leadex Platinum SE 1000W, WD_Black SN750 SE NVMe SSD, Kingston FURY Renegade DDR5 RGB Memory and a AMD Radeon RX 6800 XT. Needless to say these components easily fitted inside the case with no issues whatsoever. While smaller cases are excellent for those looking to minimise space, it does limit you to the motherboard size and my only complaint with this case is that the I/O panel only has one USB 3.2 Gen 1 Type-A port. However this is generally a shortfall of a large cohort of cases.
Gallery
Final Thoughts?
The Cooler Master CMP 320 retails for around $99AUS (Feb 2023) and provides users with a mini tower that is capable to handle the latest components. It is also a good entry level case for those looking to upgrade or build a rig on a budget that also looks 'gamer', particularly when matched with RGB lighting that really stands out with its black colouring. Add in impressive cooling options and if you're seeking that smaller form factor case, the Cooler Master CMP 320 is an overall winner plus 2-years warranty for peace of mind.
Recommended!
For more information, please visit https://www.coolermaster.com/catalog/cases/mini-tower/cmp-320
Features
Two 120mm CF120 Fans
Pre-installed with two 120mm CF120 fans, CMP 320 ensures stunning aesthetics, eye-catching design, and thermal excellence.
ARGB/FAN HUB
The included controller allows users to manage systems lighting independently from the hardware configuration and provides the user with 4 additional fan headers in case of need.
Mesh Geode Front Panel
Inspired by asymmetrical crystal formations, the mesh front panel offers generous intake and efficient dust filtration.
Versatile Cooling Options
Support for up to six fans and front, top, and rear radiator support ensure that performance is not compromised.
Full Black Coating & PSU Cover
Let your system stand out with an all-black background and a PSU cover to hide cables.
Room for Upgrades
Support for up to a 365mm graphics card, a 163.5mm CPU cooler, and multiple fans/radiators locations provides room for upgrades.
Breathable Power Supply Shroud
The ventilated PSU cover supports both active and passive cooled PSUs installed in multiple orientations.