Games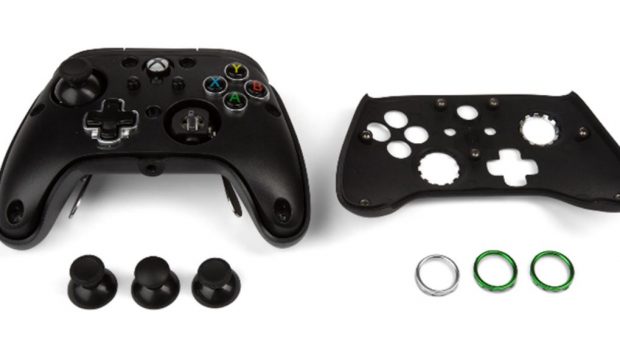 Published on November 11th, 2019 | by Andrew Bistak
Control your destiny with the FUSION Pro Wired Controller for Xbox One
With advanced gaming capabilities in mind and enhanced customization to align with personal gameplay preferences, FUSION controllers cater to the avid gamer – and they do so in style.

Officially licensed for Xbox One and with key features including a mappable Pro Pack with four removable paddles, three-way trigger locks, and swappable parts, this is the controller that gamers will love!

A detachable Pro Pack with four removable rear paddles gives you the ability to map actions for all front buttons (A, B, X, Y, LB, RB, LT, RT, thumbsticks, and d-pad) on-the-fly to the four paddles. Comfortably keep your thumbs on the analog sticks while easily mapping functions between the front and back of the controller, all while maintaining control with heightened reaction time.

Whether you aim to reign supreme in battle-royale or want more throttle control during a race, quickly adjust the trigger pull to short, mid-range or long to match your preference. With separate controls for both the left and right trigger, you'll have the flexibility to modify trigger response according to your play style across a variety of games.

Create your ideal controller setup by swapping out analog sticks and anti-friction rings. Removable magnetic faceplates provide quick and easy access to the sticks and rings underneath, letting you play exactly how you want. The FUSION Pro also comes with two additional ALPS compatible analog sticks and an extra set of anti-friction rings. Store it all in a premium case.

FUSION Pro Wired Controller for Xbox One features include:
Mappable Pro Pack – Map buttons to the rear paddles on-the-fly without letting go of the thumbsticks
Three-way trigger locks – Adjust for shorter trigger response and faster action
ALPS analog thumbsticks – Maintain firm control and switch from short to tall
Anti-friction rings – Enjoy smoother thumbstick motions with minimal drag or friction
Magnetic impulse triggers – Experience enhanced precision feedback for more immersive gameplay
Metallic accents – Stand out from the rest with eye-catching details and style
5mm audio jack – Get crystal-clear game audio when paired with any wired headphones
Dual rumble motors – Immerse yourself in the game world with responsive rumble feedback
Injected rubber grips – Play comfortably for hours and maintain a solid grip throughout
Custom protective case – fits controller, cable, and accessories
Detachable 9.8ft (3m) braided snap-lock USB cable with quick release
Official licensed product
The FUSION Pro Wired Controller for Xbox One has an RRP of (AUD) $149.95, comes in both Black and White and is available now from EB Games, JB Hi Fi and The Gamesmen.