News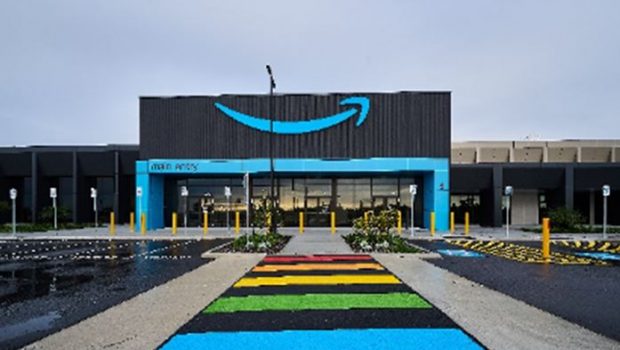 Published on June 1st, 2023 | by Adrian Gunning
Construction of Amazon's fulfilment centre in Perth nears completion
Construction of Amazon Australia's new purpose-built fulfilment centre (FC) in Perth is nearing completion and is set to open this year, in time for the holiday season. The new fulfilment centre, located in the Jandakot Airport Commercial Precinct is more than double the size of the company's existing site near Perth Airport which it will replace when it opens.
More than 200 jobs will be based at the new FC once fully operational. This – includes around 100 new job opportunities, in addition to roles filled by existing workers transferring to the new state of the art facility. It will increase Amazon's operational footprint in Western Australia by more than 60%, enabling Amazon to better serve its growing customer base in the state.
The fulfilment centre spans around 20,000 square metres – around the same size of the WACA – with capacity to house over 3 million items sold on Amazon.com.au, ranging from smaller to medium items like health, household and personal care products, consumer electronics, books, clothing and pantry food and drink staples, to larger items like flat screen TVs, cartons of soft drink or nappies, and gardening equipment. The new site will increase the storage capacity available to sellers – including local small and medium businesses – by 500%, increasing the proportion of items that can be shipped directly to Western Australian customers.
Director of Operations at Amazon Australia, Mindy Espidio-Garcia said, "We are investing significantly in our Perth operations as part of our ongoing commitment to improve selection and delivery outcomes for customers throughout the state. Many Prime members in greater Perth will have already enjoyed free next day delivery from Amazon and the opening of this site will increase the selection of items that can be shipped to local customers quickly."
"Nearly 1,000 construction jobs were created during the build and fit out, and we look forward to welcoming a team of more than 200 people working at the FC once it's fully up and running. People are at the heart of our operations and we are proud to offer a safe and positive work environment and the opportunity for them to build their skills and grow their careers," Ms Espidio-Garcia continued.
The job opportunities at the FC will range from entry level positions who help pick, pack and ship customer orders, to specialist roles including human resources, workplace health and safety and team leader positions. The majority of jobs will be permanent full-time roles, offering exciting career opportunities, competitive pay and benefits, such as subsidised healthcare and up to 20 weeks paid parental leave.
Glenn Howes works in the pack team at Amazon's current fulfilment centre in Perth's Airport Precinct, and will relocate to the Jandakot FC once open. He visited the new site for a first look tour today and was impressed with what he saw:
"The size and scale of the new FC is so much bigger than I thought. Seeing it makes you realise how big it is. We have six inbound docks at our current site at the airport and there's 17 here. 
Amazon Australia has grown exponentially since I've been part of it. It's great to be part of a diverse team with a lot of well-educated people."
Amazon.com.au launched in Australia in December 2017 and now offers customers more than 200 million products across 31 categories with the selection continuing to grow. Amazon has empowered more than 14,000 Australian businesses, many of which are small and medium businesses, to reach customers around Australia and globally. Since 2011, Amazon has invested more than A$8.4 billion across all of its businesses in Australia. Amazon now has a local team of more than 7,000 employees across amazon.com.au, Amazon Web Services, Kindle, Audible, Alexa and Prime Video.