Books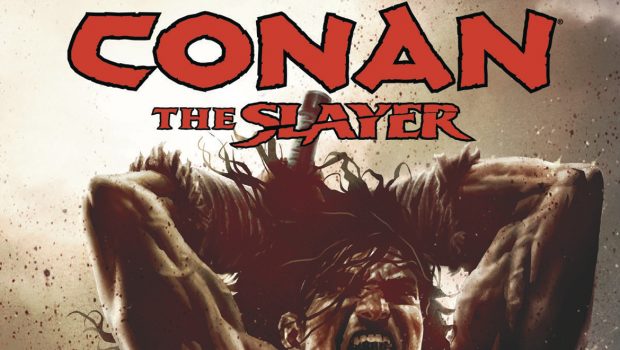 Published on April 3rd, 2017 | by Chris O'Connor
Conan the Slayer Volume 1: Blood In His Wake Comic Review
Summary: Near death Conan finds aid in a Kozaki raiders camp, healing is temporary though as new dangers are never far away.
I first started this story… well I'm not sure how long ago now, it seems like quite a while, so it's nice to have it complete finally to learn the full arc of this tale. Conan is such a larger than life character… someone who it seems is indestructible, so it is interesting to start a story in which he is so close to death. Clearly making his way from a hard fought battle… wounds still fresh from battle, any other warrior might well be dead or have given up. Conan not only isn't ready to die… but he still has fight left in him, enough to send some Turanian's to their death. With some fortune Conan then finds himself with a group of Kozaki raiders and has a chance to heal… but Conan is never able to rest for long and soon finds himself fighting greater forces.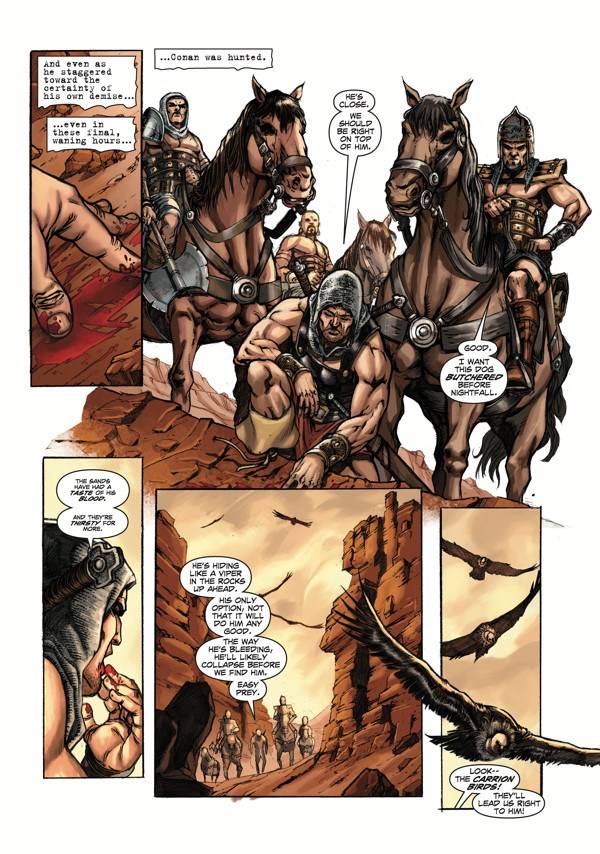 Writing
As mentioned… it's not often you get to see the great Cimmerian looking the worse for wear… let alone practically at deaths door. But in true fashion Cullen Bunn has not only given him that determination not to die… but the will to push through any pain he has in order to see his would be killers sent to their respective hells. We also are shown that conflict that Conan has between not wanting to be responsible for other people's lives and his sense of duty and honour. The question is does his sense of right lead to more trouble than it's worth?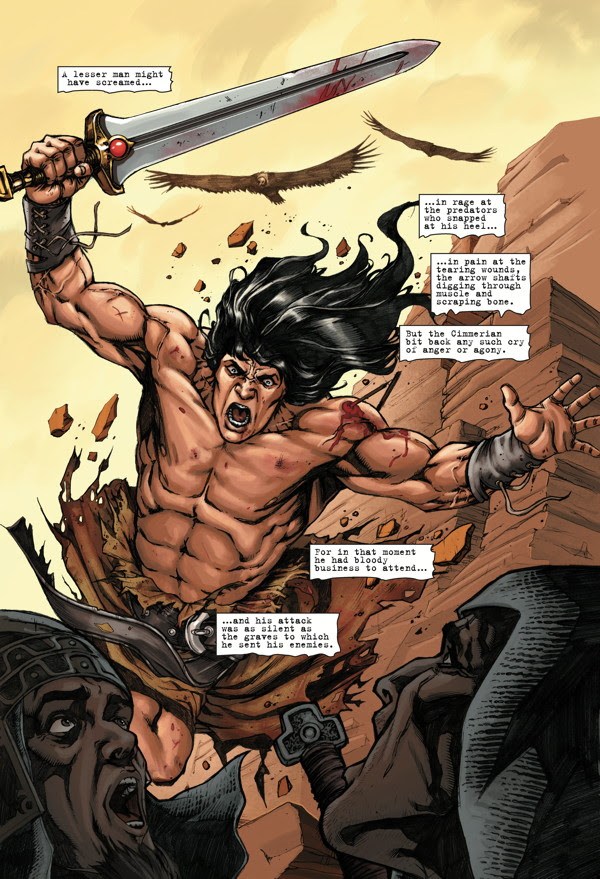 Artwork
Sergio has not spared the red in this story… the blood and gore fly freely in battle and it is all captured by Sergio's art. This would be the Paul Verhoeven of Conan's…
"Is there blood in the scene?"
"Yes."
"Could you put more in?"
"I guess so…"
"Then do so… and when you are done… add the same amount again… oh and make sure there are a few limbs flying about."
I'm not sure I've seen Conan depicted in such a graphic manner… that's not a negative either, I don't mind the less graphic depictions, but it certainly makes sense to depict him in this visceral manner. I also need to pay a lot of credit to Lee Bermejo and the other cover artists… there are some simply stunning pieces breaking up the story, fantastic pieces of art that could tell a full story almost on their own.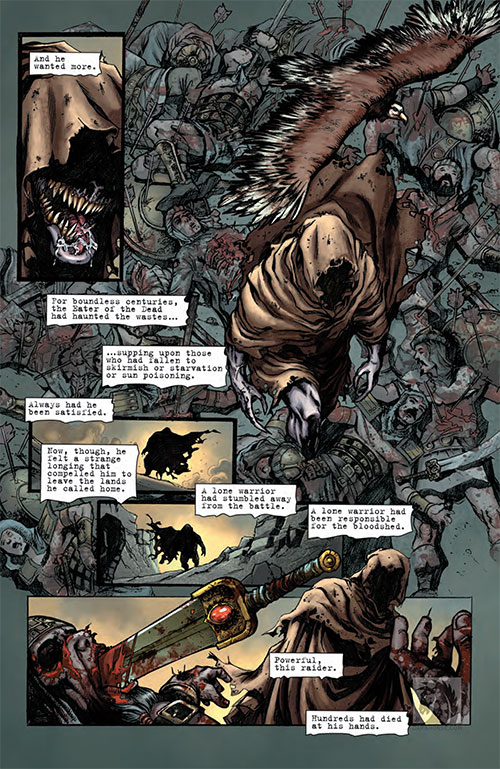 Final Thoughts
I'm always going to love a Conan story, but there's just something about seeing him at one of his lowest points and coming back from that that appeals to me. I guess I like the underdog and though you would rarely think of Conan as an underdog… when he is trudging along, wounds still fresh and comes across a band of Turanians… it would be reasonable to think he isn't the favourite to escape with his life intact. Really this stands as another great addition to the Conan collection… may his chronicler never tire of telling us of his feats of strength and character.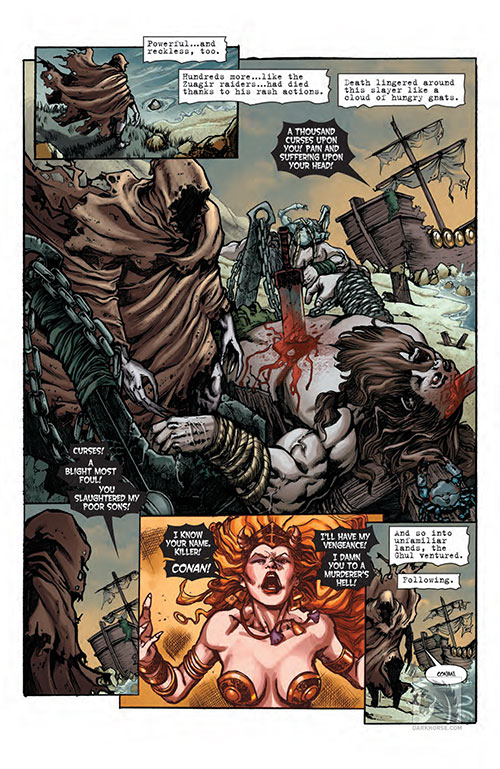 Publisher: Dark Horse
Writer: Cullen Bunn
Artist: Sergio Davila
Colourist: Michael Atiyeh
Cover Artist: Lee Bermejo
Genre: Action/Adventure, Fantasy
Format: 152 pages, FC
Release Date: 26th April, 2017