Games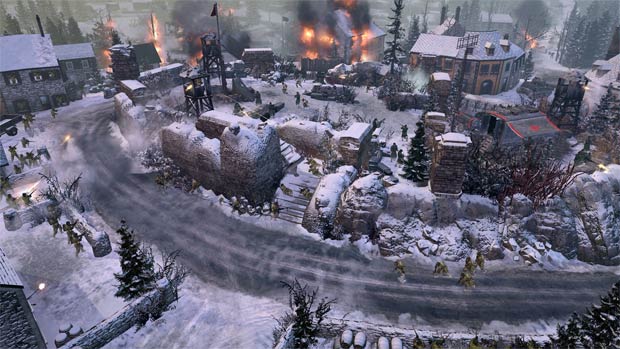 Published on March 24th, 2016 | by admin
THE COMPLETE WWII RTS EXPERIENCE IS HERE WITH COMPANY OF HEROES™ 2: PLATINUM EDITION
Sydney, March 23rd 2016 – SEGA® Europe Ltd. have today announced the Company of Heroes™ 2: Platinum Edition for PC is out now and available to buy at retail. This special package features all the major expansions of the award winning World War II RTS series: The Western Front Armies, Ardennes Assault and The British Forces. The package is underpinned by over two years of continuous updates and multiplayer improvements and also includes a voucher for an extra free copy of the Company of Heroes 2 base game, that can be passed on to a friend. So there's never been a better time for newcomers to get involved.
Company of Heroes 2: Platinum Edition gives players the freedom to choose their own gameplay path. Will you dive into the Red Army's campaign as they march in Berlin from Company of Heroes 2, dive straight into the multiplayer with The Western Front Armies and The British Forces, or relive the infamous Battle of the Bulge campaign in Ardennes Assault? The Platinum Edition also features:

COUNTLESS HOURS OF PLAY: Two fully-fledged single player campaigns: the Eastern Front and the Battle of the Bulge. Five multiplayer armies with unique and distinct playstyles and abilities. Over 50 multiplayer maps. Multiplayer modes ranging from 1v1 to 4v4, from ranked matches to custom matches.
SEVERAL EXPERIENCES, ALL IN ONE GAME: From the urban warfare setting of docks and ruined cities to the rural snow-covered battlefields forcing you to keep your troops out of the freezing blizzard; from missions having you lead huge battalions of armored tanks to a small squad of snipers – enjoy the diversity of situations and gameplay mechanics, whether it be in single-player or multiplayer.
BEST IN CLASS PRESENTATION: Unparalleled immersion with Essence – Relic's tailor-made, state-of-the-art RTS engine. Key features include: advanced shading and shadowing, physically based rendering, destructible environments and realistic physics, systems simulating the impact of the environment on units (weather, line of sight, cover etc.).
WHERE HISTORY MEETS GAMEPLAY: Hundreds of anecdotes, historical documents and events went on to inform the design of environments, units and missions – providing players with a comprehensive view of both fronts of the European Theatre, while challenging them with a wide array of plausible tactical situations.
THOUGHTFUL PLAYERS WANTED: From TrueSight™, which emulates the units' line of sight, to the cover-system that encourages clever unit placement – not to mention the hard and soft counters that will make you think twice before trying to destroy a tank with a simple squad of riflemen – each game presents you with an uninterrupted stream of meaningful tactical choices. While the clever AI system will assist you with micro-management, the crucial choice of which units and upgrades to build and when will remain entirely yours.
VIBRANT ONLINE COMMUNITY: Over 10,000,000 online matches played since launch. Challenge some of the finest strategy players in ruthless online battles! Benefit from free new maps, curated from the community's contributions, which keep being added to the game on a regular basis. And dive into the Steam Workshop and its countless mods, guaranteeing hours of additional play.
Company of Heroes 2: Platinum Edition is out now for PC. For more information  log on to www.companyofheroes.com.