Uncategorized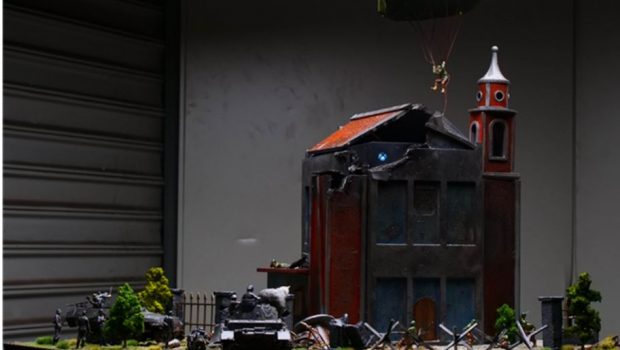 Published on May 29th, 2023 | by Adrian Gunning
COMPANY OF HEROES 3 LITERALLY LANDS ON CONSOLE
Five Star Games is celebrating the 30th May launch of Relic Entertainment's Company of Heroes 3 Console Edition by producing quite the literal interpretation of the event. In collaboration with TagMods, Five Star Games is offering Australians the chance to win a beautifully crafted Company of Heroes 3 diorama valued at $10,000 AUD, making use of an Xbox Series X console to tell a story which could be directly lifted from the game. Plus, winners will also get a copy of Company of Heroes 3 Console Edition on Xbox.
The diorama depicts the tense scene of a US paratrooper squad landing on a semi-destroyed church to return fire on a Wehrmacht tank before it's overrun by German forces. Entries are open to any resident of Australia over the age of 15, and the competition will run over Five Star Games' social media channels starting on Company of Heroes 3 Console Edition launch day, Tuesday 30th May, and closing at midnight on Tuesday 13th June (all times in AEST).
Entrants will be asked to submit their best real-life application of the game's Tactical Pause feature. In the game, Full Tactical Pause allows players to pause the action, read the situation, queue commands, and unleash devastating precision plays.
Darren Macbeth, Managing Director at Five Star games, had this to say: "We wanted to create something special to celebrate the game's epic battles and stunning visuals. This custom diorama, featuring a Series X console at its core, captures the intensity of Wehrmacht tanks and US paratroopers clashing in a dramatic scene straight out of the game. With painstaking attention to detail, we've brought a Company of Heroes battlefield to life in miniature form."
Company of Heroes 3 deploys its acclaimed blend of action, tactics, and strategy to both PS5 and Xbox series S and X on 30th May, and is available for pre-order or purchase at all major games' retailers nationally.