Games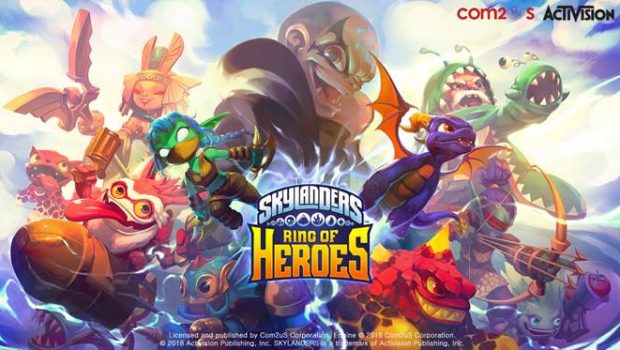 Published on December 13th, 2018 | by Admin
Com2uS Launches Skylanders™ Ring of Heroes in Canada, Australia, and New Zealand
Com2uS today announced that its brand-new upcoming title, Skylanders™ Ring of Heroes has officially launched in Australia, Canada, and New Zealand.
Skylanders™ Ring of Heroes is an all-new mobile RPG developed by Com2uS in collaboration with Activision. Players will be diving into the world as Portal Masters, the acting guardians of Skylands, and set out on an adventure to track down the villain Kaos and retrieve the stolen Book of Dark Magic.
The game allows players to engage in thrilling battles featuring a variety of Skylanders' attributes and skill sets. In addition, real-time mana gauges and turn-based battles bring strategic elements into the fold.
Players will be able to enjoy a wide range of action-packed game content which features a ten-part story, challenging dungeons, and global PvP.
With the launch of Skylanders™ Ring of Heroes in Australia, Canada and New Zealand, the game will be hosting a variety of new comer events.
A Com2uS representative commented, "We've worked hard to make sure that people all over can enjoy the same great Skylanders™ franchise that they know and love on their mobile devices. Starting with the releases in Australia, Canada, and New Zealand, we'll do our best to bring the Skylanders™ Ring of Heroes experience to the rest of the world as well."
For more information on the game's global launch, visit the official Skylanders™ Ring of Heroes pre-registration page (http://skylanders.com2us.com) and official Facebook (https://www.facebook.com/SkylandersRingofHeroes/).
About Com2us
Com2us is a leading developer and publisher of mobile games that span across all genres. Our mission is simple. We thrive to create games with a level of depth and engagement rarely experienced on mobile platforms. Our dedication to building a robust gaming community through active engagement with our players has made this possible. Established in 1998 and headquartered in Korea, we became a subsidiary of Gamevil in 2013 and operate international offices in the United States, Germany, Japan, Singapore, Taiwan, China, Thailand, Malaysia and Indonesia. For more information about Com2us and our portfolio of groundbreaking mobile games, visit www.com2us.com.