Films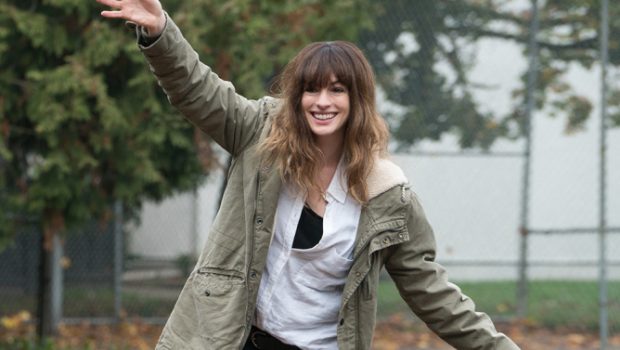 Published on April 10th, 2017 | by Damien Straker
Colossal – Film Review
Reviewed by Damien Straker on the 10th of April 2017
Transmission presents a film by Nacho Vigalondo
Produced by Nicolas Chartier, Zev Foreman, Dominic Rustam, Nahikari Ipiña and Shawn Williamson
Written by Nacho Vigalondo
Starring Anne Hathaway, Jason Sudeikis, Dan Stevens, Austin Stowell and Tim Blake Nelson
Music by Bear McCreary
Cinematography Eric Kress
Edited by Ben Baudhuin and Luke Doolan
Running Time: 110 minutes
Rating: M
Release Date: the 13th of April 2017
Colossal is a comedy-drama about a woman with alcohol problems who returns to her American hometown to work in a bar. She also reunites with a man with whom she went to school, which reignites a feud from their childhood. This is a single film all on its own. The second story component involves no less than a giant monster, resembling Godzilla, attacking Seoul, Korea, at exactly 8:05 each time it strikes. Directed by Spanish filmmaker Nacho Vigalondo, Colossal's gimmick and what makes it interesting is how the narrative integrates these seemingly mismatched threads and genres.
However, the possibility that a story of self-discovery such as this cannot be told without broad, mainstream components like monsters and giant robots is a crippling setback to small-time filmmakers, particularly as filmmakers become attracted towards television as a more flexible artistic medium than cinema.  In the future, it's possible that executives and distributors won't be interested in similar projects or lending out their big guns like Anne Hathaway unless there are blockbuster elements to sell these films.
The artistic conservatism is both a cultural and political repercussion. Colossal is a Canadian-American production, financed partly by Voltage Pictures, a US company which hasn't had a major hit since Dallas Buyer Club (2013), where it fought unsuccessfully to chase down Internet pirates and has consequently sought projects on safer ground. This type of artistic conservatism will also be felt strongly under the Trump administration given the impending cuts to arts funding, which will only strengthen big budget filmmaking's stranglehold on American cinema.
Anne Hathaway's top billing should soften some of Colossal's commercial uncertainty. She stars as Gloria, the young woman who is kicked out of the apartment of her disgruntled partner Tim (Downton Abbey's Dan Stevens) in the city and consequently moves back to her hometown. The man who employs her in his bar is Oscar (Jason Sudeikis; Horrible Bosses, We're the Millers), who is welcoming but strange. Gloria suffers from alcoholic blackouts and each morning she wakes up without remembering the previous night. New furniture arrives at her house and when asked about it Oscar insists she requested it. Keep reading, it grows weirder. Delivering her furniture becomes symptomatic of Oscar's possessive attitude towards his friends in the bar and Gloria herself.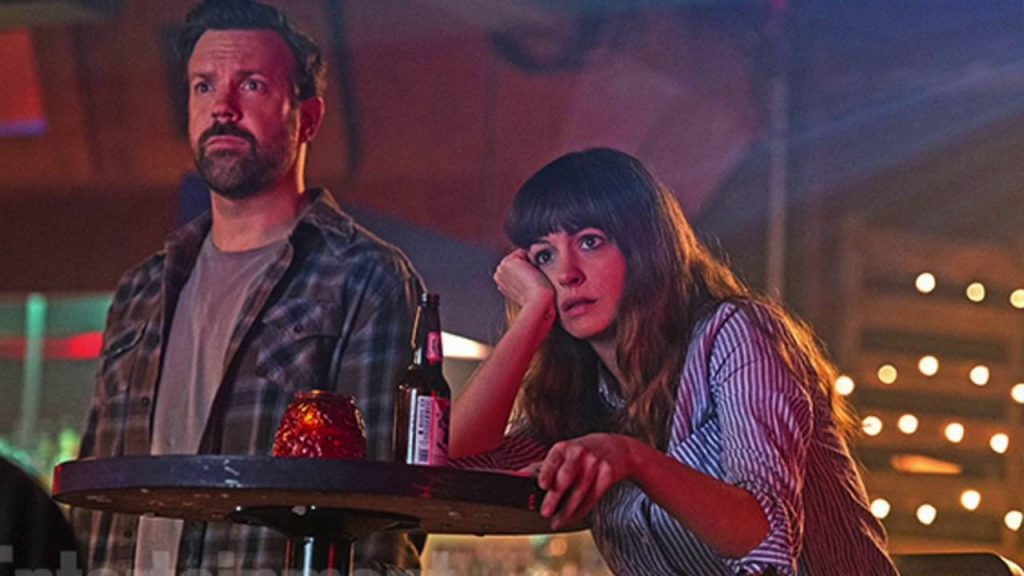 Gloria also becomes frightened by an increasingly transparent physical mimesis between herself and the monster attacking Seoul. The monster copies her mannerisms, leading her to test the strength of the symmetry between herself and the violence in the city. One of the film's funniest sight gags involves Gloria's friends watching the monster start dancing on a tablet screen while in the back of the frame she shadows its moves. This is the film at its best and funniest; employing modern technology to deliver a unique, weird and engrossing image that shrouds the film's thematic goals from us. It's possible that Gloria's belated entry to the violence in Seoul mirrors her emotional immaturity but also her awakening to her own destructive behaviour once free from an alcohol-induced state.
The film is an attractive puzzle to resolve; its likeable but also undone by its own idiosyncrasies. The unusual layout of the screenplay, connecting the two separate threads, creates a mystery that becomes a staple of the narrative that is critical to holding our interest. It's as if Garden State (2004) became a special effects movie. Under this comparison of narrative types, the film is not original in its aims. It's about longstanding grudges, bullying resulting from alcohol, and self-improvement. These are themes typical of belated coming of age stories but the narrative's ambiguity, the decision of when to reveal and withhold information, intrigues us.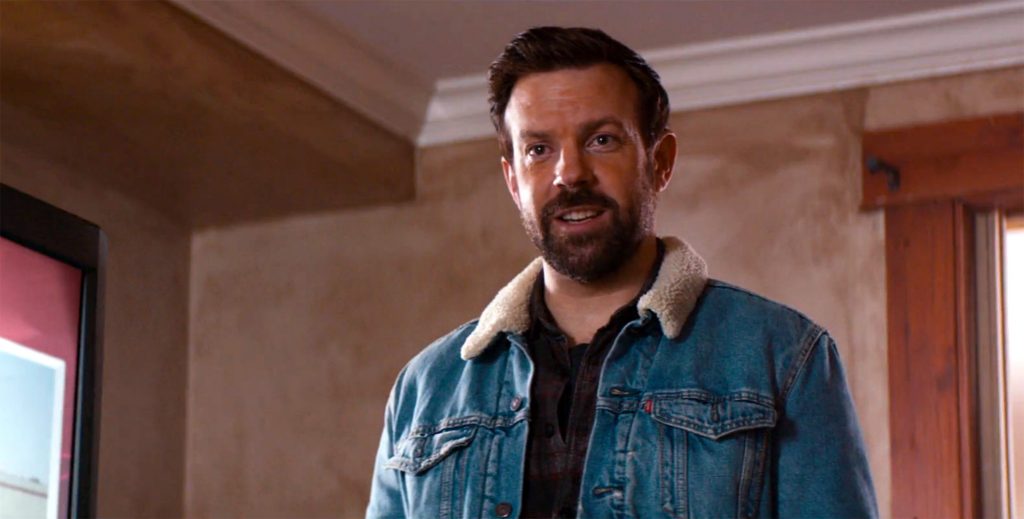 Colossal falters once it loses sight of its concept and tone. The more literally it takes the monster, veering away from a drunken haze towards a physical standoff between a monster and a robot, the more incredulous its characters and its narrative become. This is despite the good work by Hathaway, who returns to form by giving the film quiet humour through a self-depreciating performance. Under a forest of long dark hair and equally thick eye-shadow, Hathaway gives Gloria a comically exhausted physicality, fitting of her hungover state, and one that makes us hope she'll pull herself together. Consider an early exchange as typical of how funny she makes the film. Oscar offers her a ride in his truck and she asks him how his father is doing. She apologises when he tells her that he passed away. She then asks him about his mother and he reminds her that not only did his mother die before his father but Gloria was at her funeral.
Yet the ease of the humour is lost the longer the film continues and intensifies Oscar as the antagonist. There's a very strong scene where he bullies his friend by ousting him as a cocaine addict. This is plausible and so too is the darker psychological motive of him being a failed husband and wanting to punish a city slicker like Gloria for not having to endure suburban hell like he has. What isn't authentic is dumping the furniture in her house and a scene where he talks about irresponsibility and sets off a huge firecracker in the bar. Likewise, everything about the central conflict hinges preciously on the flashback scene involving a childhood incident between Gloria and Oscar. For the movie to hang together at all, one must believe that both these characters have repressed this moment their entire adult lives, which is a stretch considering these characters are full grown adults played by Sudeikis and Hathaway who are 41 and 34, respectively.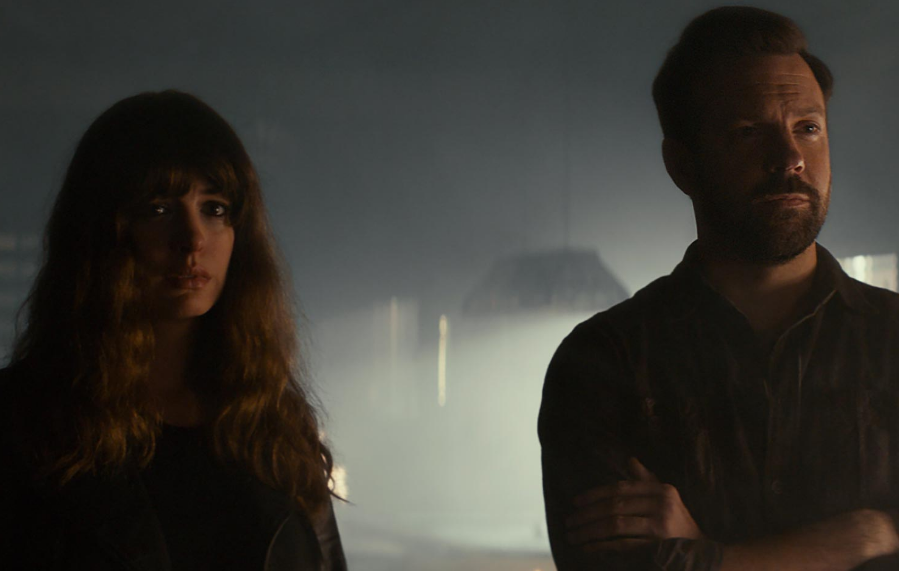 The central conflict could also have been treated with more subtlety rather than holding a city and its citizens as the main stakes in the story. The film is deeper and more personal than that: Oscar is a man who has never vacated his adolescence and instead uses the failures of his life and marriage to justify bullying easy targets like Gloria. The visually stimulating way of showing that conflict is a double-edged sword because although the film is certainly unusual in its approach, the director Nacho Vigalondo has also resorted to the properties of the summer blockbuster and perpetuated a generic narrative line about overcoming your fears and your past. This isn't to say that Colossal is as bombastic as a Godzilla or Kong movie, its monster figure is knowingly B-grade at times, but it forgoes the naturalism of its cold damp images of suburbia and its psychological conflict by being increasingly literal and serious about the dangers in the story. Its fluctuating tone and scale are at odds with an originally told, well-cast but unsatisfying creation.
Summary: Its fluctuating tone and scale are at odds with an originally told, well-cast but unsatisfying creation.