Films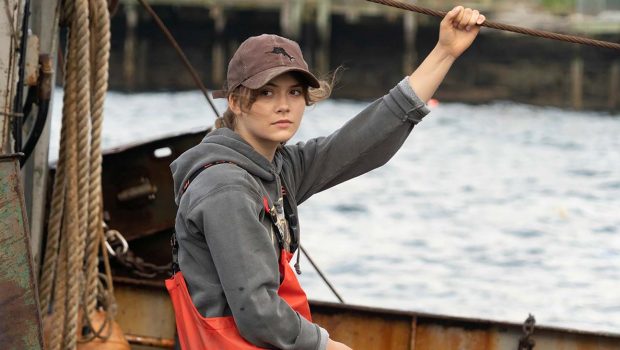 Published on January 29th, 2022 | by Damien Straker
CODA – Film Review
Reviewed by Damien Straker on the 29th of January 2022
Apple TV+ presents a film by Sian Heder
Screenplay by Sian Heder based on La Famille Bélier by Victoria Bedos, Thomas Bidegain, Stanislas Carré de Malberg, and Éric Lartigau
Produced by Fabrice Gianfermi, Philippe Rousselet, Jerôme Seydoux, and Patrick Wachsberger
Starring Emilia Jones, Marlee Matlin, Troy Kotsur, Daniel Durant, Ferdia Walsh-Peelo, Eugenio Derbez, and Amy Forsyth
Cinematography Paula Huidobro
Edited by Geraud Brisson
Music by Marius de Vries
Rating: M
Running Time: 111 minutes
Release Date: available now on Apple TV+
CODA tells a simple family story in uniquely moving fashion. It is an American remake of a French film but improves upon the original in crucial ways. Both versions are about a young woman whose entire family is deaf except herself. However, the original, La Famille Bélier (2014), mistakenly employed unimpeded actors to play the parents. Director Sian Heder (Tallulah, 2015) corrects this error by casting Deaf actors in the family roles. Deaf actress Marlee Matlin fought for their inclusion. She argued she would leave the production if they were not cast. The distinction between both versions is important today. Hollywood is changing by seeing the value of inclusiveness, representation, and diversity. Globalisation also means audiences are increasingly receptive of foreign films, marginalised characters, and the disabled. Suddenly, a good story like this can seize a major studio's attention. Apple paid up to $25 million dollars to purchase and distribute CODA. After seeing it, the decision is irrefutable given its authenticity and strong screenplay.
The film's title stands for 'Child of Deaf Adults'. While originally set on a dairy farm, this version relocates to a fishing village in Gloucester, Massachusetts. Ruby Rossi (Emilia Jones) is the only Non-Deaf person in her family. Her father, Frank (Troy Kotsur), mother, Jackie (Marlee Matlin), and brother, Leo (Daniel Durant), are deaf. The whole family communicates through Sign language. Their disability also means Ruby must negotiate on their behalf regarding the fishing business. The family, along with the other merchants, is frequently at odds with people trying to rip them off. Meanwhile, Ruby surprises her best friend, Gertie (Amy Forsyth) by enlisting in a high school choir class. She hopes to catch the attention of a young fellow named Miles (Ferdia Walsh-Peelo). However, Ruby's reluctance to sing in front of anyone frustrates her energetic music teacher, Mr. Villalobos or Mr. V (Eugenio Derbez). He sees enormous potential in her and encourages her to aim for a place at Berklee College of Music. However, her commitment to the family business obstructs her pursuit of singing.
Sian Heder's screenplay benefits from fresh insights into the coming‑of‑age genre. Countless films have explored the conflict between children and their parents not sharing the same dreams. Yet the setup of living with a Deaf family is unique and strengthened by believable social obstacles. Ruby lives beyond her teenage years. She is not only a daughter and a student but a translator, labourer, and businesswoman. We see her working on the family boat and then negotiating with the men on the wharf. CODA underlines the physical toll these responsibilities take on her. She wakes up at 3:00 am each morning and later falls asleep in class. Other students joke about her voice and how her clothes smell like fish. Heder wisely resists casting a bully character for Ruby to overcome. Instead, conflict emerges from how communication isolates Ruby and her family. Jackie is unable to communicate with the other wives and Leo must lip-read when drinking with his workmates. Frank, an old hippy who enjoys weed, is frustrated by the industry's red tape and the cost of living. Heder's sharp writing therefore stresses how personal responsibility and communication affect both the unimpeded and the Deaf.
While an effective family drama, CODA is also peppered with rich humour. The jokes about mistranslations through Sign language are hilarious. Yet the most effective source of humour is showing a Deaf family as being incredibly ordinary people. Ruby's parents frequently embarrass her, such as when she translates to them in a doctor's office and reveals Frank is suffering from 'jock itch'. There are also various family arguments people will recognise. At dinner, Ruby blasts Leo for looking at Tinder on his phone and complains about people making too much noise when attempting to study. These moments effectively dissipate the notion this family is widely different from a Non-Deaf one. In the school scenes, Mr. V could have devolved into a cliché eccentric teacher. Instead, he injects energy, humour, and professionalism. He determines each student's singing style or in his words whether they have seen too many episodes of Glee. His breathing exercises and frustration with Ruby's tardiness render the classroom scenes compelling and believable. A brief line about people having funny accents infers his isolation before teaching. The humour adeptly balances with sombre themes of isolation, communication, and change.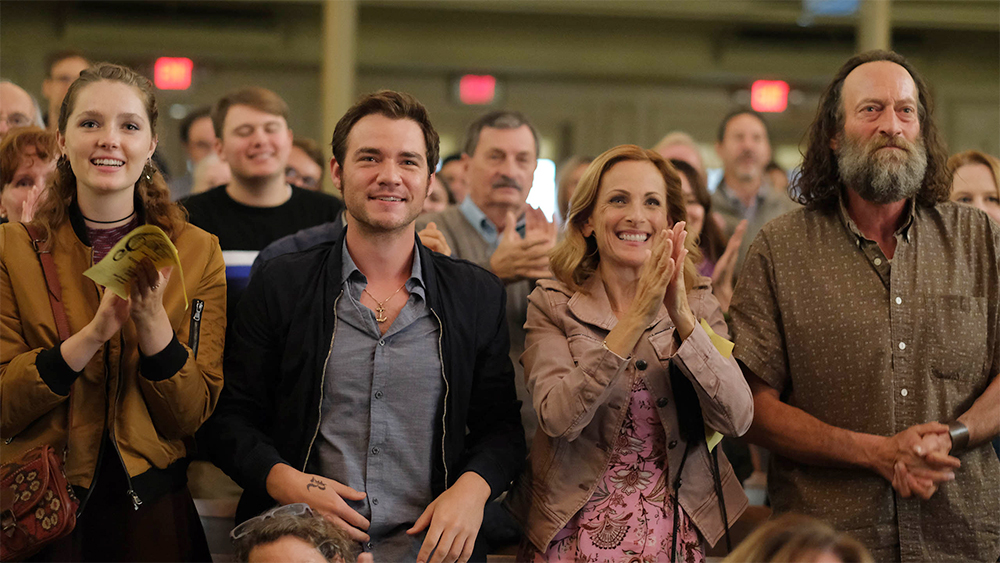 The film is further enriched by subtle directorial choices. CODA's tonal shifts from comedy to family conflict gel effectively and the most touching moments are earned. Visually, Heder frames her shots with colour and artistry. Outside authentic wharf fronts and shipping yards, Gloucester's naturalism is lushly realised. The landscapes, including beautiful lakesides, become expressions of Ruby's isolation. After running out of the classroom, she sits alone on a rock by the water. As she sings, Heder films her from a long shot. The shot selection visualises her loneliness and the secretive nature of her dreams. Her passion for music is concealed because none of her family have heard her incredible voice. Other scenes are framed to evoke isolation or 'social distancing'. Heder rarely employs close‑ups. Instead, she shoots using a deep focus lens. The heightened transparency of each scenes' background enriches the sense of place and stresses the family's emotional distance from the broader fishing community. Similarly, as Ruby's desire to attend Berklee strengthens, the spatiality between herself and the family widens. During a pivotal concert scene, Heder uses a point-of-view shot and mutes the diegetic soundtrack. In effect, we see and hear the distance between Ruby and her family and understand their psychological removal from her passions. These stylistic patterns, including the purposeful audio-vision, justify a sensible conclusion that resolves the dilemmas regarding loyalty and independence.
For her role, English actress Emilia Jones dedicated herself to learning Sign language and spent time on a fishing ship. Her acting style is muted, intense, and natural. She never overstates Ruby's ordinariness but traces a teenager's frustration in being unable to find independence from her family. Her performance reinforces how CODA is not a deaf film but about a family with relatable issues. Jones also emerges as an incredible singer. Her covers of Marvin Gaye's songs offer a powerful emotional current. As Ruby's father, Troy Kotsur is humorous and reflects growth in Frank as he recognises his daughter's maturity. There is a particularly poignant scene where he touches her neck to feel the vibrations as she sings. In this moment, the tangibility of her goals and desires are undeniable. Marlee Matlin makes Jackie a strong contrast by underlining her resistance to letting Ruby leave. Daniel Durant also believably probes Leo's discontent as the forgotten child who insists he can capably manage the business. One sees the importance of casting Deaf actors because of inclusiveness and authenticity. The expressiveness of the actors' body language as they Sign, bicker, and reconcile adds realism to the family scenes. Eugenio Derbez's performance is also highly accomplished. His passion and humour are dynamic and funny as he struggles to draw the best out of his students.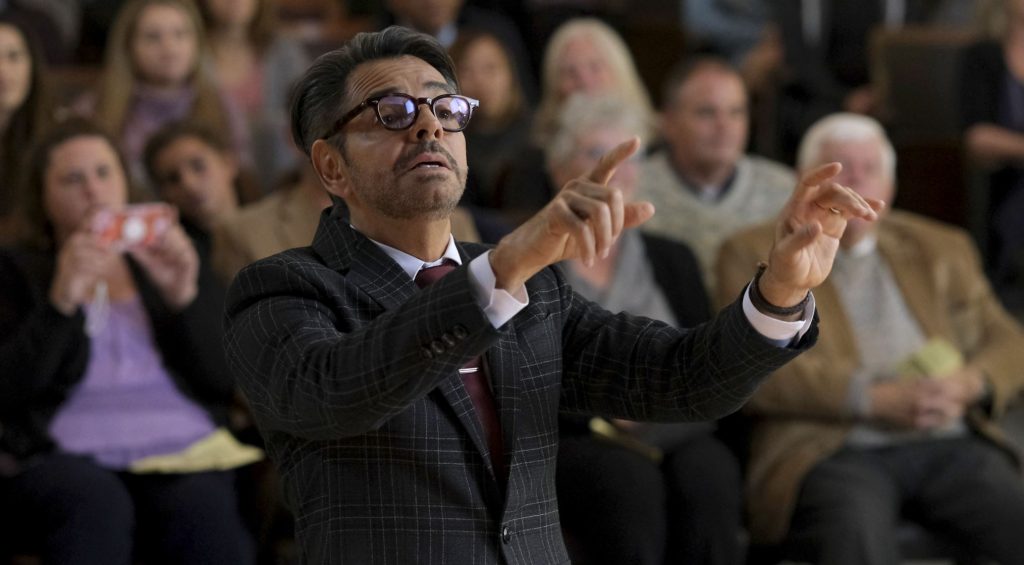 For several reasons, CODA is an important coming-of-age story. It dissolves barriers that previously suggested a film must feature non-disabled actors to be recognised. CODA's glowing reception has proven otherwise. The film also recalls The Kids Are All Right (2010) by reflecting how a unique family is wonderfully ordinary. While lingering within a well-worn subgenre, its exploration of independence and loyalty is viewed through an exciting new lens. Furthermore, Sian Heder and her cast excel at dramatising the isolation of being deaf, living with the disabled, and maturity itself. The performances and witty script ensure the family interactions remain unique, recognisable, and true. Likewise, the handsome photography and affecting music imbue the feature with a charming, relaxed mood. As a story of maturity, CODA is excellent and as an example of inclusiveness it is pivotal.
Summary: As a story of maturity, CODA is excellent and as an example of inclusiveness it is pivotal.