Events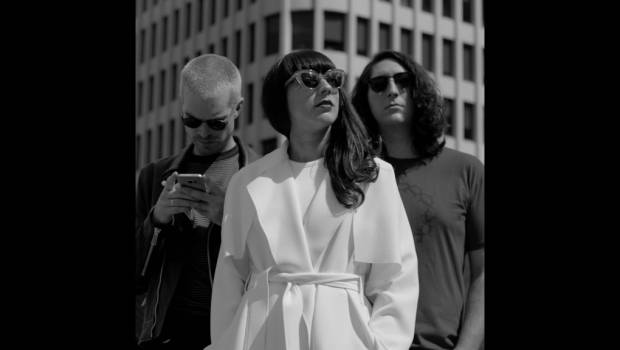 Published on January 24th, 2018 | by Admin
Cloud Control Launch New Single 'Panopticon' With Video + Announce East Coast Shows
Ivy League Records is excited to present 'Panopticon' – the new single from beloved Sydney outfit, Cloud Control. To celebrate the single launch, the band has also released an espionage thriller video for 'Panopticon' (premiered this week via Fashion Journal) and will play a run of East Coast shows in Sydney, Brisbane and Melbourne.
Watch the video for 'Panopticon' here
The unassailable pop of 'Panopticon', with its Bee Gees bassline, shoegaze guitars, hip hop beat and Heidi's lyrics – tell of a surveillance state to which we've become complacent. The track continues to strike a chord with fans both local and beyond, and has emerged as a tastemaker favourite – amassing almost 2 million streams across Spotify to date, thanks to major playlist additions and international  word-of-mouth.
Much to the delight of their fiercely-loyal fanbase, the band will play intimate East Coast shows kicking off at Brightside in Brisbane on Fri April 6 and Melbourne's Northcote Social Club on Sat Apr 7; following on from their already-announced Sydney co-headline show at Taronga Zoo (Sat Feb 17 w/ Julia Jacklin).
Inspired in part by the Edward Snowden revelations, Heidi explains the meaning of 'Panopticon':
"When I learnt that the US and UK governments were quietly creating archives of info about ordinary people — recording texts, emails, web searches, and geo-location data that showed where people went every 2 seconds – my reaction was weird. I was appalled, but I still hung out on Facebook and it didn't really change my behaviour… which forced me into an awareness of my own complacency about privacy rights.
"So this song is about living within a culture of surveillance where we're accustomed to relinquish privacy at many levels from a young age… and not being bothered to draw uncomfortable parallels in history or imagine a future where this may become a problem. We're taught that surveillance and data collection is there for our own good – and often it feels like it works this way, so long as the government is 'good'. But fascist states are never far away and current technology is already permitting unprecedented access to information and therefore potential abuse of power in the wrong hands. This isn't about technology bashing — people-watching and putting ourselves out there is an ancient human trait, and there's no escaping the conflict that voyeurism is kinda fun. So it's a little dig at my own conflicted opinion about government liberties and social media and the impulse to be seen and the endless data collection that seems to be a prerequisite for participation in society."
Of the 'Panopticon' video, director Thomas Wilson-White says:
"The title of the song references a scheme of design that allows all the inmates of an institution to be observed without the knowledge that they are being watched, and I really wanted to lean into this. The clip is an espionage thriller that pays homage to the surveillance spy flicks of the sixties and seventies, with Cloud Control navigating a brutalist urban landscape as they're closely followed by an anonymous group. Throughout the music video, it's revealed that the pursuers are identical to those being pursued – alter egos of the band members, who ultimately entrap their counterparts.
'Panopticon' features on Zone – the band's third album, released in 2017 – and follows previous Zone radio hit singles 'Rainbow City' and 'Treetops'. The album, described by Music Feeds as "rich with sonic exploration, musical innovation and emotional perception", was produced by frontman Alister Wright in a series of DIY home studios where the band set up camp over the last three years.
CLOUD CONTROL
AUSTRALIAN TOUR
FEBRUARY & APRIL 2018
Saturday 17 February
Taronga Zoo | Sydney, NSW
w/ Julia Jacklin
All Ages
Tickets available here
Friday 6 April
Brightside | Brisbane, QLD
18+
Tickets available here
Saturday 7 April
Northcote Social Club | Melbourne, VIC
18+
Tickets available here