Blu-ray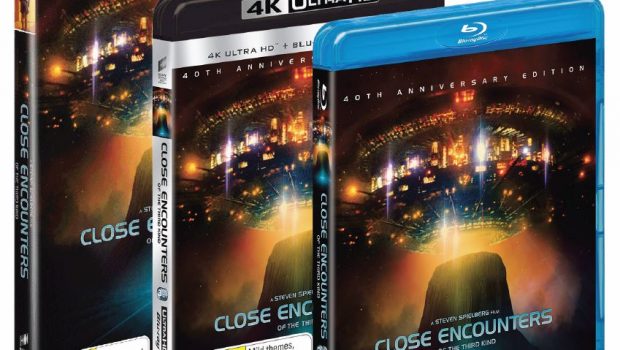 Published on September 26th, 2017 | by Admin
CLOSE ENCOUNTERS OF THE THIRD KIND … Yours on 4K Ultra HD™, Blu-ray™, & DVD from October 4, 2017
Universal Sony Pictures Home Entertainment celebrates the 40th anniversary of legendary director Steven Spielberg's epic adventure Close Encounters of the Third Kind with the new 4K restoration and digitally remastered Blu-ray™ version of the landmark classic. Become enthralled in a world of mystery and intrigue all over again in the limited anniversary edition of Close Encounters of the Third Kind, available on 4K Ultra HD™, Blu-ray™& DVD from October 4, 2017.
Richard Dreyfuss (Tootsie, Jaws), Terri Garr (Tootsie, Dumb and Dumber), Melinda Dillon (A Christmas Story, Magnolia) and acclaimed French film director Francois Truffaut (The Woman Next Door, The Little Thief) star in the story of a group of people who attempt to contact alien intelligence. After an encounter with U.F.O.s, a line worker feels undeniably drawn to an isolated area in the wilderness where something spectacular is about to happen.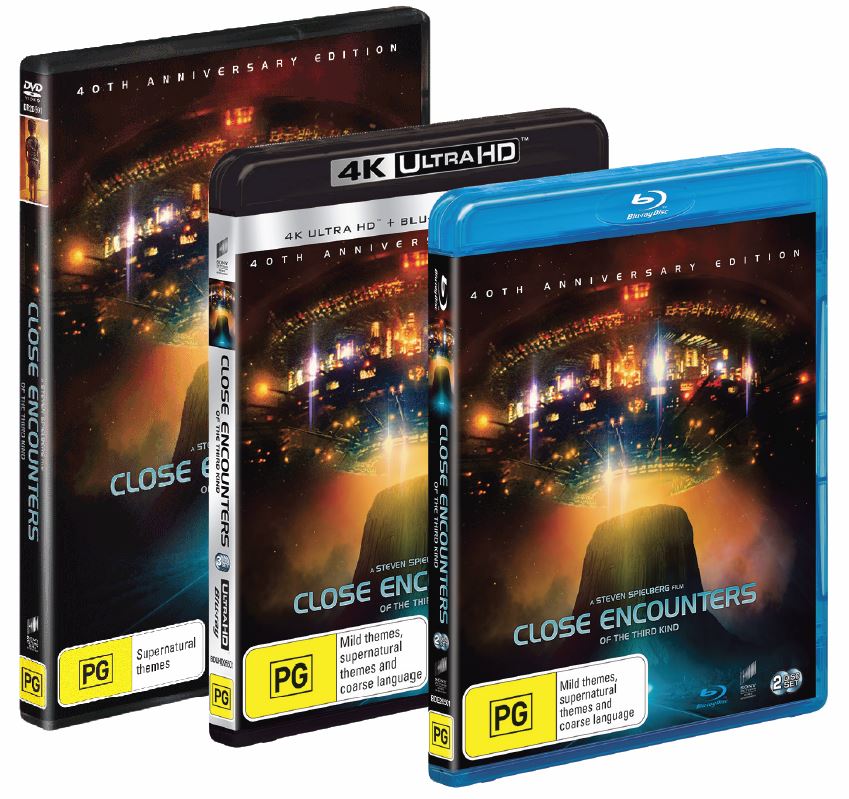 Written and directed by Spielberg (Catch Me If You Can, Saving Private Ryan), Close Encounters of a Third Kind was produced by Julia Phillips and Michael Philips. Nominated for eight Academy Awards®, including Best Director (Spielberg) and Best Supporting Actress (Dillon), this cinematic classic won Best Cinematography (Vilmos Zsigmond, The Deer Hunter, Maverick) with Frank E. Warner (Taxi Driver, Rocky IV) taking home a Special Achievement Award for sound effects editing.
Watch as your favourite scenes are brought back to life through highly collectible restorations, with nostalgic extra features and rare, never-before-seen footage. Put on your tin foil hats and relive the science fiction adventure of a lifetime. A must own for all true fans, this unforgettable Spielberg masterpiece Close Encounters of the Third Kind is available on 4K Ultra HD™, Blu-ray™& DVD from October 4, 2017.
"This is a thrilling adventure story and a brilliant example of the art and craft of moviemaking"
– Common Sense Media
Blu-ray™ & DVD Bonus Features:
• All three versions of the film: 1977 Theatrical Version, 1980 Special Edition & 1997 Director's Cut
• ALL-NEW: "Three Kinds of Close Encounters" Featurette
• New interview with Director Steven Spielberg on the legacy of the film, as well as new interviews with directors J.J. Abrams (Star Wars: The Force Awakens) and Denis Villeneuve (Arrival) about the impact of Close Encounters.
• ALL-NEW: "Steven's Home Movies & Outtakes"
• Rare never-before- seen home movies & gags from the set of Close Encounters.
• "Steven Spielberg: 30 Years of Close Encounters" Featurette
• Deleted Scenes and Bloopers
• 1977 Featurette "Watch the Skies"
• Storyboard to Scene Comparisons
• Extensive Photo Gallery
• "A View From Above"
• Theatrical Trailers
Director: Steven Spielberg (Catch Me If You Can, Saving Private Ryan)
Producers: Julia Phillips (The Sting, Taxi Driver)
Michael Phillips (The Sting, Taxi Driver)
Writers: Steven Spielberg (Catch Me If You Can, Saving Private Ryan)
Cast: Richard Dreyfuss (Tootsie, Jaws)
Francois Truffaut (The Woman Next Door, The Little Thief)
Teri Garr (Tootsie, Dumb and Dumber)
Melinda Dillon (A Christmas Story, Magnolia)
Bib Balaban (The Grand Budapest Hotel, Ghost World)
Skus: 4K Ultra HD™
Blu-ray™
DVD
Duration: 137 minutes
Genre: Drama, Sci-fi
Rating: PG