Films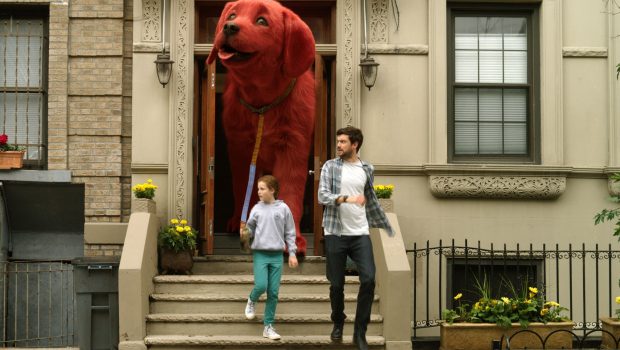 Published on November 19th, 2021 | by Harris Dang
Clifford the Big Red Dog – Film Review
Reviewed by Harris Dang on the 19th of November 2021
Paramount Pictures presents a film by Walt Becker
Produced by Jordan Kerner and Iole Lucchese
Starring Darby Camp, Jack Whitehall, Izaac Wang, John Cleese, Tony Hale, David Alan Grier, Paul Rodríguez, Horatio Sanz, Sienna Guillory, Rosie Perez, Kenan Thompson, Jessica Keenan Wynn, Russell Wong, Karen Lynn Gorney, Melanie Chandra, Russell Peters, Kevin McCormick, Yasha Jackson, Siobhan Fallon Hogan, and Alex Moffat
Running Time: 96 minutes
Rating: G
Release Date: the 11th of November (US) and the 30th of December 2021 (Australia)
Clifford the Big Red Dog tells the story of Emily (Darby Camp), a young talented middle schooler who resides with her mother Maggie (Sienna Guillory) in New York City. Her time in a fancy private school is not the best experience due to the bullying from her aggressively nasty peers and the only student who is sympathetic toward her is the sheepish Owen (Izaac Wang).
To make things worse for Emily, Maggie must go on a business trip, and she gets her brother Casey (Jack Whitehall) to babysit, which Emily abhors. Clumsy, lazy and boorish, Casey is not uncle-of-the-year material. However, he does take Emily to a carnival and the two stumble into an animal rescue tent run by Mr. Bridwell (John Cleese).
Bridwell interests the two by showing them a peculiar dog with a striking shade of red. Despite Emily pleading to adopt the dog, Casey declines the offer and unbeknownst to them, the dog follows the pair home and Emily hides it from Casey and names it Clifford. Due to an impulsive declaration that was taken literally, the dog grows to an immense size and causes havoc in the city, which interests Zack Tieran (Tony Hale) a greedy CEO of a genetics company. Will Emily and Casey save Clifford from the clutches of humanity and their fear of the unknown?
The synopsis for the film is far more detailed than it needs to be and more than the film deserves. The film has a premise involving a cute giant red dog. Is there anything more that needs to be explained? On that notion alone, Clifford the Big Red Dog delivers the charm and cuteness with carpenter-like efficiency. The envisioning of the titular character is well-done. Not in the sense that it is realistic but that it fits the fantasy element of the source material and looks cute enough to sympathise almost immediately.
All the requisite cliches and tropes are present. Deadbeat guardian figure going through a path of redemption? Check. Will all bad guys get their comeuppance? Check. Jokes involving flatulence and bodily fluids? Check. Jokes fly involving property destruction that will never fly unless they are in a comedy context? Check. Even the storyline cribs off recent family films, including Paddington (the neighbourhood figures are remarkably similar) and Okja. The subplot involving genetics and pharmaceuticals is too noticeable to ignore.
The script involves Jay Scherick and David Ronn, two screenwriters known for their contributions to family films such as the Smurfs series and Zookeeper. And the director of the film is Walt Becker. He is best known for films like Wild Hogs and Old Dogs. With those people in check, it is inescapably clear that Clifford the Big Red Dog is not aiming for anything even remotely ambitious. However, the simplicity behind the film is also what makes it endearing and old-fashioned. Everything is told in broad strokes. The message is loud and clear and all the actors are committed to the material. Special credit must be given to them for their restraint in playing down to the material.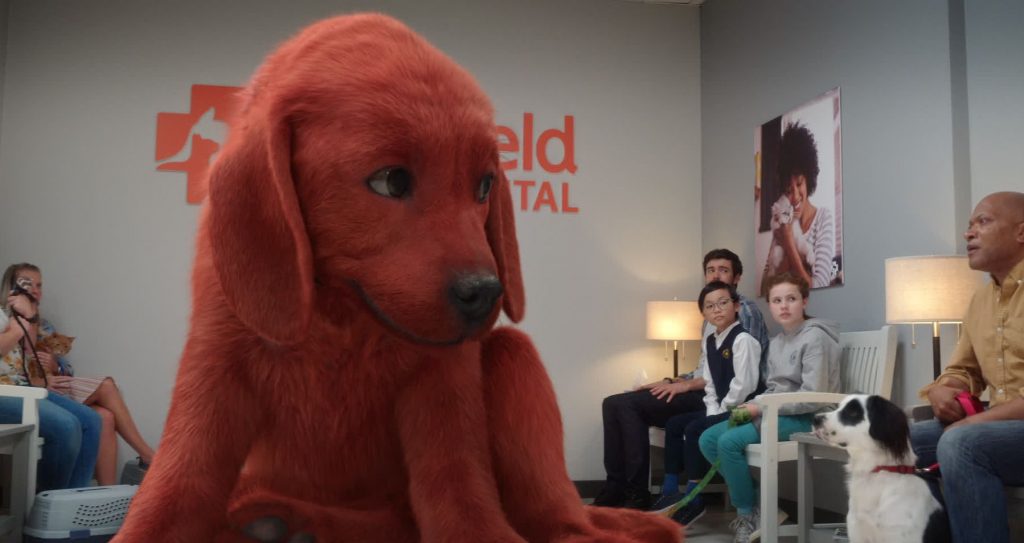 Even with a strange American accent and an even stranger attempt at explaining it, Whitehall is likably goofy as Casey while Hale is amusingly snarky as Zack as he chews the scenery while trying to kidnap Clifford. With a strong supporting cast, including comedians John Cleese, Kenan Thompson, David Alan Grier, and Russell Peters, and nice cameos from Rosie Perez and Russell Wong, they all add mirth and charm to the proceedings.
Overall, Clifford the Big Red Dog is a scrappy delight. It may not have a lot on its mind and it stumbles all over the place but it delights in where it counts and its basic charms are almost irresistible. Mildly recommended.
Summary: It may not have a lot on its mind and it stumbles all over the place but it delights in where it counts and its basic charms are almost irresistible. Mildly recommended.