Games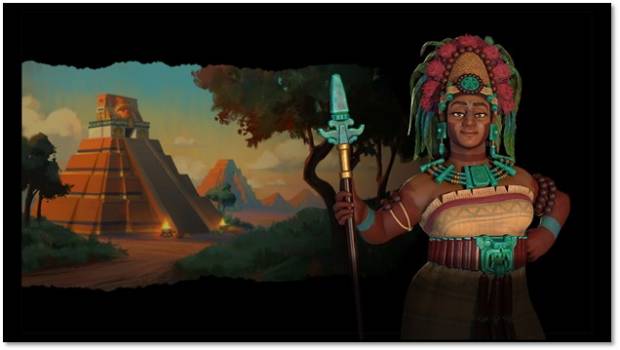 Published on May 15th, 2020 | by Adrian Gunning
Civilization VI – First Look Lady Six Sky of the Maya
On Monday, we announced the Civilization VI – New Frontier Pass, a new season pass that brings eight new civilizations, nine new leaders, six new game modes and more to the critically-acclaimed strategy game. Content is being delivered on a bimonthly basis until March 2021, and the first DLC pack – Maya and Gran Colombia Pack – will launch on May 22, 2020 for Xbox One, PS4, Nintendo Switch, Windows PC, Mac and Linux.
Today we're revealing a first look at one of the two leaders included in the pack – Lady Six Sky of the Maya civilization.
Here's some key information as related to Civilization VI:
Lady Six Sky does not rely on the traditional sources of fresh water to establish her close knit empire, instead she capitalizes on a network of Farms and Plantations to reach for the stars. 
The Maya plan out their settlements differently than other civilizations. They look to get their housing from Farms rather than being near Fresh Water. Settling adjacent to luxuries provides them with additional amenities as well. Lady Six Sky wants to keep her cities close to her capital. So settle an early cluster of cities and defend them strongly with your Hul'che atlatlists. With properly placed Observatory districts receiving extra science from adjacent Farms and Plantations you can start to race ahead of the other civilizations in technology, rocketing your people into space or providing a significant boost toward another victory.