Events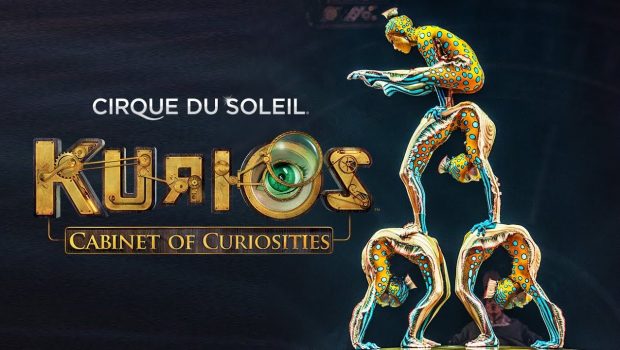 Published on March 13th, 2020 | by Andrew Bistak
Cirque du Soleil Kurios Review (Melbourne 2020)
Summary: Cirque du Soleil Kurios is another must see spectacular from this Montreal circus troupe!
The gods of circus return to Melbourne Australia with Cirque Du Soleil and their (amazing) new show Kurios who have been currently touring Australia and now it's time for Melbourne to experience the wonder of this magical show. For the uninitiated, Cirque du Soleil is a Montreal based troupe, however they have performers from all over the world and if you could sum them up in one word, it would be "SPECTACULAR!"
Unlike the traditional circus, Cirque du Soleil is all about the human body and the amazing feats that the only the best circus performers in the world can achieve. However when matched with its unique themes from this troupe, it's otherworldly characters, live music and special effects, it creates this very surreal yet thoroughly enjoyable experience that immediately draws you in.
Like previous shows, there is some audience interaction at the start of Kurios as they help warm up the crowd before the "main" event commences. This includes mad scientists and strange 18th century-like robots that look like they have come from the video game Bioshock. There is also a hilarious scene mid-show as the "ringmaster" invites a young woman to the stage where he attempts to court her that ends with one of the best "human" cat interpretations in history! Equally funny is his invisible circus routine, including an invisible lion called Felipe who escapes from the stage.
With that said, the theme of Kurios definitely channels both science fiction and science from an earlier time which mirrors the imagination of author Jules Verne who has fallen down the rabbit hole into Alice in Wonderland. The moment you walk into the big top at Fleming Racecourse, it's like you are being transported to a fairy tale as the artists take you on an extensional journey through the unbelievable which features acrobats, clowns, musicians and gymnasts who truly defy the laws of physics and imagination. Speaking of the live-music, the band and singer should be commended because they were amazing and it brought this almost 60's European charm to the production.
Further to the allure of this Cirque du Soleil production is the costumes and lighting which really makes the performers stand-out, particularly when they work in unison such as the Russian Cradle Duo that will leave gobsmacked with their mastery of the human body and flight. There's also a floating bike with a gymnast who uses it to perform all sorts of deft defying manoeuvres high in the air to a very amusing fishermen act who all turn into mermen as they jump on this giant trampoline net.
Add in chair stacking, an almost antique film about fingers that act like people (this Around the World in 80 Days) to lots of people flying through the air and it is very difficult to pick a favourite act because everything is seriously that good.  As mentioned, comedy plays an import role in this ecliptic mix of wonder and Steam Punk themes that will definitely bring many smiles and more importantly laughs to the audience, particularly in this horrible Covid-19 pandemic. Lastly, costumes are bright, they dazzle and will bedazzle you which is all part of Kurios and really help in immersing you into this strange world.
Final Thoughts?
If you're looking for a treat, Cirque du Soleil Kurios is indeed that treat which will leave you bewildered, amazed and entertained as you witness the extraordinary talents of the world's greatest circus troupe!
A spectacular indeed!
Gallery
Photos: Martin Girard / shootstudio.ca Costumes: Philippe Guillotel © 2014 Cirque du Soleil
Photos: D-CORD <Keiju Takenaka> Costumes: Philippe Guillotel © 2018 Cirque du Soleil
Kurios Tour Dates
10 January-23 February – Northshore Hamilton (Brisbane)
12 March-26 April – Flemington Racecourse (Melbourne)
29 May-7 June – Adelaide Showground
15 July-2 August – Claremont Showground (Perth)