Events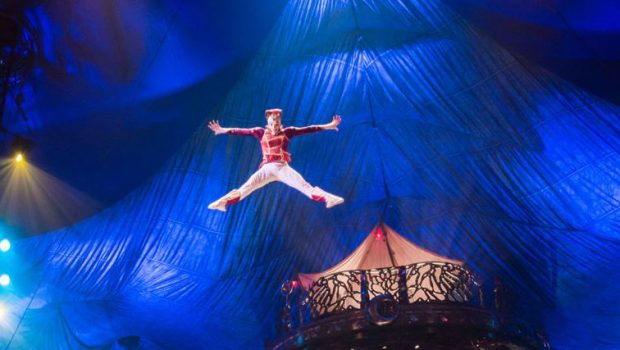 Published on December 5th, 2016 | by admin
Cirque du Soleil arrives in Melbourne next month with KOOZA!
Melbourne, VIC – December 5, 2016 – Cirque du Soleil will arrive in Melbourne next month with the new production, KOOZA. One of the most acrobatically breathtaking shows in the Cirque du Soleil stable, KOOZA is a colourful, sparkling homage to the traditions of circus and combines thrilling acrobatics with the art of clowning. KOOZA will open under the famous blue-and-yellow Big Top at Flemington Racecourse on Friday January 20, 2017.
KOOZA opened to rave reviews and a standing ovation in Brisbane recently. The Courier Mail said, "This is Cirque du Soleil's pinnacle… so spectacular, so obviously death-defying, so totally insane that I found myself with my hands over my face. We all love Cirque du Soleil but this time they have outdone themselves. And I haven't laughed so much in ages."
For those looking for the perfect Christmas gift to treat every single member of the family, KOOZA is your answer. Over 7 million people around the world have already enjoyed the magic, wonder and incredible feats of KOOZA.
Tickets for the Melbourne season of KOOZA are available at www.cirquedusoleil.com/kooza or by phone on toll free 1800 036 685.
Fun Facts about KOOZA: – All of KOOZA's performers apply their own make-up. This can take up to two hours! – The Teeterboard act in KOOZA flings artists into the air where they execute quintuple twisting somersaults… and that's just the prelude! – The name KOOZA is inspired by the Sanskrit word "koza," which means "box," "chest" or "treasure," chosen because one of the underlying concepts of the production is the idea of a "circus in a box." – KOOZA's beautiful costumes were designed by Marie-Chantale Vaillancourt. She drew inspiration from a wide variety of sources including graphic novels, the painter Klimt, Mad Max movies, timetravel movies, India and Eastern Europe, clock movements, tin soldiers, marching bands and more. This all merges to create a colourful look that alludes to Alice in Wonderland, Baron Munchaüsen and The Wizard of Oz. – There are more than 175 costumes and 160 hats in the show—1,080 items in all, including all the shoes, props, wigs. – The contortionists' costumes appear to have metal chains and jewels on them. The metallic chains are actually made of elastic and the jewels are silicone, to prevent any injury to the performers. – One army costume features more than 400 individually sewn metallic flaps to create the effect that it is armored.
About KOOZA
The international cast of 50 acrobats, musicians, singers and actors present heart-stopping feats and laugh-out loud antics to a live soundtrack fusion of jazz, funk and Bollywood beats. With nods to Carnivale, the Day of the Dead, military fashion, rock and roll and 1920s cotton club glamour, KOOZA is a visual feast. We follow The Innocent as he takes a journey of self-discovery through a comic kingdom of eccentric characters, electrifying thrills and out-of-the-box surprises.