Events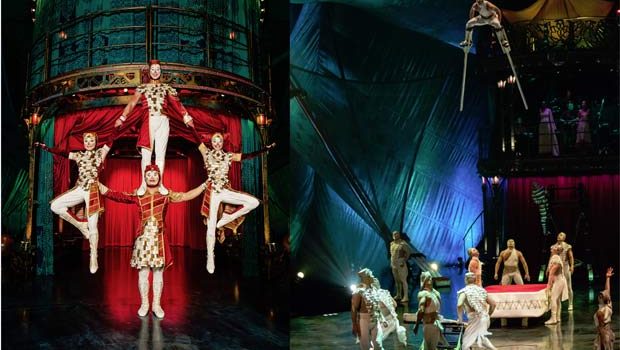 Published on July 4th, 2016 | by admin
Cirque du Soleil to arrive in Australia next month with KOOZA!
Australia – July 4, 2016 – Cirque du Soleil will arrive in Australia next month with KOOZA, a death-defying, colourful homage to the traditions of circus. The national tour will begin in Sydney on 25 August 2016, where KOOZA will be performed under the famous blue-and-yellow Big Top at the Entertainment Quarter, before moving on to Brisbane, Melbourne and Perth.
Tickets for the Sydney, Brisbane and Melbourne seasons are on sale now at www.cirquedusoleil.com/kooza or by phone on toll free 1800 036 685.
Since its world premiere in Montreal in 2007, KOOZA has been seen by over 7 million people around the world.  KOOZA is currently delighting audiences in Santiago, Chile, where the season will wrap up on July 31 2016. The tonnes of equipment and over 1000 costume pieces will then be loaded onto two 747s to make their way to Australia.
About KOOZA

Cirque du Soleil rediscovers its origins with the company's eighth Big Top show to tour Australia. A return to the intimate and fundamental human elements of circus, KOOZA combines thrilling acrobatic performance with the art of clowning. We follow The Innocent as he takes a journey of self-discovery through a comic kingdom of eccentric characters, electrifying thrills and out-of-the-box surprises.
Presented in a colorful mélange, KOOZA springs open like a bejeweled toy box to capture the audience's imagination and set their pulse racing. Sheer human effort – performance in its rawest, purest form – is showcased in all its splendor and fragility.
The international cast of 50 acrobats, musicians, singers and actors present heart-stopping feats and laugh-outloud antics to a live soundtrack fusion of jazz, funk and Bollywood beats.
The cast and crew of KOOZA represents 20 nationalities: Australia, Belarus, Brazil, Canada, China, Chile, Colombia, France, Hungary, Ireland, Italy, Japan, Moldova, Mongolia, Netherlands, Russia, Spain, Trinidad and Tobago, the United States of America and the United Kingdom.
"KOOZA is a show that blends, almost to perfection, its sub-continental sounds, its stunning lighting and costumes with theatrical ingenuity and acrobatic wonder."
– The Independent, London
 "… a thrilling spectacle jam-packed with white-knuckle acrobatic moments."
– Los Angeles Times
"KOOZA, a back-to-basics affair, presents the usual rubbery contortionists, fearless tightrope walkers and other gravity-defying daredevils. But what is special about this new production is that Cirque introduces some carefully choreographed chaos and old-fashioned sideshow spark… the real pleasures are the genuinely funny clowns."
– The New York Times
"… my heart stopped, I held my breath and even stifled a gasp."
– The Daily Mail, UK

For more information, visit www.cirquedusoleil.com/kooza