Events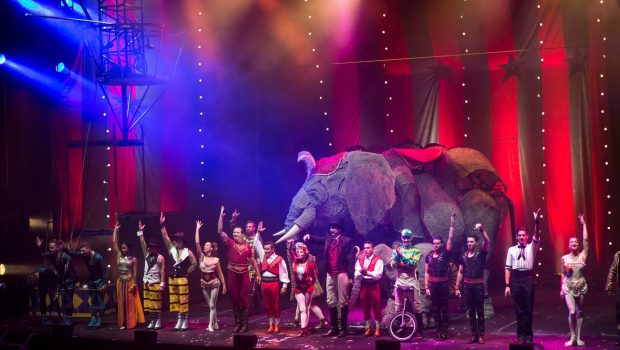 Published on September 5th, 2023 | by Adrian Gunning
Circus 1903 to bring jaw-dropping entertainment to Melbourne this summer
The award-winning team behind The Illusionists and international sensation War Horse invite audiences to witness the Golden Age of circus with their mesmerising, Circus 1903 at Arts Centre Melbourne's State Theatre from 4 – 14 January 2024. Alongside the spectacular stunts and death-defying acts, the show features majestic elephants which are brought to life by breath-taking puppetry.
★★★★ "The delightfully enjoyable Circus 1903 professes to be a return to circus's "golden [Victorian] age", but is in fact a super-luxe reboot… for 21st-century tastes." – The Guardian
Circus 1903 brings together remarkable talents from every corner of the globe, from daredevil acrobats to mind-boggling contortionists, the captivating Russian Swing to the breath-taking aerial acts, Circus 1903 will surprise and delight audiences of all ages.
"It is a delight to be collaborating with Arts Centre Melbourne in presenting the world's best family entertainment for our 10th summer season. From its Melbourne debut at Regent Theatre in 2016, like many of our shows before, Circus 1903 has enjoyed huge international success due to its broad audience appeal, high production values boasting all the thrills and spills of a grand big top circus, set in the comfort of an iconic venue", said Circus 1903 Producer, Tim Lawson. "We can't wait to introduce our mesmerising headline acts and the heart of Circus 1903 to our fans and new audiences alike."
"Circus 1903 is an opportunity for Melbourne to see the impossible made real, right in front of your eyes. The incredible craftsmanship that brought the magic of War Horse to the stage is spectacularly recreated with the awes-inspiring elephant puppetry", said Arts Centre Melbourne Director of Programming Stephen Armstrong. "We couldn't be more thrilled to bring this spectacle to the State Theatre stage."
Debuting at the Sydney Opera House and visiting Melbourne's Regent Theatre in 2016, Circus 1903 – with its new lineup – has captured the imagination of audiences around the world, including seasons in Los Angeles, New York, a Las Vegas residency and four sell out seasons in London.
Created, produced and presented by Tim Lawson and The Works Entertainment, Circus 1903 is one of many blockbuster shows that have toured to over 450 cities through 45 countries, including Le Grand Cirque, Le Noir, Cirque Adrenaline and The Illusionists.
Ahead of Circus 1903's season at Arts Centre Melbourne, the show will travel to the Sydney Opera House in December 2023.
Early bird tickets are on sale now until midnight 10 December or until sold out.
★★★★ "This funny, family-friendly and fantastically skilful show ticks all the boxes" – The Sydney Morning Herald
Arts Centre Melbourne in association with Tim Lawson and The Works Entertainment present Circus 1903
Arts Centre Melbourne, State Theatre | 4 – 14 January
Duration: 2 hours and 10 mins (incl. 20 min interval)
Age Recommendation: All ages
Accessibility: The performances at 2:00pm on Saturday 6 January and 7.30pm on Friday 12 January will be audio described.
For more information, visit artscentremelbourne.com.au
Creative Team
Producers Tim Lawson and Simon Painter
Director Neil Dorward
Composer Evan Jolly
Puppet Director Mervyn Millar