Games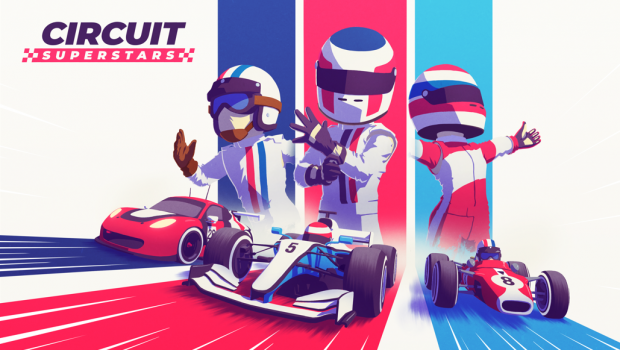 Published on October 14th, 2021 | by Adrian Gunning
Circuit Superstars | Available Now
SQUARE ENIX® Ltd., and Original Fire Games today released the highly-anticipated top-down racing game CIRCUIT SUPERSTARS, a competitive game with a charming edge; built by racing fans, for racing fans. The game celebrates generations of multi-disciplinary motorsport, focusing on tactile driving that feels great – but also with a high skill ceiling, that will have players spending hours honing their perfect lap. The game is available to purchase on PC via Steam®, Xbox One, and is coming soon to the PlayStation®4 console and Nintendo Switch™ system.
Ahead of the game's launch, CIRCUIT SUPERSTARS was thoroughly put to the test by luminaries from the motorsport and esports world, including IndyCar and former FORMULA 1 driver Romain Grosjean and FORMULA 1 star Lando Norris, alongside teammates from his esport team, Quadrant. As part of a BBC Studios and Top Gear collaboration, they were joined by a top-tier line up of motorsport, esports and YouTube stars who took on the CIRCUIT SUPERSTARS version of  Top Gear's iconic Test Track, in a unique take on the "Star in a Reasonably Fast Car" feature.
The game has launched with a special, free Top Gear DLC that offers players the opportunity to race their heroes on the iconic Top Gear Test Track. The track includes the Top Gear 'Time Attack' feature, giving players the unique opportunity to take to the track in a special Stig costume and perfect their racing lines against: Lando Norris, Romain Grosjean, Jamie Chadwick, Sam Bird, Steve "SuperGT" Brown, Charlie Martin, Jimmy Broadbent, Catie Munnings, Aarava and Conor Daly.
Racers will have access to the garage of their dreams, packed with 12 vehicles ready to compete on any of the 19 different tracks available, set in 13 vibrant locations. Players can enjoy a range of customisable liveries for both driver and cars, in addition to helmets and victory celebrations which can be unlocked by levelling up. There's a racing style for everyone, with multiple motorsport disciplines represented in the game including Rallycross, Open wheel single-seaters, Trucks, GT racing and many more – and plenty more free content to come in the future!
Starting out is simple… but learning the nuances of each car's unique handling and finding the best racing line around the corners of each track will be challenging. With the option of fuel usage, tire degradation and racing damage, even a good pit stop strategy could make the difference between hero and zero. Feel the rubber bite into the road as you pass the start/finish line and dive, with brakes squealing, into the first corner!
Whether you like to race solo or to challenge your friends, CIRCUIT SUPERSTARS features multiple racing options, including:
Online Multiplayer – Dive into specially-curated online multiplayer races with up to 12 players from around the globe.
Split Screen Local Multiplayer – Challenge up to three of your mates and skilful AI drivers
Grand Prix – Master all disciplines by conquering each of the single player tournaments designed for all 12 categories.
Free Play Mode – Create your own race events or tournaments
Phil Elliott, Head of Square Enix Collective says: "CIRCUIT SUPERSTARS is a wonderful representation of how developers can combine a deep love of motorsport and of gaming to create something special for both communities. CIRCUIT SUPERSTARS is unique in how it offers charming, relaxed gaming to some players, as well as a challenging, rewarding racing simulation to others, all in the same game."
Alberto Mastretta, Founder & Creative Director at Original Fire Games says: "Launching CIRCUIT SUPERSTARS is a huge accomplishment for us as a new studio, and we are so excited to release it today. This project has meant the world to us – motorsport has been a significant source of joy throughout our lives, and we have formed bonds with friends and family in physical and virtual race tracks. We have put everything we have into paying homage to the sport we love, to bring those same meaningful experiences to players."
Carolina Mastretta, Founder & Studio Lead at Original Fire Games further added "Seeing incredible drivers like Lando Norris, Romain Grosjean, Jamie Chadwick and many others resonate with our game is a huge honour, it fuels our energy to keep building on what we've created so far. We're excited to be on the track with all of you, sharing those special moments, and celebrating the world of motorsport together!"
CIRCUIT SUPERSTARS is available NOW on PC (via Steam®) and Xbox One. It will also be coming soon to PlayStation®4 console and Nintendo Switch™ system.
For further information please visit: http://www.circuit-superstars.com/