News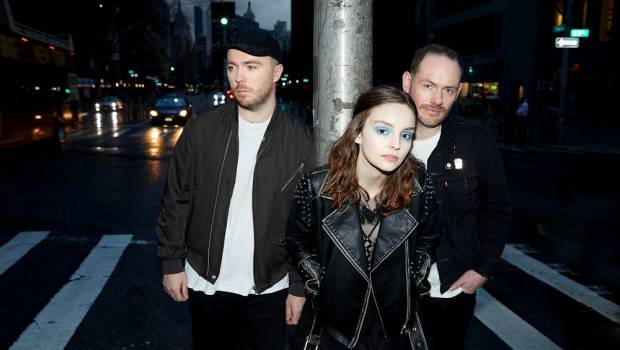 Published on March 1st, 2018 | by Admin
CHVRCHES Announce New Album 'Love Is Dead' Out 25 May + New Single 'My Enemy (feat. Matt Berninger)' Out Now
CHVRCHES today announce their highly anticipated new album Love Is Dead, due for release on May 25th. Today also sees the release of a second song from Love Is Dead, 'My Enemy', which features The National's Matt Berninger.
Love Is Dead is CHVRCHES' third album, following their debut The Bones Of What You Believe in 2013, and the top-5 critically acclaimed follow-up Every Open Eye in 2015. With the soaring success of their first two albums propelling CHVRCHES into new worlds of fame and acclaim, Love Is Dead is at times euphoric and others bittersweet. It is an album about growing up and "coming to terms with the fact that there are great things in the world and there are awful things in the world and that you can't get one without the other," says frontwoman Lauren Mayberry.
"We're f**ked, the world is f**ked. But there's an ellipses at the end. It's Love Is Dead. Like, how did we get to this point? And how do we move on from this point? It's Love Is Dead, we're f**ked, what's next?"
For the first time in their career, Love Is Dead sees CHVRCHES welcome outside influences, with 2017 and 2018 GRAMMY Producer of the Year Greg Kurstin (Adele, Sia) co-producing nine tracks, whilst BRIT Award Producer of the Year 2018 Steve Mac produced 'Miracle'.
'My Enemy' follows lead single 'Get Out' as the second track to be released from Love Is Dead, and features The National's Matt Berninger on guest vocals.
"We've all been huge fans of The National for a long time," says Lauren. "We had played a few festivals together but really got to know Matt when we were involved in 7 Inches For Planned Parenthood, a fundraising and awareness campaign that he spearheaded. It's really inspiring and reassuring to meet other artists you admire and realise that they are trying to do some good in the world. We kept in touch after that and, when it came time to record 'My Enemy', Iain and Martin suggested I email Matt to see if he'd like to sing on it. We never realistically thought he'd have time to do it but he replied right away and recorded the track at his house the next day."
'Get Out' debuted last month, and since its release has been a top-10 track on triple j, and a mainstay on Spotify's Global Viral chart.