Games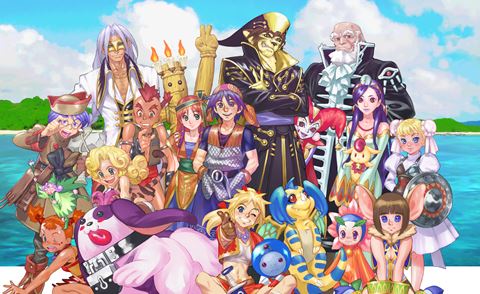 Published on April 8th, 2022 | by Andrew Bistak
CHRONO CROSS: THE RADICAL DREAMERS EDITION IS AVAILABLE NOW ON MODERN PLATFORMS
ARE ENIX® have announced that CHRONO CROSS™: THE RADICAL DREAMERS EDITION is now available digitally on PlayStation®4 (PS4™), Nintendo Switch™, Xbox One and Steam®. Players can now embark on an epic adventure featuring enhanced illustrations from original character designer, Nobuteru Yuuki, refined music from acclaimed composer, Yasunori Mitsuda, and a variety of additional improvements.
CHRONO CROSS: THE RADICAL DREAMERS EDITION brings the time-bending tale of adventure and friendship to a new generation, featuring one of the largest and most diverse casts of playable characters of any RPG with more than 40 unique potential party members. Follow the story of Serge, who stumbles into another world and learns of the connection between his existence and the future of his planet. The remastered edition includes "RADICAL DREAMERS – Le Trésor Interdit -", a text-based adventure video game released for Satellaview in 1996 that establishes the foundation of the CHRONO CROSS story.
Players can look forward to an array of exciting new enhancements and features in CHRONO CROSS: THE RADICAL DREAMERS EDITION including:
3D models converted to HD*
Brand new artwork and character redesign by Nobuteru Yuuki*
Refined background music by Yasunori Mitsuda
Switch enemy encounters on or off
Background filter feature*
Battle enhancement features
Auto-battle function
French, Italian, German and Spanish localization now added
Switch between imitation pixel font and HD font*
Change screen resolution
The inclusion of RADICAL DREAMERS – Le Trésor Interdit –, never before released in the West.
Players can choose between playing with original or updated graphics*
*The 3D models, illustrations, font and background filter cannot be toggled separately. They will all be switched together.
You can also enjoy one brand new song and seven re-arranged music tracks from CHRONO CROSS and RADICAL DREAMERS – Le Trésor Interdit, all supervised by Yasunori Mitsuda. 
CHRONO CROSS: THE RADICAL DREAMERS EDITION on PlayStation 4 will include a PS4 theme featuring Serge and Kid sailing on the blue ocean with a dragon in the skies above. Players can obtain the theme from the PlayStation Store. The featured background music is a guitar arrangement of "RADICAL DREAMERS -Le Trésor Interdit-", all supervised by Yasunori Mitsuda and had previously only been recorded on the limited-edition CHRONO CROSS 20th Anniversary Live Tour Blu-ray Disc.
More information is available at: https://square-enix-games.com/en_GB/games/chrono-cross-radical-dreamers-edition