Films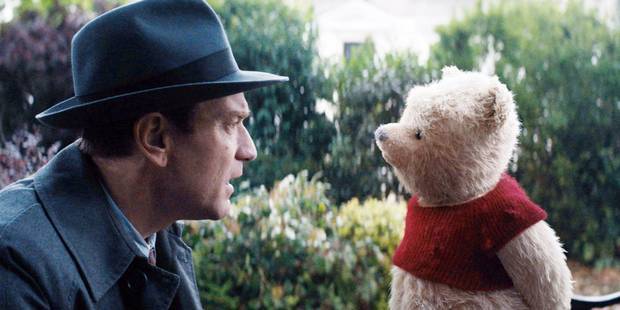 Published on September 21st, 2018 | by Tim Cooper
Christopher Robin – Second Film Review
Reviewed by Tim Cooper on the 20th of September 2018
Disney presents a film by Marc Forster
Produced by Brigham Taylor and Kristin Burr
Screenplay by Alex Ross Perry, Tom McCarthy and Allison Schroeder based on Characters from Disney's Winnie the Pooh and Winnie-the-Pooh by A. A. Milne and E. H. Shepard
Starring Ewan McGregor, Hayley Atwell, Jim Cummings and Brad Garrett
Music by Geoff Zanelli and Jon Brion
Cinematography Matthias Koenigswieser
Edited by Matt Chessé
Running Time: 104 minutes
Rating: G
Release Date: the 13th of September 2018
Confined to the short-sighted life and monotony of an overworked company man, Christopher Robin has grown up. While working as an efficiency manager for a luggage company and dealing with the stressful expectations handed down to him from his superiors, Robin is losing touch with his wife and daughter with each passing week. After choosing to work over attending an important holiday with his family, the once imaginative Robin receives a surprise visit from his childhood friend, Winnie the Pooh.
While Robin talks with the teddy over a pot of honey, Pooh reveals his perplexity over his recently missing friends. Eeyore, Tigger and Piglet, Rabbit, Kanga, Roo and Owl have disappeared without a trace and Robin is the only one who can help. Pooh and Robin must return to the Hundred Acre Wood amongst the dangerous Heffalumps in search of their old friends. On a journey together once again, the pair discover they need each other more than ever.
Due to copyright laws within the Disney agreement for the use of the Winnie the Pooh character, some names and backstories have changed from the original books by author A.A. Milne. While some may notice the differences, the heart of these characters remains intact and each character is met with a wave of nostalgia for anyone who still carries a soft spot for these talking plush toys. As with the current Star Wars films, Disney is banking hard on nostalgia for box office return. This has resulted in successfully creating an experience that is enjoyable for over-thirty adults and children young enough to be entranced by the visual magic and the likeable, cuddly characters.
Any good movie catering to children must also have replay value for adults to endure countless repeat viewings. Parents living in the digital age can no longer blame the VCR for a chewed-up tape or a broken DVD player for scratching the disc. As parents know, there are many kids flicks across the world that are re-watched with such eye-popping and repetitious fever that whole scripts and songs could be sung blindfolded and remain on cue.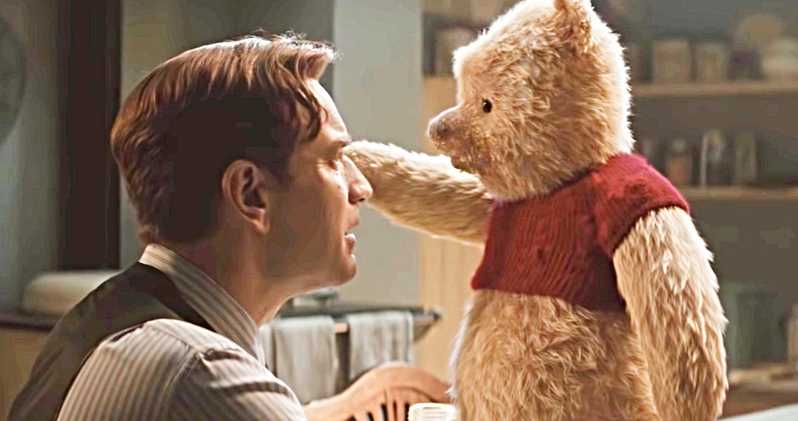 Classics such as E.T. (1982), Home Alone (1990) and Toy Story (1995), and more recently Finding Nemo (2003) and Frozen (2013), all hold up on repeat viewings. These films have a re-watch quality because the humour and heart in their scripts elevates them into multilayered works to be enjoyed by varying ages. Christopher Robin has a different approach. It is more classical in direction and similar in tone to Marry Poppins (1964). Instead of relying on double entendres in the script, director Marc Forster (World War Z, 2013) keeps the content straight down the line, without knowing winks to the camera.
The cast play their characters brightly and with an apt cartoon honesty. One such occasion, Robin questions his sanity when encountering the talking Pooh Bear as a grown adult. Any further delays in belief would halter the magic and progression of the story, which makes the brevity of these scripted decisions punctual in accelerating the story. Ewan McGregor, who plays the work-obsessed Robin, is the film's anchor. His earnest performance fits perfectly against the thoroughly British backdrop of characters and location. Just like a jar of Pooh's honey, his performance might be a little sticky sweet for some but a performance like this is needed for material of this direction and origin.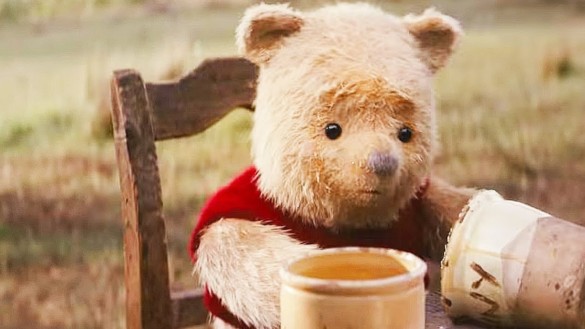 Haley Atwell and Bronte Carmichael offer the same level of sincere performance as Evelyn and Madeleine Robin. Carmichael has one affecting scene early on with McGregor that succeeds in setting the grim tone of Robin's askew family priorities. The young actor avoids the cringe factor through a fitting performance. Atwell is heartfelt as Evelyn, and her skills successfully guide the emotional hook pulling at Robin's internal struggle. Mark Gatiss provides an exaggerated but fitting performance as Giles Winslow who becomes the film's villain. The voice work for the lead animated characters is exceptional. Jim Cummings is a standout, voicing both Pooh and Tigger. His tone perfectly captures the spirit of Pooh through his labored and slightly husky delivery.
With a budget of US$75m, it's unsurprising that the film's animation is exceptional. The characters look right, even down to the fibers on their tattered fur. Fibers react to their surrounding elements, and the facial animations, while limited due to the authentic character design, have clearly been labored over. A lot of time and money has also been spent creating the physical sets and digital backdrops to authenticate the period and material. The production design is impressive and immersive for the eyes in scale and detail. The unfortunate side effect is that even the dirt ends up looking oddly clean and manufactured. Films of this financial magnitude must never have a hair out of place, unless it's intentionally scripted. While this is an essential part of being a kid, even more important is knowing how and when to have good old messy fun. Regardless, Christopher Robin ticks a lot of boxes and has done its homework.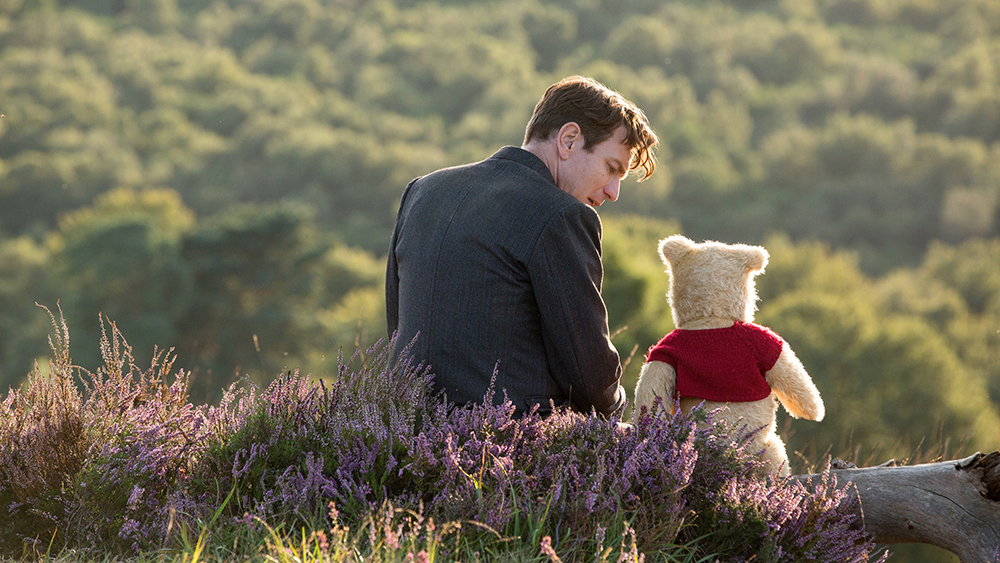 Disney is obvious in the direction they've wanted to take this latest adventure of Pooh and Christopher. This isn't a reboot, but a film designed to reintroduce loved characters from a time when the world was undeniably a different place. Christopher Robin will be a nostalgic and enjoyable trip for new parents to show their own kids and a film for young children to watch in wonder. The story and settings are a refreshing throwback to a style of filmmaking scarcely realised in modern cinema. A lighter tone and a quicker pace would have benefited the film's first third; however, it leads to a predicable but suitably whimsical finale. Only the most critical would fail to see the charm in Pooh and a grown-up Christopher Robin sitting together again, with their arms around one another, talking about their shared adventures like the old friends they are.
Summary: Christopher Robin will be a nostalgic and enjoyable trip for new parents to show their own kids and a film for young children to watch in wonder.