Films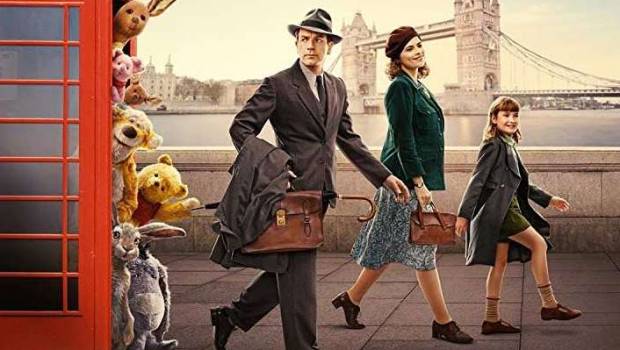 Published on September 15th, 2018 | by Curtis Mayfield
Christopher Robin – Film Review
Reviewed by Curtis Mayfield M-H on the 8th of September 2018
Disney presents a film by Marc Forster
Written by Alex Ross Perry, Tom McCarthy, Allison Schroeder, Greg Brooker Mark Steven Johnson, based on characters by A. A. Milne and E. H. Shepard
Produced by Brigham Taylor and Kristin Burr
Starring: Ewan McGregor, Hayley Atwell, Bronte Carmichael and Jim Cummings
Music by Geoff Zanelli and Jon Brion
Cinematography: Matthias Koenigswieser
Edited by Matt Chessé
Running Time: 104 minutes
Rating: G
Release Date: the 13th of September 2018
Disney is as Disney does and that's as clear as ever with the latest children's movie about Christopher Robin with…well you guessed it Christopher Robin. Not to be confused with last year's Goodbye Christopher Robin, this movie takes a more kid friendly turn as Disney pumps out another children's movie that will still speak to the grown ups who have to entertain their kids when it's raining outside. Director Marc Forster has such a varied resume that it's almost comical that he'd direct such a sweet movie about rediscovering childhood innocence. Forster's back catalogue consists of non-family movies such as World War Z, Monster's Ball and Machine Gun Preacher. But to his credit he did also direct the Peter Pan back-story Finding Neverland so making films about the origins of Disney characters is definitely in his wheelhouse.
From the minute this coming-of-age movie starts anyone over 15 can see where this film is headed. A near teenage Christopher Robin says goodbye to his animal friends and the 100 Acre Wood to go to boarding school and is forced to grow up and leave behind Winnie-the-Pooh, Piglet and the rest. Christopher goes through boarding school life, grows up to be a soldier and marries Evelyn (a largely wasted Hayley Atwell) and soon forgets about his animal pals. This movie could basically be a continuation of Toy Story 3 if it was set in mid-20th century England. Ewan McGregor fits perfectly into the role of a grown up Christopher. He's become a stuffy middle-aged accountant for a luggage company. Work and formal education become top priority for him and his family life suffers because of it. Daughter Madeline (bright young star Bronte Carmichael) has a yearning for adventure but dad has other ideas as he reads her history books as a bedtime stories. We can all guess where this is headed by now. Christopher needs a major wake up call and it looks like Pooh and friends are the only ones to do it. As predictable as his forthcoming learning experiences will be the movie is still shot in a beautiful way that might actually bore kids and keep adults intrigued. Think of this as a cross between Spike Jonze's Where the Wild Things Are and Spielberg's Hook. As Christopher is thrown into an adventure with the ever so endearing Pooh we see a story that's been told before about lost childhood wonder mixed in with beautiful animation and simple story telling.
Credit goes to the animation design team that could have easily given Pooh and the other toys a sheen, polished look but instead went for the old, slightly worn appearance of the beloved childhood toys. Props go to writers who managed to not only focus on the title character but also give depth to a silly bear that loves honey and not wearing pants. But this movie is still far from an art house piece on keeping in touch with our roots as there are plenty of children's movie tropes. The physical gags are some of the most endearing scenes that will ring true for the kids in attendance. The casting choices are another thing that makes this film so enjoyable with veteran voice actor Jim Cummings voicing both Pooh and Tigger as well as Brad Garret using his signature monotone drawl to perfectly voice Eeyore, the depressed donkey.
As we see Christopher rediscover the joys of being playful and imaginative with his family, which also leads to him standing up to his stuffy old corporate bosses, we may have been taken on a familiar ride but sometimes the well-known can mix well with innovation and this movie is a prime example of this combination. Not to mention the delicate use of classic childhood characters is a big plus. We could have easily been given a corrupted version of our favourite creatures. It's not hard to imagine Disney allowing Piglet to be voiced by Jon Cryer and Eeyore getting the T.J. Miller treatment. But lets just thank the movie making gods that all of that was avoided and instead we got the endearing Winnie the Pooh movie with just the right amount of sap a 2018 audience deserves.
Summary: Think of this as a cross between Spike Jonze's Where the Wild Things Are and Spielberg's Hook with just the right amount of sap.