Hardware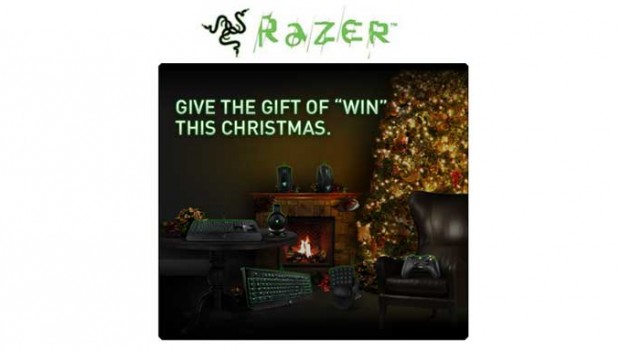 Published on November 28th, 2013 | by admin
Christmas Gift Guide for Gamers from Razer
Time to play Tech Santa again!
The greatest gift you can give any Gamer—including yourself—is the gift of pure "win" and total gaming domination. As Gamers ourselves, we know exactly what you want. We've hand-picked our popular mice, game controllers and everything you need for the ultimate "winning" holiday season.
We've taken the worry out of finding the perfect gift this year!
Razer Blade – RRP AUD $2699.00
Equipped with the latest Intel® Core™ processor, the latest NVIDIA® GeForce GTX® 765 graphics, and the solid state storage performance all engineered into the world's thinnest gaming laptop, the 14-inch Razer Blade is the most powerful gaming laptop in its class. *Available exclusively at JB Hi Fi and www.razerzone.com/au-en
Razer Kraken 7.1 – RRP AUD $169.95 / NZ $179.95
Get the complete 7.1 surround sound gaming experience with the Razer Kraken 7.1 USB gaming headset. This headset adopts the comfortable form factor of the Razer Kraken Pro, tested by numerous professional gamers to determine the optimal ergonomics for extended gaming sessions. 
Razer DeathAdder – RRP AUD $89.95 / NZ $119.95
The all-new Razer DeathAdder has been upgraded with the world's first 6400dpi optical sensor. Achieve high levels of performance while retaining the natural feel of the optical sensor most Razer DeathAdder users have come to love.
Razer Naga – RRP AUD $119.95 AUD / NZ $149.95
The world's best MMO gaming mouse just got better. The Razer Naga is now equipped with 12 mechanical thumb grid buttons, an improved ergonomic form factor, and a tilt-click scroll wheel. All meticulously put together to ensure maximum comfort and total ownage.
Best part? The Razer Naga also comes in Left-handed Edition for all you southpaws so that you don't miss out on an awesome mouse like this.
Razer Sabertooth – RRP AUD $149.95 / NZ $149.95
The Razer Sabertooth Elite Gaming Controller for Xbox 360 and PC is the supercharged successor to the award-winning Razer Onza. Now, it has been restructured with even more customizability and control options in an all-new, rugged design that doesn't compromise comfort.
Razer BlackWidow – RRP AUD$179.95 / NZ $169.95
The Razer BlackWidow's mechanical key technology provides a distinctive tactile feedback in form of a light pronounced tap to your fingers giving you an entirely new feet on your keyboard. With its optimized actuation force of 45g and tactile and silent key feel, the Razer BlackWidow mechanical keyboard allows you to actuate your commands swiftly and accurately.
Razer Orbweaver – RRP AUD $199.95 / NZ $229.95
Arm yourself with 20 fully programmable mechanical keys for more skills, hotkeys, and macros right at your fingertips. A programmable 8-way directional thumb-pad can also be used either for movement or as modifier keys to expand your repertoire of game-destroying abilities.