Comics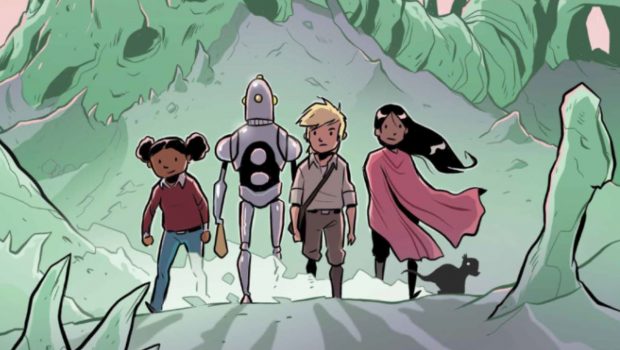 Published on September 23rd, 2019 | by Andrew Bistak
Chris "Doc" Wyatt & Chris Grine Interview … Alien Bones!
We catch-up with Doc Wyatt and Chris Grine to talk about their new title, ALIEN BONES!
Tell us the inspiration behind ALIEN BONES?
DOC: As a children's TV writer, I've gotten to script for some of the characters that I most loved while growing up: Spider-Man, Batman, Optimus Prime, the Teenage Mutant Ninja Turtles. When I was thinking about doing a graphic novel for Ken F. Levin at 1First Comics, I wanted to use all the wonder captured by those classic characters and plow it into a story that would inspire young readers—like my own kids—to use their imaginations and have an excited curiosity about the universe. What would dinosaurs look like if they evolved not on Earth but on alien planets? We're trying to be fuel for the imagination here!
How would you sum up ALIEN BONES to potential readers?
DOC: In Alien Bones, the fossils of alien dinosaurs provide clues to a conspiracy that threatens the human race. It's about a kid, his best friend, his robot, and his pet mini-dino facing off against space pirates, alien invaders, and an overly officious museum administrator. If none of that sounds interesting to you, then you should be sure to avoid this comic.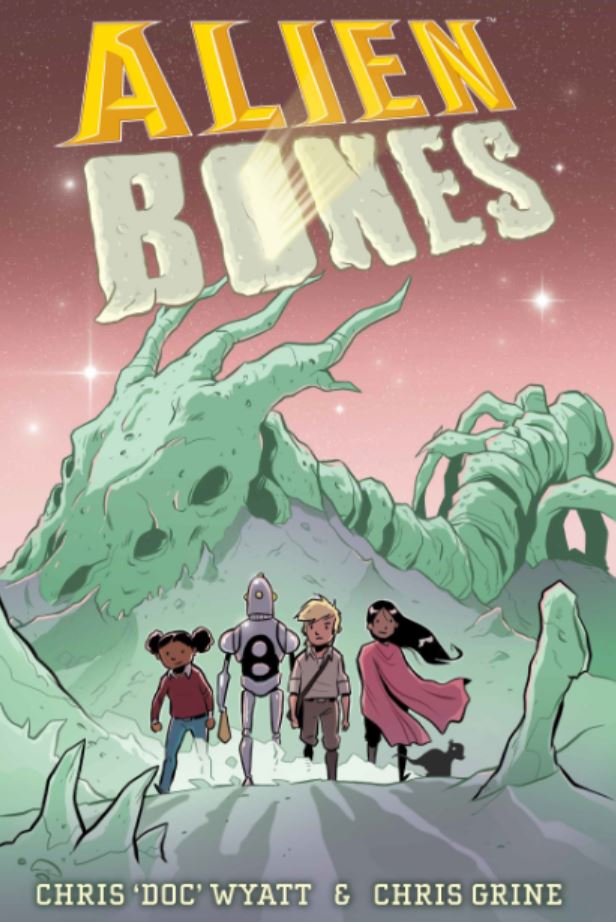 What is your favourite element about ALIEN BONES?
DOC: Dude. The alien dinosaurs.
CHRIS: I love the bad guys! I won't spoil any of it, but Doc gave me a lot of room to play with the designs, so any chance I got to draw them into a scene, I did. Doc wrote a truly amazing space adventure, and I'm just honored to be guy who brought it all to life visually.
In the world of spandex titles (e.g. the heroes) … how would you recommend this book to those readers?
DOC: I love superheroes. I'm at my local shop all the time, picking up my pull list. And as head writer (with my TV writing partner, Kevin Burke) of Marvel's Spider-Man on DisneyXD, superheroes also pay my bills. So I think people should definitely keep reading their favorite hero titles. But a lot of corporate comics are now for older readers like me. Alien Bones is meant to rope in younger readers too. This is about a normal kid. He has a pretty cool life, traveling the stars with his xeno-palentologist dad, but at the end of the day he still has normal kid concerns. He even has to go to school…. Sure, it's hologram-projected virtual school, but there are still pop quizzes.
Lastly, when reading ALIEN BONES, what would you tell readers to look out for?
DOC: Look out for Chris Grine's art. It's going to blow you away, as it did me!
CHRIS: Ha! Well, maybe, but the thing I think readers should really look out for is the way the story starts off so small and slowly grows into a potential end of the universe as we know it. I actually insisted Doc only give me the script about twenty-five pages at a time. I had absolutely no idea how it was going to end as I was illustrating it. It was a blast to work on!
About Chris "Doc" Wyatt
Alien Bones by Chris "Doc" Wyatt. Doc is an Emmy nominated animated TV writer/producer whose name you might recognize as the producer of Napoleon Dynamite. He's written a sweet YA graphic novel about alien dinosaurs which is being published in October timed to International Dinosaur Month.
Alien Bones is a fantastic, futuristic romp through the cosmos led by an intrepid ten-year-old boy and his diverse cast of friends (human, robot, and holograph alike). It's also a surprisingly sweet look at what exactly "humanity" looks like, both within and outside our own species. Chockfull of blustering space pirates, interdimensional battles, and interspecies alliances, Alien Bones is sure to delight and enthrall readers who love science, adventure, and the big questions that keep humanity searching space for answers.