Games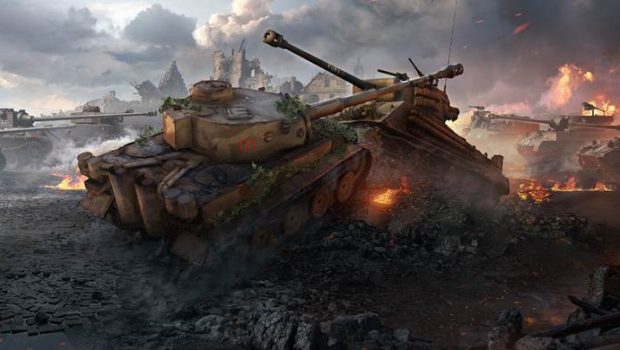 Published on April 27th, 2018 | by Admin
Choose Your Own Rewards, Including the Mighty Motherland, During World of Tanks Console's Soviet Dream Machines Event
April 27, 2018 — It's time to return to the Motherland in an epic new tanking event. Exclusive to World of Tanks on PlayStation®4, Xbox One, and Xbox 360, Soviet Dream Machines offers a unique opportunity for players to choose their own prizes throughout the month of May, ranging from Premium time and Boost Ops, to incredibly powerful Premium tanks to strengthen their armory.
From May 1, players will begin earning points towards the event whenever they place in one of the top five spots in their team during Multiplayer battles. These points can then be redeemed against ten tiers of highly valuable rewards from 'Drop Ops', each of which are worth different amounts of points. When a reward has been redeemed, the fun doesn't end there – the points will keep racking up during the event, so players can keep on striving for bigger and better prizes as the month goes on!
This event marks the return of the Motherland, a legendary Soviet Medium Tank that acts as a badge of honor for Commanders in World of Tanks on Console. As one of the first Hero tanks to be added to the game, the tank has attained an almost mythical status, and remains a highly sought-after prize to this day. Players will need to work hard to reach for this coveted war machine, as it's worth a more challenging 1,000 points. But with the entire month to reach for it, the sky's the limit!
Elsewhere in the prizing tiers is the T-29, a new Premium tank that excels at unleashing hard-hitting, fast-firing punishment at close-range. It's joined by the heavyweight KV-220-2, the nimble yet deadly T-50-2, and the explosive ISU-122S, alongside a host of other prizes including Silver, XP Boost Ops, and Premium time.
A trio of new Premium Heroes will be released throughout May that can help to earn bonus points towards Soviet Dream Machines. From May 1, the devastatingly powerful Guardian STG  joins the game, alongside a new hero direct from the pages of Dark Horse Comics: Kraft's Pz. IV. This Dark Horse Hero comes to the game ahead of the release of World of Tanks: Citadel, a new digital and printed comic book series from renowned writer Garth Ennis (Preacher, The Punisher) launching May 9. A third tank will also be announced later in the month, and it's not to be missed…
During May, World of Tanks Console is extending the Soviet celebrations past Soviet Dream Machines, to a whole host of events that go hand-in-hand with the special prize event. Players will have the opportunity to hunt down Soviet tanks to earn double Silver Boosts with the Lock On: Soviet Tanks Op. Turning the tables, the Soviet Predators Op also allows players to seek and destroy with Soviet vehicles, where taking out 500 tanks will earn them a shiny new Soviet Patriot Medal. Both of these events will be running from May 1-27, and offers extra incentive to rack up the points for Soviet Dream Machines. And with Soviet Tech Tree vehicles available with up to a 50% discount from May 1-9, there's no excuse not to join the party!
As commanders take to the frontlines throughout May, they may need to take note that the battle landscape is about to change. Winter has melted away from a fan favourite battleground to reveal a new map, Nomonhan, prepped and ready to enter rotation from May 1. Nomonhan, is prepped to join the map rotation from May 1. This map is based on the real tank battles of Khalkin Gol, where the Soviets battled the Japanese.
For more details about Soviet Dream Machines, visit:
https://console.worldoftanks.com/news/game-events/dream-on/
For more details about World of Tanks: Citadel, visit:
https://www.darkhorse.com/Comics/3002-052/World-of-Tanks-Citadel-1