Games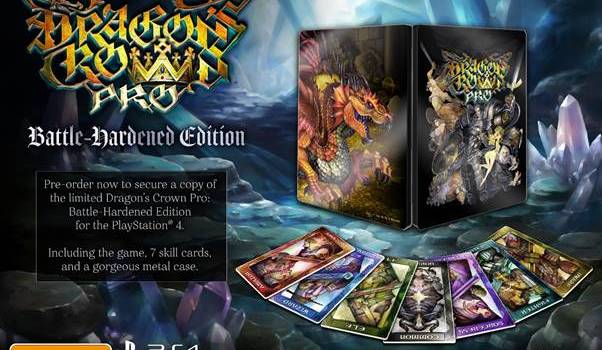 Published on March 7th, 2018 | by Admin
CHOOSE YOUR CHARACTER IN THE NEW DRAGON'S CROWN PRO TRAILER!
When you and your party are being faced down by a pack of vile goblins, how would you proceed? Would you hack them apart limb by limb with your massive battle axe, riddle their bodies with devastating waves of arrows, or chant a powerful magical incantation to blow the entire group to smithereens? Tough choice, I know. Make it easier on yourself by getting a good look at all the playable classes available in Dragon's Crown Pro in our new Character Trailer!
Watch the Dragon's Crown Pro character trailer here. 
Dragon's Crown Pro features:
Visuals Fit for an Ancient Dragon – With beautifully-refined artwork and 4K resolution support, Vanillaware's signature art style will come alive as you bludgeon, cleave, shoot, and loot through the dungeons of Hydeland.
A Rousing Adventurer's Soundtrack – A newly recorded soundtrack by fabled composer Hitoshi Sakimoto, supported by a live orchestra, will accompany daring treasure hunters on their search for the Dragon's Crown.
Glorious Presentation – Rejoice because English and Japanese audio options will now be available! Plus, game text will be localised in French, Italian, German, and Spanish.
All the Royal Bells and Whistles – If you already own Dragon's Crown, your saves won't go to waste. There will be online cross-play & cross-save compatibility with existing PS3 and Vita versions. Oh, and all patches, features, and the Storyteller Voice Pack DLC from the original game will be included!
Four Player Frenzy – With the fun local couch co-op and online multiplayer you remember, up to four players can experience countless hours battling together.
Dragon's Crown Pro Battle-Hardened Edition
Exclusive to the west and only available in a limited quantity, the Battle-Hardened Edition of the fan-favourite multiplayer action-adventure game, Dragon's Crown Pro, brings Vanillaware's fantastical adventure into your hands as never before. The set includes 7 collectable skill cards representing the 6 different classes plus the common skills, and a shining metal case encapsulating this ultimate package for game collectors.
Dragon's Crown Pro will be available on the PlayStation®4 and PlayStation®4 Pro on 15th May. The game will be AUD $79.95 and is rated M. For more information, please visit www.atlus.com/dragonscrown.
About ATLUS
Atlus U.S.A., Inc. has become known across the industry as a mark of high-quality, deeply immersive, uniquely Japanese video game experiences.  With award-winning titles that reach across a variety of genres and platforms, including the Shin Megami Tensei® and Persona® series of role-playing games, the ground-breaking action-adventure/puzzle game Catherine™, and the much-celebrated RPG Demon's Souls™, Atlus is committed to offering the highest standard in interactive entertainment experiences. www.atlus.com