Games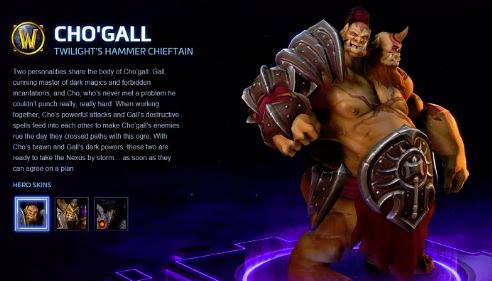 Published on November 19th, 2015 | by admin
Cho'gall Enters the Nexus – Heroes of the Storm
We're pleased to announce that Cho'gall is now available in Heroes of the Storm!
Cho'gall is the ogre-magi chieftain of the Twilight's Hammer clan; a member of the Shadow Council, and the first cooperative Hero to be added to the Nexus. Players who choose to play as Cho'gall take on a unique Hero – the first to be controlled by two players. One player steers Cho; a melee Warrior responsible for all character movement, while the other player pilots Gall, a ranged Assassin who works in unison to cast damaging spells and bring down enemies.
Befitting his unique playstyle, players will unlock access to Cho'gall in a completely different way. BlizzCon 2015 attendees and Virtual Ticket holders automatically receive access to the pair. Players who don't currently have Cho'gall can earn him by playing matches alongside a friend who already has Cho'gall. Winning two games while playing as either half of the hero will permanently unlock both Cho and Gall. Winning four games while partnered with players who don't yet have Cho'gall will reward you with 2,200 in-game gold for your hard work.