Games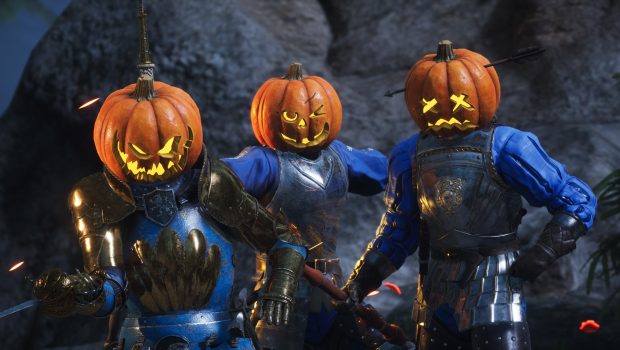 Published on October 27th, 2021 | by Adrian Gunning
Chivalry 2: Fight Knight Update Adds Brawl Mode, Last Team Standing, the Rapier, Headbutts and More, Wrapped in a Limited-Time Halloween Event
Developer Torn Banner Studios, publisher Tripwire Presents, and global retail publishing partner Deep Silver have announced the launch of the free Chivalry 2: Fight Knight update for the award-winning multiplayer hit and 2021 nominee for the Golden Joysticks Best PC Game and Best Multiplayer Game of the Year.
Out now for PC (via Epic Games Store), the PlayStation®4 and PlayStation®5 computer entertainment systems, the Xbox One family of devices, and the Xbox Series X|S console systems, the Chivalry 2: Fight Knight update adds an all-new Brawl mode, Last Team Standing mode, and a new swashbuckling Rapier weapon.
In addition, combat becomes even more outrageous now that players with dismembered arms can use headbutts for one last chance at taking down rivals. All this and more comes wrapped in a seasonal Halloween event, filling the ultimate medieval battlefield with festive and spooky decorations. 
"Chivalry 2 is going to live for a very long time," said Torn Banner Studios CEO & Creative Director Steve Piggott. "We've already confirmed content planned for release all the way through the end of 2022 and remain committed to doubling the size and scope of Chivalry 2 as our team continues work on updates, like today's Fight Knight release."
Watch the newly released developer diary here: https://youtu.be/_PmjCJvT3e8
Chivalry 2: Fight Knight update key features include:
Brawl Mode and Maps: Leave your weapons at the door for the all-new brawl mode designed to capture the rowdy and chaotic feel of a tavern brawl. Take a seat! Literally. And then smash someone's face with it!

Two Brawl Maps: Up to 40 players can join the fray in The Great Hall and Rudhelm Feast.
Found Objects: Players can pick up and wield just about anything they can find across the map. Embrace the chaos and grab chairs, beer steins, rolling pins, sausages, and giant fish to beat down your rivals!

Last Team Standing Mode: Players looking for more realistic team battles can expect the return of top-requested mode from the original Chivalry: Medieval Warfare! Stakes are high, as these 40-player battles have no respawns. The last team/person standing is crowned as the winning team.
Headbutt Combat: It's only a flesh wound! Chivalry 2's limb loss combat system sees the most brutal and outrageous update yet. Now, when a player has lost both limbs in combat, they can execute an arm-less headbutt attack for a last chance at taking down an opponent before bleeding out.
Rapier Weapon: This new fencing weapon type also introduces a new swashbuckling combat style with more focus on fast-movements and flourishes.
Halloween Event: Running from Oct. 26 through Nov. 7, players can look forward to Chivalry 2's first-ever seasonal event with new cosmetics, like the pumpkinhelm, and Halloween themed decorations and interactive objects, like giant Jack O Lanterns that can be weaponis

Rudhelm Siege, Dark Forest, Great Hall (Brawl mode), and Wardenglade (Free-for-All and Last Team Standing modes) will feature these limited-time Halloween decorations.

Arena Mode Improvements: New improvements to Arena include an offline practice mode for teams to hone their skills and teamwork as well as overall polish improvements, including a new winner's podium cutscene.
Armory Updates: In addition to the new Rapier weapon, players can all look forward to a wide array of new cosmetics and skins to unlock, including armour sets, new female armour skins, new helmet skins, new weapon skins, and even a fancy moustache!
Chivalry 2 is a multiplayer first-person slasher inspired by epic medieval movie battles. Players are thrust into the action of every iconic moment of the era from clashing swords and storms of flaming arrows to sprawling castle sieges, and more. Dominate massive battlefields while catapults tear the earth apart as players lay siege to castles, set fire to villages, and slaughter filthy peasants in the return of Team Objective maps.
Improving on the original genre-defining Chivalry: Medieval Warfare in every way, Chivalry 2 invites players to master the blade with an all-new and improved combat system that combines real-time strikes and a free-flowing combo system to speed up the action and let players become a whirlwind of steel on the battlefield. Created with the ability to fight multiple foes in mind, Chivalry 2's combat mixes the best of both FPS and fighting game genres for an unmatched melee experience.
Chivalry 2 has an RRP of AUD $59.95 for the Standard Edition or AUD $79.95 for the Special Edition, with a classification rating of R 18+(High impact violence, online interactivity and in-game purchases). To stay up to date on the latest Chivalry 2 news, please sign up for the newsletter on the official website, follow Tripwire Presents, join the official Chivalry 2 Discord server, and follow the developers on Twitter, Facebook, and YouTube.