Events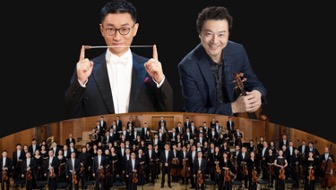 Published on August 29th, 2023 | by Adrian Gunning
China National Symphony Orchestra Australia Tour 2023
The China National Symphony Orchestra will make their return to Australia this year after an absence of six years. Over 80 musicians make up this world-class orchestra under the baton of CNSO's conductor Maestro Li Xincao. They will perform one concert only at Sydney, Adelaide and Melbourne on 28 November, 1 & 2 Decemberrespectively. The concert also features violinist Lu Siqing, the first Asian prizewinner of the Paganini Competition.
Prestigious conductor Li Xincao has shown his adaptability to different programs and his correct understanding of different styles of works. He was praised especially for his excellent performance in German and Austrian works and in the new works by the Chinese contemporary composers. Over the years, Li Xincao has spread music to all five continents with worldwide recognition both in the field of symphony and opera. In particular, he has led China National Symphony Orchestra for historic visits around the world, winning enthusiastic responses and high praise from authoritative music critics from all over the world.
Well-recognized as one of the most outstanding Chinese violinists of today, Lu Siqing performs regularly with major national and international orchestras. As the first asian violinist to win the esteemed International Paganini Violin Competition, Lu's performances have received great acclaim in some of the world's most prestigious concert halls and in more than forty countries and territories, including the Musikverein in Vienna, Avery Fisher Hall and Alice Tully Hall in New York City, Hollywood Bowl in Los Angeles, Sydney Opera House, among others.
The China National Symphony Orchestra, founded in 1956, is the most outstanding Chinese orchestra and has been instrumental in promoting and developing the art of symphonic music in China, introducing Chinese audiences to a large repertoire of classical, romantic, modern and contemporary orchestral works by both Western and Asian composers. Serving as a cultural ambassador, CNSO have engaged in intercultural dialogues and promoted friendship between China and the world through music during many international tours.
The CNSO has performed with many top artists including Herbert von Karajan, Seiji Ozawa, Charles Dutoit, Krystof Penderecki, David Oistrakh, Yehudi Menuhin, Isaac Stern, Anne-Sophie Mutter, Martha Argerich, Mischa Maisky, Giuseppe Giacomini, Lang Lang, Wang Yuja and Han-Na Chang.
During the past decades, the CNSO has undertaken international tours to the USA, United Kingdom, Germany, Austria, Spain, Mexico, Japan, and many other cities. The London Times praised the orchestra "as a sophisticated musical group with vigorous sounds and excellent technique." The Washington Post mentioned the Orchestra "is a solid, energetic and meticulously drilled ensemble."
For the Orchestra's Australian tour 2023, the CNSO will perform a selection of masterpieces including Overture Dance of The Yao People, The Butterfly Lovers composed by He Zhanhao and Chen Gang and Beethoven Symphony No. 7 in A Major op. 92. Overture Dance of the Yao People is one of the best known and most popular Chinese instrumental compositions of the second half of the 20th century that inspired by the long drum dance. The Butterfly Lovers is one of the most famous Chinese works of orchestral music written for a Western-style orchestra, an adaptation of an ancient legend, the Butterfly Lovers. Beethoven Symphony No. 7 in A Major op. 92 is remarked by Beethoven as one of his best works and the second movement, "Allegretto" is frequently performed separately to this day.
This is a unique opportunity for Australian audiences to experience exquisite music and witness the supreme skill and artistry of the China National Symphony Orchestra.
"A sophisticated musical group with vigorous sounds and 
excellent technique". – The London Times
"A solid, energetic and meticulously drilled ensemble". – The Washington Post
"a large range of classical, romantic and contemporary orchestral works". – Sydney Morning Herald
Venue:            Concert Hall, Sydney Opera House
Date & Time:   Tuesday 28 November, 8pm
Tickets:           Premium $189 | A Res $159 | B $129 | C $99 | D $69
Discounts for groups of 10 or more, concession for senior, student
Booking:          sydneyoperahouse.com or 02 9250 7777
Venue:            Adelaide Town Hall
Date & Time:   Friday 1 December, 6pm
Tickets:           Premium $149 | A Res $129 | B $109 | C $89 | D $69
Discounts for groups of 10 or more, concession for senior, student
Booking:          ticketek.com.au
Venue:            Hamer Hall, Arts Centre Melbourne
Date & Time:   Saturday 2 December, 2pm
Tickets:           VIP $169 | Premium $149 | A Res $129 | B $109 | C $89 | D $69
Discounts for groups of 10 or more, concession for senior, student
Booking:          artscentremelbourne.com.au or 1300 182 183