Events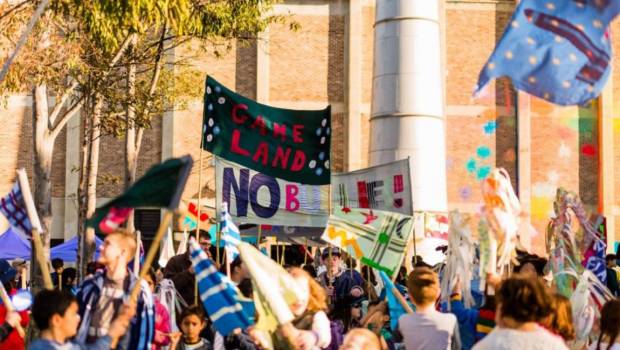 Published on January 3rd, 2018 | by Admin
The Children's Republic of Melbourne, January 9-14 at Arts Centre Melbourne (free!)
MELBOURNE, FOR IMMEDIATE RELEASE – Power will be placed into the hands of some of Victoria's youngest citizens when artist Ben Landau's The Children's Republic of Melbourne takes over Arts Centre Melbourne this summer from 9 – 14 January 2018. The interactive arts experience invites little leaders to formulate their ideal nation, developing national symbols: flags, banners, shields and a constitution.
Participants help decide the laws, rules, values and symbols of Melbourne's first micro-state and immerse themselves in a world of politics and ethics before literally stitch together the start of this new country with their own hands. The children decide what is important: unlimited pizza or equality for all?
Through hands-on and artist-led workshops, the little leaders design and make their own flags and banners for the new nation with materials, workstations and artists available at sewing stations to help them realise their vision. All participants need to bring is their imagination.
On the last day, January 14, all participants, led by marching band The Red Brigade, are invited back to parade their flags and banners through Arts Centre Melbourne and to present their constitution to the public. The creative, political and even humorous laws of the newly formed nation will be passed by the future politicians to existing 'grown-up' leaders.
Melbourne-based artist Ben Landau designs thrilling tactile adventures for kids and adults. He challenges and investigates the world according to children; adult's assumptions and expectations of children and ultimately puts kids in control.
Landau says of the work, "The fantastic thing about the Children's Republic is that it's a space where kids can take over. By that, I mean, that their ideas about how the world should be are manifested through thinking, talking and making. It's a fun, inclusive and supportive place which asks 'what if kids made their own country'!? On the surface, it's a simple question, but when one starts diving into the amazing ideas that it brings to the fore, you realise that our future is in safe hands."
Arts Centre Melbourne presents Ben Landau's The Children's Republic WORKSHOP 9 – 13 January: From 10am – 3.30pm 14 January (Parade Day): 10am -1pm Arts Centre Melbourne, State Theatre Rehearsal Room Recommended for children aged 5+ PARADE 14 January: 3pm (we advise participants to arrive at 2.30pm) Arts Centre Melbourne, Forecourt Auslan session: 12 & 14 January – must be requested at time of registering All ages Book at www.artscentremelbourne.com.au or 1300 182183
For more information about Arts Centre Melbourne visit www.artscentremelbourne.com.au or phone 1300 182 183. Become a fan of Arts Centre Melbourne on facebook or follow @artscentremelb on Twitter / Instagram.