Comics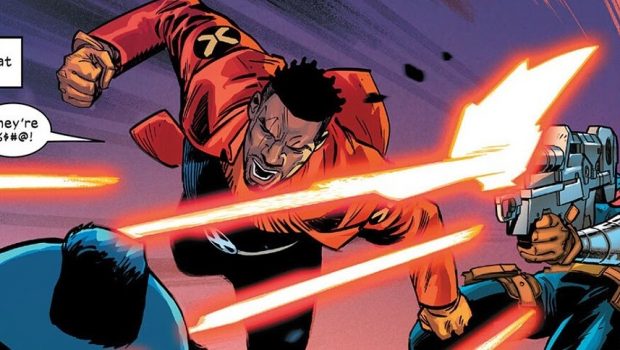 Published on September 20th, 2023 | by Howard Smith
Children of The Vault #2 REVIEW
Summary: The Children are up to no good again, but Cable and Bishop are on the job!
Mind Heist
Children of the Vault #2 proceeds to unravel what the Children are up to in this latest release of the series. Seen as the benevolent change towards the future, the Children are devising a plan that will not only reveal their true intentions but also contribute to the near extinction of human life on the planet Earth. Their methods may have changed, but their old ways remain nearly the same as they had been before they were imprisoned by the X-Men. Now divided by discourse into two separate factions, the Children discuss how their plan will be enacted. Meanwhile, Cable and Bishop are on the move as they prepare for war with the Children. Capturing Martillo-131 and psychokinetically torturing him for information about the Children's plan is the first step and the second is collecting every weapon Cable had hidden at Xavier's school. That was a job for Bishop alone.
Starting off in what seems to be a moment of distraction and envy on the first page, Deniz Camp (Harley Quinn: Black + White + Redder) jumps right into the conflict with the Children of the Vault on the second page. In Children of the Vault #2, Camp narrates a story that is worth reading for fans of Cable and Bishop. The idea of two future veteran war mutants going up against a plethora of evolved futuristic humans bent on irrational tendencies of non-evolved human life is astoundingly interesting to write about. Camp gives a wonderful display of all the good things the Children have done for humanity, which also includes saving people from the Marvel Zombies universe. As that can be seen, Camp reminds the readers that the Children are not what they seem behind closed doors. In fact, they may be less murder focused but never changed entirely. While the Children are very dangerous in their own right, they have no idea who they are dealing with when it comes to Cable and Bishop. Camp makes this clear when Cable is talking to Martillo and for a little brief hint of sympathy, Cable tells him there are no Children in the future.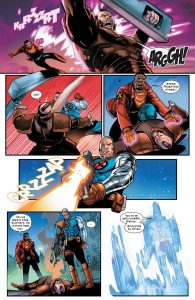 The writing so far in Children of the Vault #2 is great, but what's even greater is the artwork by Luca Maresca (Phoenix Song: Echo). There is a lot going on within the comic book and there is also a lot of detail displayed simultaneously. As the artwork isn't hard to follow and makes for a wonderous visual adventure, Maresca's work gives the series its own personal story. Noticeably, there are a lot of times Maresca is required to illustrate small meaningful details that would otherwise have been a burden to readers, but instead, those details served the story well. Each page had its purpose. Through those pages, the story was masterfully crafted to give readers something they can read once to understand and another to go back to for the art.
Regarding the artwork, Carlos Lopez (Doc Samson, Shuri) as the color artist did a fantastic task at allowing Children of the Vault #2 to glow with dynamic colors. Lopez's work gives the comic book its radiant features a chance to be admired. Readers may find that the coloring might not be so special, but to a story that involves two factors with advanced levels of technology at their fingertips the way colors represent the images does matter. In fact, readers will come to realize Lopez's coloring does shape how easily enjoyable it can be to a reader. With that said, Lopez's contribution to this comic book does not go unnoticed.
Similarly, Cory Petit (Ghost Racers) as the letterer continues to be a positive addition to the story. Petit's lettering gives readers what they need to hear in their minds while they're reading. Additionally, dialogue and captions are placed in areas that feel natural for readers to read along as they turn the pages.
The cover art by Yanick Paquette (Poison Ivy) and Guru-eFX (Civil War II: Gods of War) for the comic book is excellent. The aspect of the cover that is likable stems from Cable with his glowing eye hidden among the crowd of people as the Children are hovering above. It's as if Cable wanted to, he could strike at any moment as a surprise attack.
So, the Children of the Vault are up to no good yet again, but the only defense against them is Bishop and Cable now. Children of the Vault #2 has given readers an inside scoop of what's to come next. Undoubtedly, the next issue released of this series just may turn out to be a two-man army besieging the Children's floating citadel. Well, we'll just have to wait and see. Don't forget to pick this issue up at your local comic book store or online where these copies are sold.
Comic Details
Writer: Deniz Camp
Artist: Luca Maresca
Color Artist: Carlos Lopez
Letterer: VC's Cory Petit
Cover Artist: Yanick Paquette, Guru-eFX
Editor: Sarah Brunstad
Publisher: Marvel Entertainment