Events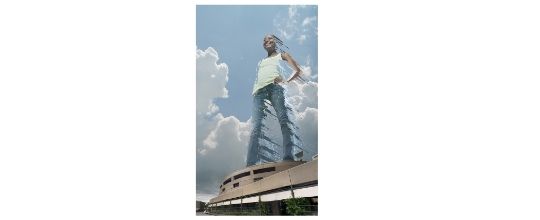 Published on April 13th, 2021 | by Adrian Gunning
Child of Now: A groundbreaking, technology driven public art commission to loom large over Hamer Hall
Arts Centre Melbourne and the University of Melbourne are partnering in support of Child of Now – a hugely ambitious, technology driven public art commission conceived by Artist Robert Walton and co-written by First Nations Author and Activist Claire G. Coleman. The work calls on 14,400 Melburnians to create, shape and nurture a vision of the future for an imagined child born in 2021.
The large-scale, interactive augmented reality child will be represented as a 100-metre-high virtual being residing atop of Hamer Hall, visible on digital screens and mobile devices. This mammoth undertaking, which is currently in the first stage of its development, is an interdisciplinary collision of arts and computer science.
The Child of Now will age from 0 to 100 years over an epic 10-day performance. Across each of these days, the Child of Now will live a 'normal' day – walking, playing, communicating, interacting and dreaming across each 24-hour cycle. On the tenth day, the Child of Now will be 100 and will go to sleep for a final time at a candle-lit vigil attended by thousands of visitors and watched online by thousands more around the world.
14,400 people from Melbourne's wonderfully diverse population will collectively set the vision for a more equitable, sustainable, peaceful and inclusive future for the Child of Now. 14,400 represents the number of minutes in 10 days.
Walton, Coleman and a team of technology specialists from the University of Melbourne will collaborate with the public to give life to the moving image via volumetric body scanning and interactive extended reality technologies in this compelling public artwork.  Child of Now will result in the largest and most diverse portrait of Melbourne's population ever created, generated from the thousands of participants' faces, gestures and dreams.
Arts Centre Melbourne's CEO Claire Spencer AM says, "We are thrilled to partner with the University of Melbourne to bring this project to life. Projects of this scale and ambition appear once in a decade and require the support and expertise of our city's cultural and educational institutions to be realised."
Currently the team, led by Walton, is working to create a series of giant virtual holograms and the artificial intelligence technology required to animate them. In late 2021, a prototype of Child of Now will inhabit Arts Centre Melbourne over a long weekend – inviting the first public contributions to the project as the part of the work's next stage of development. For the first time, audience members will have the opportunity to become the Child of Now via a volumetric 3D body scan and Virtual Reality experience.
"This way of working with an Artist in Residence has led to a distinctive collaboration which extends the University's capacity to effect change at the forefront of creative practice in technology, art and entertainment," said Professor Frank Vetere, Deputy Dean of Engagement, Faculty of Engineering and Information Technology at the University of Melbourne.
It is envisioned that the completed work will take up residence on the Hamer Hall rooftop for 10 days in 2024.
"The aim of this project is to create a rare and extraordinary moment in the life of Victoria for people to consciously empathise with future generations who will inherit our culture, customs and built environment and face the challenges of climate chaos caused by generations living now. By following the life of an imagined child born in 2021, made up of the contributed faces, dreams and gestures of the current population, it becomes possible to rehearse our future in an invested, emotional, hopeful and human way," said Walton.
Child of Now Creative Team:
Robert Walton – Concept, Director and Co-Lead Writer
Claire G. Coleman – Writer
Julianne Pierce – Creative Producer
Robert Walton is "an original and talented thinker and theatre maker" (The Times, UK) who has created, directed and devised over 30 shows. His work spans theatre, installation, writing and media art. A creative trailblazer, Walton has been credited with creating "the world's first piece of iPad theatre" (The Independent, UK) and has toured his work in the United Kingdom, Europe and Australia. Walton is currently an Artist in Residence at the Faculty of Engineering and Information Technology's School of Computing and Information Systems at the University of Melbourne.
Claire G. Coleman is a Wirlomin-Noongar woman whose ancestral country is on the south coast of Western Australia. Born in Perth she has spent most of her life in Naarm. Her debut novel Terra Nullius, published by Hachette in Australia and Small Beer in the US, won a black&write! Fellowship and a Norma K. Hemming Award and was shortlisted for the Stella Prize and the Aurealis Science Fiction Award among others. She writes novels, poetry, short-fiction, drama and essays which have featured in The Saturday Paper, the Guardian, Meanjin, Australian Poetry and many others. The Old Lie (Hachette 2019) is her second novel. Lies Damned Lies: A Personal Exploration of the Impact of Colonisation will be published in September 2021 by Ultimo Press.
Julianne Pierce is a producer, artist and writer working across performance, visual arts and digital media. She has worked as a Creative Producer on festivals and projects including Adelaide Festival, Adelaide Fringe and Festival 2018 Gold Coast Commonwealth Games. She was Executive Producer for renowned UK artists' company Blast Theory from 2007-2012 and is a member of the influential computer artist group VNS MATRIX, which formed in 1991 and continue to have their work included in significant exhibitions and publications worldwide.
The Child of Now prototype has been co-commissioned by Arts Centre Melbourne and the University of Melbourne.
The feasibility study for the Child of Now was supported by Arts Centre Melbourne, Creative Victoria, City of Melbourne and the University of Melbourne.
We're excited to be welcoming visitors back to all of our venues for live experiences in line with the most recent Victorian Government guidelines on COVID-19. We continue to offer engaging online experiences via our digital hub – Together With You.   For more information including: our current health and safety policies; bookings for free and ticketed events; and other digital content and experiences, please visit artscentremelbourne.com.au.