News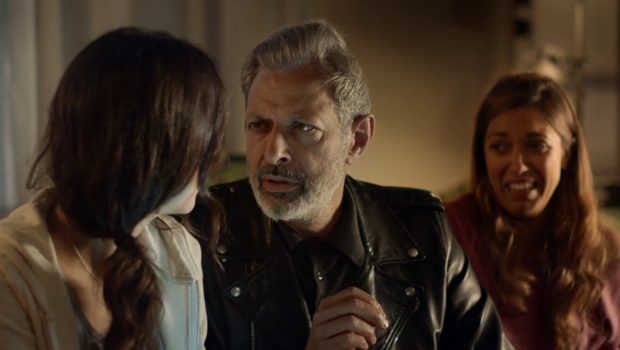 Published on May 17th, 2017 | by admin
CHEF GOLDBLUM REVEALED TO BE COOKING UP MORE THAN SNAGS IN SYDNEY
Jeff Goldblum announces new role with Menulog; shouts 500 Aussies dinner
It's been the question on everyone's lips: what was Hollywood superstar Jeff Goldblum doing delivering snags to Sydney-siders? Thought to be preparing for new role, Goldblum has today revealed he was doing just that – for his Australian TV debut with the country's largest food delivery company, Menulog.
Launched today, Goldblum features in five different TVCs for Menulog, that encourage Aussies to spend more time enjoying the range of delicious cuisines Australia has to offer – just as he did while down under.The series sees Jeff, with his characteristic humour, telling Aussies 'Less Talk; More Eat'. With a huge number of Aussies still ordering over the phone, only 20 percent have ever ordered takeaway online! Jeff persuades us to get of the 'dinosaur' telephone, and onto 8,600+ restaurants on the Menulog App.
With faster ordering, more convenience and no "please hold", Jeff said the Menulog app was a "no-brainer" and "Menulog gets 10 Goldblums out of a possible 10 Goldblums!" In his one-of-a-kind way, Jeff said "Food, glorious food! Australian vittles are tippity top!  The crackerjack home delivery service (of which Menulog is an exemplar) is one of the cosmic ecstasies!
While Jeff may have left Aussie shores (for now), next week he will be shouting 500 Aussies a Menulog meal on him, to celebrate the launch of his first foray into food delivery. Simply head to facebook.com/menulog next Tuesday 23 May 2017 for details on how to get one of Jeff's Jazzy meals. While you won't see Jeff delivering these, he did get some solid experience for his role with Menulog whilst in the food truck.
Jeff said: "My own (if temporary) food truck?! Excelsior!!! Snags for all the gracious people of this fairest of lands!  Menulog? – I call it Iloveyoulog!
Over the next few months, Jeff will be showing Aussies all the different ways they can make their lives easier – and their mealtimes better – with discounts, freebies and more great stuff from Menulog. He'll be popping up on TV, radio and social media in his quirky Goldblum style to share his tips and tricks.
Check out the series here, with the Girls Night In and Game Night.
To check out behind the scenes of Jeff's Menulog shoot, visit https://www.dropbox.com/sh/cyyahbjiiiimiqv/AAC4ryXkEPGJ0fLKEVUBRQ2Ba?dl=0.
For more information, head to menulog.com.auor download the app from the App Store or Google Play. Keep your eye on Menulog's Facebookand Instagrampages or follow the hashtag #LessTalkMoreEat.