Comics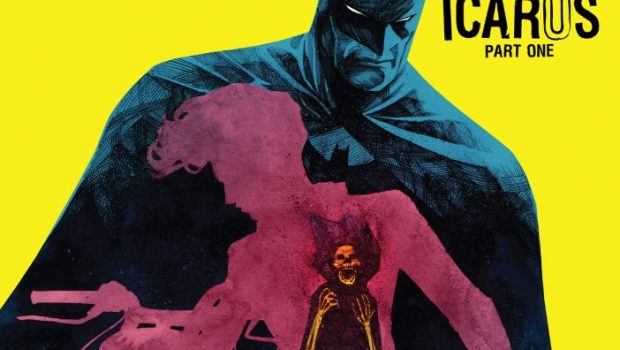 Published on April 28th, 2021 | by Adrian Gunning
Check Out What's Coming to DC UNIVERSE INFINITE in May!
May is right around the corner, and DC UNIVERSE INFINITE members continue to get more DC perks than ever! From digital access to DC's smash-hit Batman/Fortnite: Zero Point comics, to Mother's Day gifts in the DC Shop, to exciting new DC Community forums celebrating AAPI Heritage Month and more, head over to DC UNIVERSE INFINITE as DC's premium digital comic book service adds even more fan-favorite content in May of 2021!

The official DC Shop has new Wonder Woman tanks and shirts featuring images of the iconic DC Super Hero throughout the years and a reminder to always "Believe in Wonder," and during the week of May 3 the DC Shop will drop in new content for the matriarch in your life! Let Mom know she's your hero when a new line of DC t-shirts, sweatshirts and hoodies for Mother's Day, all celebrating Wonder Woman, arrive in the DC Shop! Every mom is a Wonder Woman!

And every week in May, DC will celebrate AAPI Heritage Month with collections spotlighting Asian American Pacific Islander creators. All issues of New Super-Man by writer Gene Luen Yang are currently on DC UNIVERSE INFINITE, plus registered members can read all three chapters of Yang and artist Gurihiru's award-winning Superman Smashes the Klan graphic novel. Greg Pak's Batman/Superman comics are available to read along with his Action Comics run, all issues of Amy Chu's Sensation Comics Featuring Wonder Woman and Poison Ivy: Cycle of Life and Death are available, and artist Francis Manapul's Detective Comics, Trinity and The Flash comics are recommended reading during May's Asian American Pacific Islander Heritage Month celebration! Searching DC UNIVERSE INFINITE by your favorite AAPI writer or artist will help you find their DC UNIVERSE INFINITE libraries.

Even if you're not a registered DC UNIVERSE INFINITE subscriber, DC will feature the following comics for fans to read in full, for free, through the month of May:
Superman Smashes the Klan #1-3 (writer: Gene Luen Yang, artist: Gurihiru)
New Super-Man #1 (writer: Gene Luen Yang)
Wonder Woman #759 (writer: Mariko Tamaki)
Batman/Superman (2013) #1 (writer: Greg Pak)
Sensation Comics Featuring Wonder Woman #19 (writer: Amy Chu, artist: Bernard Chang)
Batman & The Outsiders (2019) #1 (character: Katana)
The All New Atom #1 (character: Ryan Choi)
Batgirl (2000) #1 (character: Cassandra Cain)
And to celebrate AAPI Heritage Month on the DC Community, Superman Smashes the Klan will be highlighted by the new DC Book Club! Registered DC UNIVERSE INFINITE members can access this award-winning mini-series for free, and DC Book Club participants will be first in line for a live Q&A with writer Gene Luen Yang. DC Book Club participants will also receive digital wallpapers and downloadable bookmarks as extra perks.
And there's always new comic book content arriving! Coming this May, DC UNIVERSE INFINITE subscribers can read the first issue of Jeff Lemire's Sweet Tooth: The Return plus the bestselling Punchline one-shot by James Tynion IV, Sam Johns and Mirka Andolfo. The back catalogue of DC's Milestone comics (Blood Syndicate, Static, Icon, Hardware) continue to be a draw for fans, and new digital issues of Batman/Fortnite: Zero Point, each with an original code to unlock in-universe content, arrive on DC UNIVERSE INFINITE the same date as they arrive in print!
All this and more will be on DC UNIVERSE INFINITE beginning this May!
Week of 5/3
Batgirl 50
Batman/Superman 13
Dark Nights: Death Metal Rise of the New God 1
Detective Comics 1029
Justice League Dark 27
Legion of Super-Heroes 10
Red Hood: Outlaw 50
The Last God: Songs of Lost Children 1
Wonder Woman 765
Action Comics 1026
Batman Beyond 48
John Constantine: Hellblazer 11
Suicide Squad 10
The Flash 764
Action Comics (1938-2011) 352
Batman (1940-2011) 209
Breach (2005-2006) 5
Icon (1993-1997) 10
Static (1993-1997) 11
Truth and Justice 4
Sensational Wonder Woman 4
Represent! 2
Week of 5/10
Batman 102
DCeased: Dead Planet 5
Hellblazer: Rise and Fall 2
Strange Adventures Director's Cut 1
Sweet Tooth: The Return 1
Tales from the Dark Multiverse: Batman: Hush 1
Young Justice 20
Justice League 56
The Dreaming: Waking Hours 4
Action Comics (1938-2011) 355
Batman (1940-2011) 211
Blood Syndicate (1993-1995) 5
Breach (2005-2006) 6
Hardware (1993-1997) 11
Truth and Justice 5
Sensational Wonder Woman 5
Represent! 3
Week of 5/17
American Vampire 1976 2
Dark Nights: Death Metal Infinite Hour Exxxtreme! 1
Detective Comics 1030
Punchline 1
Superman 27
Wonder Woman 766
Hawkman 29
The Flash 765
The Green Lantern Season Two 9
Batman (1940-2011) 212
Breach (2005-2006) 7
Icon (1993-1997) 11
Static (1993-1997) 12
Wonder Woman (1994-2006) 81
Truth and Justice 6
Sensational Wonder Woman 6
Represent! 4
Week of 5/24
Aquaman 65
Batman 103
Catwoman 27
Dark Nights: Death Metal 5
Rorschach 2
Teen Titans 47
Justice League 57
Looney Tunes 257
Nightwing 76
Batman (1940-2011) 213
Blood Syndicate (1993-1995) 6
Breach (2005-2006) 8
Hardware (1993-1997) 12
Wonder Woman (1942-) 42
Truth and Justice 7
Sensational Wonder Woman 7
Represent! 5