Comics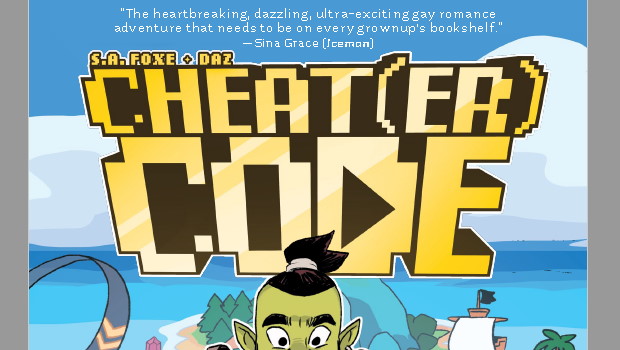 Published on July 23rd, 2020 | by Chris O'Connor
Cheat(er) Code Review
Summary: Gay erotic romance with a gamer theme, yes please!
4.5
Introspective Gay-ming
This comic is smutty! That's either a pro or a con depending on your perspective, from mine it's a major pro… for others it could be very off-putting. Let's just say it's very Not Safe For Work! The basic concept is that Ken comes home to find his partner in the act of cheating on him. This then leads to a kind of "seven stages of grief" over the relationships ending, played out in a sort of virtual gaming world. Ken finds his way to acceptance via some familiar gaming faces (or at least tropes) and learns to move on via some hot and steamy encounters with characters he has played and played with in the past… but not quite in the way he gets to play with them now!
Writing
As much as the initial reaction to this story will be from the images (the first pages are explicit sexual acts) the story is what binds it and gives it a sweet touch. We get to watch as Ken faces a horrible reality, retreats into a world that has comforted him in the past and then learn via characters he has shared many adventures with in the past… how to continue his real adventure in life. It takes the notion of "rebound sex" to a whole new level and it makes the whole experience seem more approachable and easier to deal with. The message that is delivered at the end is one everyone could do being reminded of too… sometimes you just need to let the past go, it did what it needed to and if you allow yourself to move on, you may well find a totally new and amazing future before you.
Artwork
Um… yep…. I enjoyed the art work! If you've wondered what comics would be like if they were more "dirty" (I mean there have been dirty comics for decades… but perhaps less "mainstream" than this title feels)… this is the comic for you. The thing is, as much as the images can be very graphic at times… there's still a playfulness to them. The bright colours and more rounded shapes give everything a less harsh reality and more a "dreamy" sense to them. I'll just say that if you like a bit of male on male action… you will likely get a decent bit of enjoyment out of the visuals here.
Final Thoughts?
I love that Limerence Press (Oni Press) keep putting these things out there. It has been said many times that representation matters and it really does! Having LGBTIQ+ culture expressed in all forms of media is brilliant and helps so many people who may be struggling with their own identity see that they aren't alone, that there are plenty of others out there who are going through the same things they are. It doesn't hurt to have some of those lovely messages occasionally wrapped in a fleshy mingling of bodies enjoying the delights of different body shapes and types together.
A great story with a lot of heart and some very… exciting images!
Comic Details
Publisher: Limerence Press (Oni)
Writer: S.A. Foxe
Artist: Daryl Toh
Cover Artist: Daryl Toh
Genre: LGBTIQ+, Humour, Romance, Erotica
Format: 121pgs, FC, OGN
Release Date: 22nd September, 2020