Books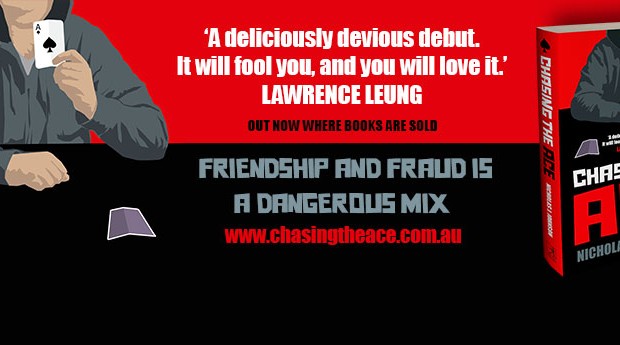 Published on July 7th, 2014 | by admin
Chasing the Ace Book Review
Summary: Chasing the Ace is an entertaining read that I could happily recommend to those that want to read an original thriller based in Melbourne Australia
Chasing the Ace
Author: Nicholas J. Johnston
Format: Paperback
Distributor: Simon & Shuster
URL: http://books.simonandschuster.com.au/Chasing-the-Ace/Johnson-Nicholas-J/9781925030204
Reviewer: Tony Smith
Pages: 320
Written by Nicholas J. Johnston, Chasing the Ace is the perfect parody about the ultimate heist which revolves around protagonist Joel Fitch, an everyman who has been dealt a rather average hand of cards in life. However for Joel, life is about to deal a new hand of cards for him by the name of Richard Mordecai. Unlike Joel, Richard is and was the perfect con-man or swindler as they are preferred to be known and is ready to move into obscurity. For Joel, he is about to star in his own movie and he believes that Richard is the key to changing his life from mediocrity into something more glamorous.
Of course things are never black and white, especially in the world of fraudsters and criminals which is where they play their latest dance with danger. When they inadvertently use their tricks of the trade on the wrong person, both their lives are about to take a turn for the worse in this interesting novel about deception, loyalty and life. Best described, Chasing the Ace is a thriller black comedy that actually works on both levels, especially due to the likeable characters.
In terms of its writing, Chasing the Ace does feel slightly unpolished but debut writer Nicholas J. Johnson, a self acclaimed expert in the world of scams and a comedian successfully manages to create a realistic story about the criminal underbelly that most of us are blissfully unaware of. The action scenes in the novel are quite thrilling without them being overtly too Hollywood. There are also plenty twists and turns, especially for Joel who definitely takes on more than he can handle. It is also interesting to watch these characters grow, especially Joel who goes from naïve to seasoned.
Another highlight of the novel is that is based in my hometown of Melbourne Australia that actually lends some credibility to not just the story but also how the characters interact. As Johnston is also a comedian, there's also some laugh out loud moments in the story that not only leaves you guessing but it also boasts a delightful ending that really came out of nowhere.
Final Thoughts?
Chasing the Ace is an entertaining read that I could happily recommend to those that want to read an original thriller based in Melbourne Australia