Comics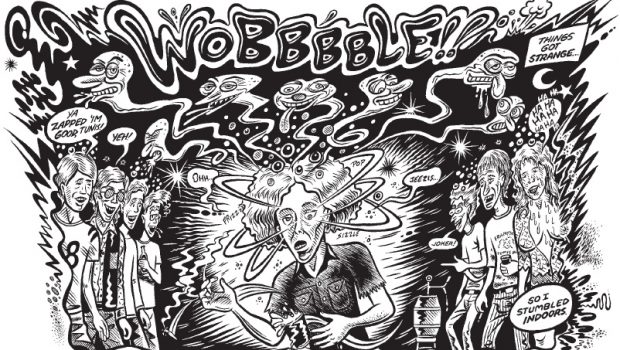 Published on May 14th, 2021 | by Tim Chuma
Chartwell Manor (2021) Review
Summary: A difficult and important memoir from Glenn Head and up there with books such as MAUS in terms of its impact. A strong recommend but know what you are going in for.
Alternative cartoonist Glenn Head's memoir about his time at New Jersey boarding school Chartwell Manor with its monster "SIR" and the effect of him on his life is revealed. This is not something to go into lightly and you will want to have a rest in some sections while reading it due to the subject matter.
I can't think of any book alongside MAUS that tackles a subject that would be so difficult to talk about and does it as well as this book does. It does not flinch in showing what actually happened to the author in this situation and the effect that the abuse had not only on his life but also the other children who went to the school and the others around them.
If this was a normal book I am not sure I would have been able to read it as the graphic novel format makes it seem more accessible even for such harrowing subject matter. Glenn Head is a well-known artist and if you are a fan of his work then you would enjoy this book and also finding out more about his background.
The time when the story was set a lot of these sorts of events were brushed under the carpet and the end of book does mention the sex abuse scandals in the Catholic church. People seeking control will get it in whatever situation they can.
While there is a lot in this book that is not that pleasant to have to look at, there is some great black and white artwork especially when Glenn is drug affected and becomes his own artwork in a way. I would go and look up more of his stuff based on his work here.
This is an important book but you do have to know what you are getting into and not go into it unless you are sure you want to. Maybe read this with a couple of people so you can talk about it afterwards.
Robert Crumb called this story a masterpiece and I am not going to argue with that. Something can still be great but also be very challenging and make you think. It can also be something you read once and not again. Calling this worthy seems condescending to the artist and their experiences, I would just say it is something you need to experience for yourself and then you can sit and think about it afterwards for a long time.
Comic details:
Writer/Artist: Glenn Head
Publisher: Fantagraphics
Published: May 25, 2021
Pages: 244
Format: Hardback, Colour/Black and white
Dimensions: 7.9″ × 10.4″
Genre: Documentary