Comics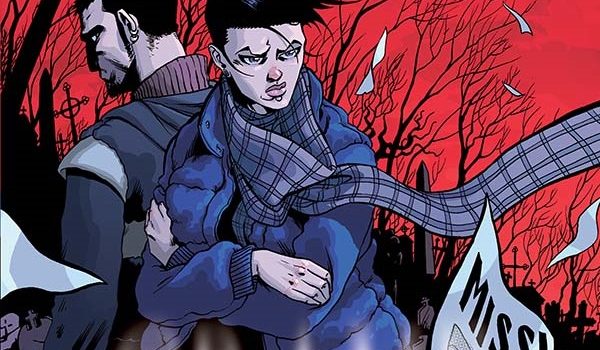 Published on January 9th, 2017 | by Lyla Saudi
Charlaine Harris's Grave Surprise Hardcover Comic Book Review
Summary: Harper Connelly gets paid by the living to find the dead but not everyone appreciates her special gift.
Harper Connelly has what you might call a strange job – she finds dead people. She can sense the final location of a person who has passed, and share their very last moment. The way Harper sees it, she is providing a service to the dead while also bringing closure to the living. But unfortunately not everyone sees it that way… in Grave Surprise, written by Charlaine Harris (the author of the beloved true blood series) and Royal Mcgraw, and illustrated by Ilias Kyriazis.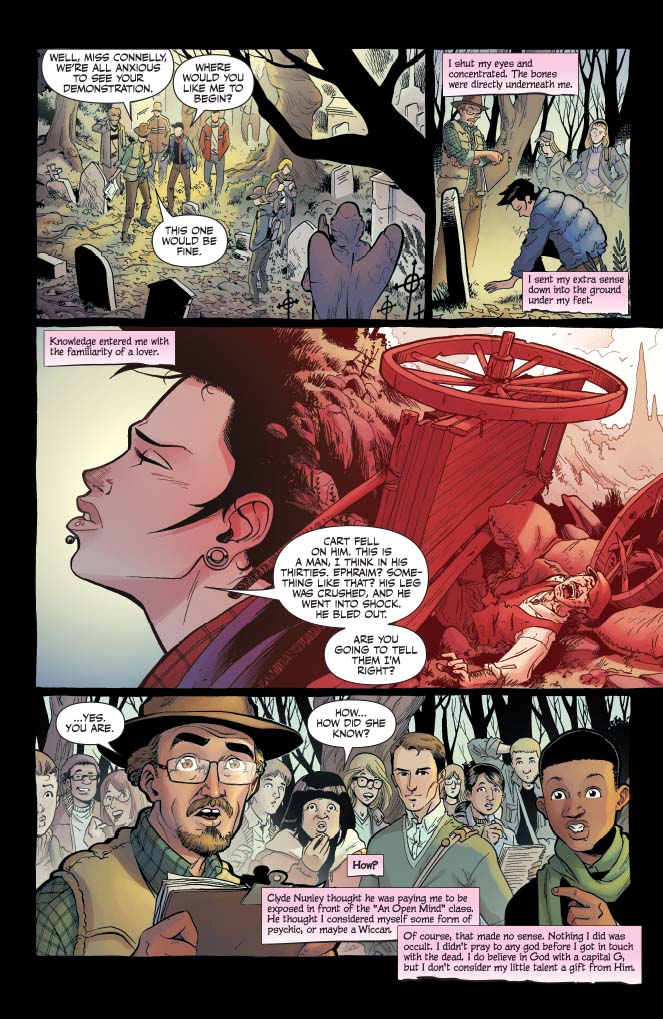 When Harper Connelly was fifteen years old she was struck by a bolt of lightning. It was Tolliver, her step-brother, who found her and performed CPR to bring her back to life. Thankfully she recovered… well more or less. She awoke with a strange red spider web pattern on her torso and leg, painful headaches that would come and go, and her right hand would sometimes shake uncontrollably. Oh and she also acquired a new skill – she could now find dead people.
It was this skill that earned her and Tolliver (now manager and sometimes bodyguard) a way to make a living and an interesting invitation to the old St. Margaret's Cemetery in Memphis Tennessee. Here, the untrusting anthropology Professor, Dr. Clyde Nunley expressed great interest in Harper 'demonstrating' her special skills, with the secret intention to expose her as a fraud in front of his class of students.
But, deep in the cemetery Harper soon has to prove a lot more than just her talent when she discovers a grave containing two bodies, one a man dead centuries ago and the other a young child that she was hired to find only two years ago. How these two seemingly unrelated bodies ended up together would be perplexing enough. But when a third body suddenly appears in the same grave the next day, this mystery suddenly has too many coincidences to be anything other than normal. And whatever the reasons are… Harper and Tolliver are now right in the middle of it.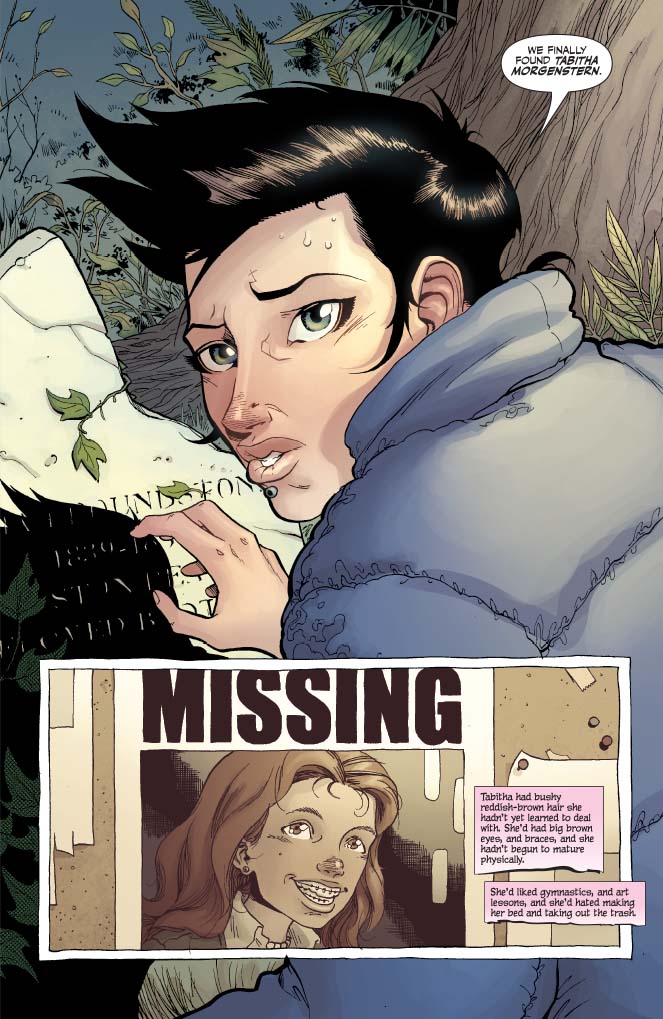 Writing
The writing by Charliane Harris and Royal McGraw is fantastic and addictive over the course of eight chapters. There may be a small risk of there being too much text on some of the pages but it is evenly balanced throughout the rest of the story. The two main characters – Harper and Tolliver have a very interesting step-sibling relationship that at first I didn't know how to handle, but their unbreakable and caring bond grew on me throughout. I like how the story, full of twists and mysteries (from ordinary to supernatural), is told primarily through Harper's narrations, analysis and inner monologues, as this helped to provide the needed background information, character developments and the answers to simple questions which you will find forming in your head.
Artwork
A lot of thought and planning went into the art and colouring and it portrays the story well. The colour palettes used were chilling and eerie for the supernatural and night scenes, muted and desaturated for flashbacks, and vibrant throughout the rest of the book. You can easily tell what emotions the characters are feeling through the details in their facial and body expressions. The borderless panels that are purposefully crooked with some extending to the edges of the page, caption boxes that look like they were torn off a notepad, and thick black gutters all accentuate the dark, unusual and mysterious theme of the story.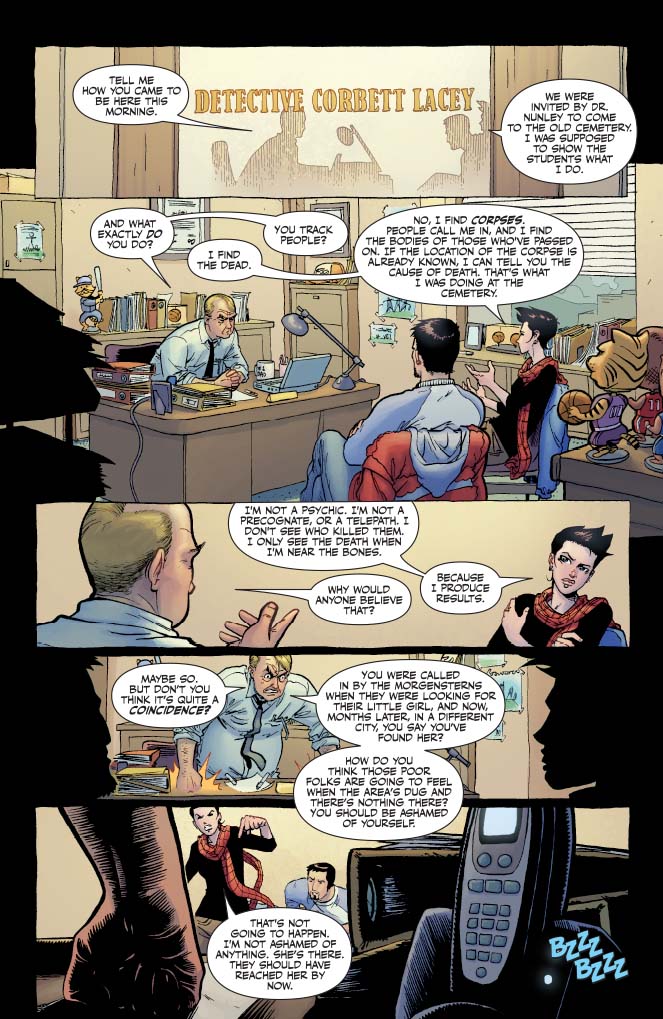 Final Thoughts?
Grave Surprise is the official graphic novel adaptation of the second book in the Harper Connelly series by Charlaine Harris, but you don't need to be familiar with the series to understand this enjoyable story and its characters. I would definitely recommend this not only to fans of Charlaine Harris but also to any lovers of this mystery-fiction genre as you will be hooked in from the start until you solve the mystery and exonerate Harper and Tolliver.
Comic Details
Publisher: Dynamite Entertainment
Writers: Charlaine Harris
Art: Ilias Kyriazis
Colours: Tamra Bonvillain
Letters: Bill Tortolini
Genre: Fantasy, Mystery, Horror
Rating: Teen +
Format: Hardcover, FC, 184 Pages
Publication Date: December, 2016