Hardware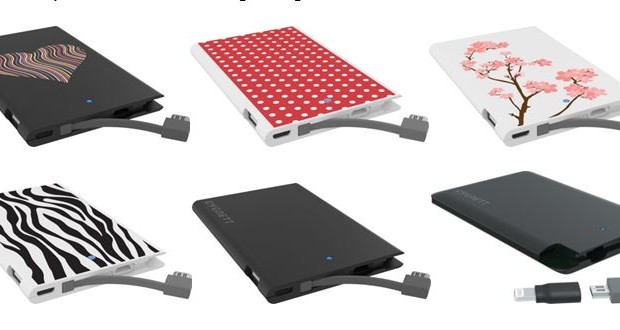 Published on January 29th, 2016 | by Admin
ChargeUp your Love Life
With the ChargeUp Pocket 2500 range of his & hers portable power banks from Cygnett
29th January 2016, Australia. Keep your love life alive with the ChargeUp Pocket 2500 Portable Power Bank (RRP $29.95), or the Special Edition Black Lightning version ($49.95). So compact you can slip into a pocket or easily fit in a tiny clutch purse, which means you'll never miss a single romantic message from your precious one again.
Even though it's small, the ChargeUp Pocket 2500 is capable of doubling your iPhone's capacity, so you can get through twice as many texts, posts and likes so you can share your love with the world and still have enough power to make it through to the end of the day or night.
Not that much larger than the size of a credit card, the ChargeUp Pocket 2500 is made using lithium polymer, the latest generation of portable battery technology, which allows for smaller cells to hold more charge while producing a higher power output.
The ChargeUp Pocket 2500 portable powerbank is available in a number of designs that will appeal to both him and her; including the love heart design, red polka dots, cherry blossom, zebra stripes, sleek black and the Special Edition Black Lightning version.
If you're an iPhone user we recommend the very smart ChargeUp Pocket 2500 Lightning Special Edition that comes complete with a Lightning adaptor built into the body of the charger, or use a Cygnett 10cm Source Lightning to USB cable (available in black, red, green or blue RRP$22.95, or 1.2m Source Lightning to USB cables RRP$26.95) with any of the other designs.
Charge your Android phone with the integrated Micro-USB cable that folds away when not in use, or use the Special Edition Lightning ChargeUp Pocket 2500 that includes a tiny lightning adaptor that sits hidden in the body ready for use. When you get home, simply recharge the charger via the included Micro-USB cable.
The printed designs are exclusive to JB Hi-Fi and are available online at JB-hifi or on Cygnett.com.