Films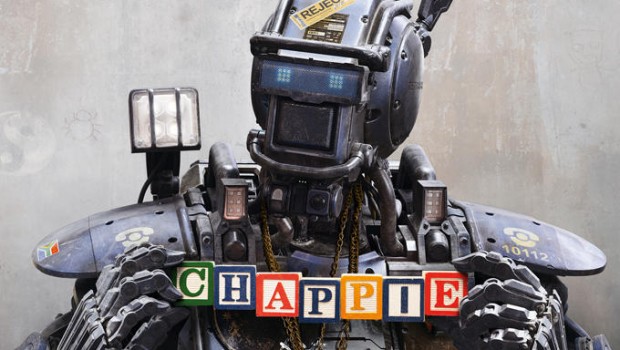 Published on March 16th, 2015 | by Damien Straker
Chappie – Film Review
Reviewed by Damien Straker on March 16th, 2015
Sony presents a film by Neill Blomkamp
Produced by Simon Kinberg
Screenplay by Neill Blomkamp and Terri Tatchell, Based on Tetra Vaal by Neill Blomkamp
Starring: Dev Patel, Ninja, Yolandi Visser, Sharlto Copley, Sigourney Weaver and Hugh Jackman
Music by Hans Zimmer
Cinematography Trent Opaloch
Edited by Julian Clarke
Running Time: 120 minutes
Rating: MA15+
Release Date: March 12th, 2015
Chappie is set in futuristic South Africa where the police have employed robotic officers to fight criminal gangs. When one of the robots is seemingly destroyed in a gunfight, engineer Wilson Deon (Dev Patel) looks to recover the body and repair it. This is despite resistance from his boss Michelle (Sigourney Weaver) and ongoing intimidation from rival employee Vincent (Hugh Jackman) who wants his overlarge, clunky robot design funded. When Deon manages to steal the robot and brings it to life he is kidnapped by a small group of criminals, led by Ninja (played by rapper Ninja). These thugs are looking to use the robot to help them with a final heist, which will get another mobster off their back. Ninja and Yolandi (rapper Yolandi Visser) take to educating the robot, naming him Chappie, and raise him like a child. Yolandi becomes a mother figure to him but Ninja teaches him in his words how to be the "number one ill-gangster", which results more clearly in Chappie learning to carjack people and becoming more violent, much to the protest of Deon.
There is a lot to dislike about Chappie, the third film by Neill Blomkamp whose first two films District 9 and Elysium took place in dystopian South Africa and featured Sharlto Copley. His film style this time is overcharged, impatient and adolescent. The score booms and the film blasts its way through action sequences and rarely stops to let us time to breathe. This is a shame because in spite of many flaws there is something bizarrely endearing about Chappie the robot rather than the overall film. Voiced and motion captured by Copley, Chappie is childlike, fearful and curious against the backdrop of the war zone and the criminal minds. His personality traits provides a degree of poignancy in the all too rare moments where the film slows down and we see Chappie reading a children's book or being tormented by his father figure to embrace the alpha male culture and tough love. At one point Chappie has to hide a doll from his father behind his back and is also thrown into the wild alone where he's attack by gang thugs and set on fire. It's a very silly story, particularly when stealing the cars, but there's some trace of a thematic spine and sci-fi tropes sprinkled between the gunfire.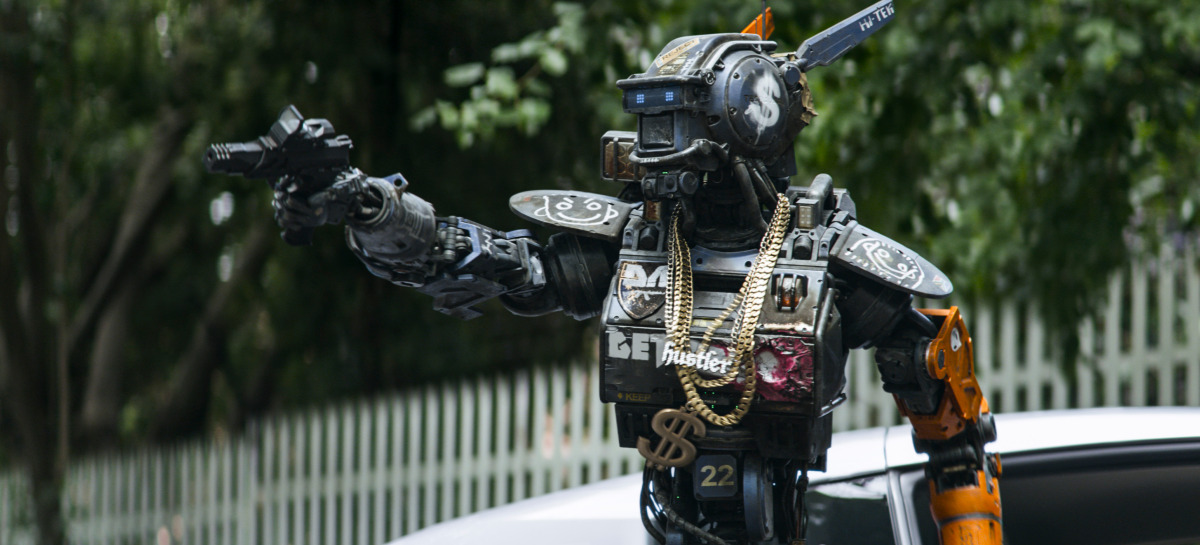 Outside Chappie's character arc and a potentially rich but derivative premise about social conditioning (borrowed from The Terminator, A.I.: Artificial Intelligence, Her), the rest of the film is about as useful and overblown as Vincent's clunky robot scheme. Whether by design or not, Ninja looks suitable ragged but he and fellow rapper Yolandi Visser (from their group Die Antwoord) are weak actors and provide unintentional belly laughs. Their on the nose dialogue is terrible, particularly when talking about preparing one last heist and teaching Chappie how to act "gangster". They don't earn our sympathies when they become heroic in the predictably overblown finale. During the latter, a stupid sequence, the film's video game aspirations are unleashed as a character operates a joystick and virtual reality style device to unload volumes of firepower. Dave Patel is more restrained than in the recent Marigold sequel but outside his love of electronics there's no logic or reason about why Deon returns to a dangerous hotspot with gun-wielding criminals to check on Chappie. Hugh Jackman is poorly directed and undeserved by the script. In an intrusive subplot, his character never breaks free from a simple brood and Sigourney Weaver's small role is a throwaway one which doesn't make enough of her screen power. While not an entirely brainless experiment, too many scrap parts in the script lead Chappie and its cast astray.
Summary: While not an entirely brainless experiment, too many scrap parts in the script lead Chappie and its cast astray