Games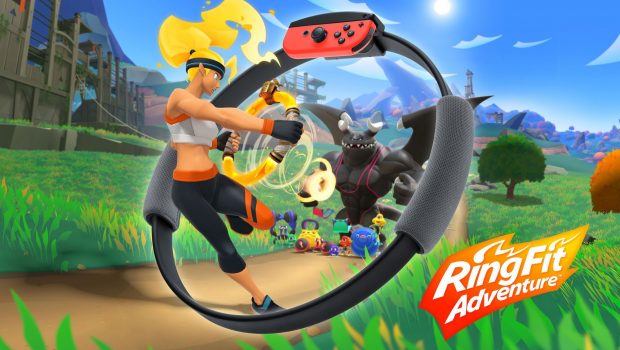 Published on January 4th, 2020 | by Andrew Bistak
CHALLENGE YOUR BODY AND MIND AND KICKSTART YOUR 2020 WITH RING FIT ADVENTURE AND DR KAWASHIMA'S BRAIN TRAINING FOR NINTENDO SWITCH
This year, why not start strong by staying active – in both body and mind – with Ring Fit Adventure and Dr Kawashima's Brain Training for Nintendo Switch. These games aim to get you thinking outside the box – or off the couch and on your feet.
With Ring Fit Adventure for Nintendo Switch it's time to bring the workout to your home. Explore a fantasy adventure world and use the included Ring-Con and Leg-Strap accessories to create custom, full-body workouts to help break a quick sweat, or push, pull, jog, squat, plank and perform yoga poses. Whether you're in for a long-form fitness-filled quest or prefer shorter bursts of exercise via minigames and workout sets, you can also track your performance by using the right Joy-Con's built-in IR Motion Camera* – including your pulse rate! Check out the Ring Fit Adventure – Overview Trailer.
And when you're done exercising your body, get ready to challenge your brain in a variety of ways in Dr Kawashima's Brain Training for Nintendo Switch, out now for Nintendo Switch in Australia and New Zealand. Dr Kawashima's Brain Training for Nintendo Switch is the latest in the popular Brain Training series which has sold more than 33 million copies worldwide since it first launched on Nintendo DS. Enjoy new exercises and test your skills with an assortment of exercises in different playstyles – some of them making use of the right Joy-Con's IR Motion Camera* and can detect the shape of your fingers – or tap and train with classic exercises from past Brain Training games that can be played using a Nintendo Switch Stylus (included with the packaged game from retail stores). Using a Joy-Con each, players can face off against friends and family in unique challenges and can share their training results in the game's rankings. From February, the game will also offer regular World Brain Training Championships** where players can compete with friends and family from around the world. More information will be revealed in the future. See the game in action in the new Dr Kawashima's Brain Training for Nintendo Switch trailer.
Challenge your body and mind and kickstart your 2020 with Ring Fit Adventure and Dr Kawashima's Brain Training for Nintendo Switch, both available now for Nintendo Switch