Hardware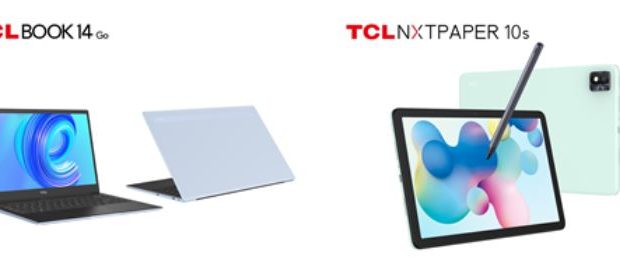 Published on January 5th, 2022 | by Adrian Gunning
CES 2022 – TCL Mobile unveils Laptops – 2nd Gen Wearable Display Glasses – NXTPAPER tablet and More
TCL Mobile @ CES have made a wide range of new product announcements and they will be expanding into laptops for the first time. Additionally, it is commercialising its paper-like NXTPAPER technology in a new tablet; it has launched its second generation NXTWEAR AIR Wearable Display Glasses while showcasing its vision for smart glasses; and it is announcing its new flagship 30-Series of smartphones starting with two US-specific models that give a prelude of what's to come for global markets.
KEY NEW PRODUCTS AT A GLANCE
TCL NXTWEAR AIR Wearable Display Glasses
The TCL NXTWEAR AIR is TCL's second-generation wearable display glasses. The new, stylish glasses combine exceptional display technology and rich, premium design with 30% less weight and a more comfortable fit than previous generation glasses, delivering the ultimate in entertainment and productivity.
Watch, game and work anywhere as NXTWEAR AIR untethers users from offices, living rooms and small airplane screens, freeing them to enjoy their content – perfect for commuters, anyone traveling for work, or on a flight. Viewing movies on the TCL NXTWEAR AIR creates a blockbuster viewing experience. A nail-biting sporting event turns a dull journey to the office into a thrilling ride, while an epic adventure film makes a long-haul flight go by in a flash.
With dual 1080p Micro OLED displays, the TCL NXTWEAR AIR delivers ample detail, punchy, rich and vibrant colours, as well as deep shadows and inky blacks. It also creates an expansive, immersive viewing environment, which is the equivalent of watching a 140-inch screen, 4 metres away – similar to being in a movie theatre.
A 47 pixels-per-degree resolution means the TCL NXTWEAR AIR delivers a cinema-like level of clarity too, and with dual speakers, it plays back stereo audio for spatial effects. For more private viewing, you can connect your own wired or wireless headphones.
TCL created its second generation of wearable display glasses, NXTWEAR AIR, with a focus on comfort and style. At only 75g with standard lens, these portable displays won't weigh users down. The NXTWEAR AIR comes with two exchangeable front lenses, so its look can match each users' individual style.
Thanks to Type-C connection, NXTWEAR AIR is also compatible with a wide range of smartphones (more than 100), supporting battery-free plug and play connectivity, and it also works with many laptops and tablets.
TCL NXTPAPER 10s
The TCL NXTPAPER 10s is designed specifically with a focus on eye protection. Blue right reduction is front and center, with the feature built directly into both the tablet's software and hardware. Its paper-like display design utilises 10 layers of protection to retain natural colours, setting an industry standard. The display is TÜV certified and reduces blue light through the screen by over 50%. Users will also enjoy clear viewing from any angle due to the display's anti-glare finish.
This innovation makes looking at screens much safer and more comfortable, providing an overall better user experience. Learners will find they can annotate their essays and read documents without irritation.
The TCL NXTPAPER 10s is ideal for studying or writing down notes on the pressure sensitive screen, thanks to the company's proprietary T Pen. Its 8000mAh battery results in more than a full day of learning, entertainment and creativity can be unleashed. Folio Keyboard and Writing Board accessories help boost on-the-go productivity further still.
TCL BOOK 14 Go
TCL is expanding its product range to laptops, launching first with TCL BOOK 14 Go, a Windows 11 laptop designed for students and young professionals entering the working world.
With a slim bezel and striking metal frame, TCL BOOK 14 Go is both immersive and sleek. Measuring at 13.95 mm thin, one of the thinnest in its price range, it comes with an ample 14.1-inch display, weighs only 1.3kg and is super portable – just slip it out of a backpack, flip it open and start working, whether in a café, on a train, or in a lecture hall.
4G LTE connectivity and excellent battery life will reassure users they can get an essay, report, or assignment complete anytime, anywhere – in the hubbub of a café, a quiet spot in the library, or at their workspace. Additionally, Qualcomm Snapdragon 7c ARM-based architecture makes it easy to turn the laptop on in a flash while delivering up to 12-hour battery life, getting students and professionals through a full day of learning. With seamless switching between Wi-Fi and 4G, customers won't have to hunt for Wi-Fi or use mobile hotspots anymore. It is safer for privacy and more convenient.
TCL BOOK 14 Go runs Microsoft's Windows 11, so students will be able to create multiple virtual desktops – one for school or work, and another for personal life, and Microsoft's new operating system is loaded with other enhanced features to help boost productivity.
TCL 30 Series
With the TCL 30 series, customer-favourite technologies including AMOLED displays for true clarity and vividness and stereo speakers will be matched with all-day low blue light, enhanced NXTVISION technology, impressive connectivity, rich design, and competitive pricing.